WWE Raw Recap: Like a Traffic Jam on the Road to WrestleMania
The highlight of WWE Raw was Dominik Mysterio's entrance in his post-prison garb as WWE stalls ahead of the Royal Rumble and start of WrestleMania season.
---
What a difference a year makes. In case you've been living under a rock for 2023, Vince McMahon has returned to WWE, not yet in a creative capacity, but as chairman of the board of directors. McMahon's return has taken some of the shine off of the Triple H era, even if it hasn't yet directly impacted creative. When McMahon was gone, there was a feeling missing from WWE for decades: a feeling of hope, hope that something might finally be different after years of disappointing sameness. But with McMahon back, that hope has been replaced by a feeling of dread, dread that WWE will revert to the all the worst tendencies that were a hallmark of the end of his tenure. It makes you look at things differently, perhaps, and be less charitable in interpreting it. At least, that's how I was feeling when I watched WWE Raw last night.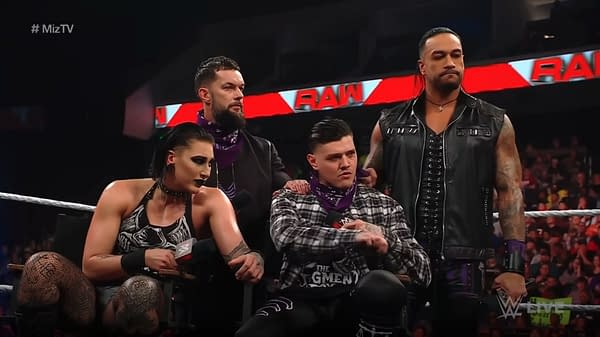 WWE Raw Recap 01/10/2023
WWE Raw kicked off with JBL interrupting a Kevin Owens promo to lead to a match between Owens and Baron Corbin, which Owens won with the Stone Cold Stunner. If it feels like Owens is just killing time, that's because he is. It's not like he can effectively feud with Roman Reigns when Reigns doesn't show up to work half the time, after all.
The Bloodline ran out to brawl with Owens, but Adam Pearce kicked the Usos out of the arena and announced a Tag Team Turmoil match for the main event, as well as Dolph Ziggler vs. Solo Sikoa. Raw probably lost half a million viewers with that announcement.
Uncle Howdy showed up to look meaningfully at Alexa Bliss, who didn't regret her recent actions. The only thing worse than garbage is 2-year-old garbage that you thought you threw out but somehow ended up back in your house.
Bayley defeated Michin in a singles match.
Austin Theory, Seth Rollins, and Bobby Lashley all professed their plans to win the Royal Rumble. Cody Rhodes might have something to say about that though.
Rhea Ripley beat Candice LeRae in a short match.
Bobby Lashley chatted with MVP and teased a Hurt Business reunion. They should never have broken them up in the first place, but maybe they can reform just before Vince takes control and breaks them up again.
WWE once again promoted the return of Cody Rhodes, and at this point, I'm wondering if it's actually misdirection and he's not going to win the Rumble, because otherwise it's the most telegraphed Rumble win in history. So WWE logic dictates he's definitely winning.
Solo Sikoa beat Dolph Ziggler. After the match, the Usos celebrated with him, showing they care as much about Adam Pearce's authority as the viewers did about this match.
In one of the most nauseating examples of WWE's horrible camera-work, the cameramen repeatedly zoomed in and out while shaking the camera during this beatdown by Damage CTRL on Michin.
As Dominik Mysterio, dressed like a gang member from GTA San Andreas, made his way to the ring with Judgment Day to discuss his time in prison, it occurred to me that this storyline may have finally crossed that rare threshold from bad to "so bad it's good."
But after witnessing the worst acting since Hulk Hogan had a movie career, it was right back to being just bad again. Mysterio's acting is so bad it even dragged down The Miz.
This led to the start of Tag Team Turmoil. Finn Balor and Damian Priest beat The OC in the first match. They beat Shelton Benjamin and Cedric Alexander followed by Alpha Academy too, but Balor was kayfabe hurt so Dominik Mysterio took his place for the next match against the Street Profits. With help from Rhea Ripley, Judgement Day won that one too, earning a title shot against the Usos, who, still in the arena, came out to end the show. I'll give the match this: I expected the Street Profits to win, so it was a nice surprise for Judgment Day to get the upcoming title match, especially with Dominik getting the pin.
We're approaching the Royal Rumble, and it's only after that show that we'll start to see where WWE is heading for WrestleMania. The only question is, will what we see be Triple H's creative vision culminating at the biggest show of the year for the first time? Or will it be Vince McMahon's vision of what will make WWE the most attractive to potential buyers for a sale to happen this Summer? Only time will tell.