Things changed in a big way for WWE when the coronavirus pandemic happened, completely changing the presentation of WWE's television shows because live crowds have not been allowed to gather in buildings. A lot of people feel that wrestling is missing something without the crowd, but there are at least two people who prefer crowdless wrestling. One of those people is me, The Chadster. The other is WWE SmackDown Women's Champion Bayley. Bayley was interviewed by Digital Spy, and she discussed how wrestling with no crowds has helped her settle into her role as a heel.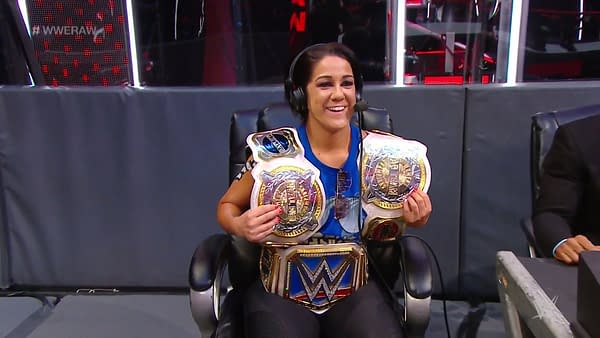 "It's helped me a lot because I don't really have to worry about the fan's approval or worry about fans believing in what I'm doing or not buying into what I'm saying in promos or anything like that," said Bayley. "I've found a certain annoyance in my character. I think that I can be very loud and it basically just echoes in the Performance Center because there's nobody there and I just think it's hilarious. So for me, I think it's benefited helping me find myself as this character."
Bayley kind of hits on the same thing I don't like about crowds in wrestling. Why should Bayley have to prove herself in her new character? Why are the fans so critical? Many times, WWE crowds cheer the things and people they're suppose to boo, and boo the things and people they're supposed to cheer. And not just on the day after WrestleMania. But in the pandemic era, fans aren't around to insert their opinion into everything and WWE can get Vince McMahon's vision out there in its purest form, unbesmirched by the opinions of the WWE Universe. That's the kind of wrestling The Chadster can really get on board with, and I'm glad that Bayley feels the same way as I do about it.
Enjoyed this article? Share it!