Posted in: Review, Showtime, TV | Tagged: antler queen, burial, episode 7, Review, season 2, showtime, yellowjackets
---
Yellowjackets Season 2 Ep. 7 Review: The Garfield Phone of Life
Walter answers his Garfield phone, Shauna lets out her rage & a whole lot more in the fantastic seventh episode of Yellowjackets, "Burial."
---
Showtime's Yellowjackets presented a brutal wake-up call for audiences when tensions rise from deep grief and repressed memories in the seventh episode of season two, "Burial." Similar to my previous review, I'll be diving into the episode in parts based on what or who they are involved with. A lot happened in this episode, so major spoilers will be plentiful…you've been warned… buzz-buzz.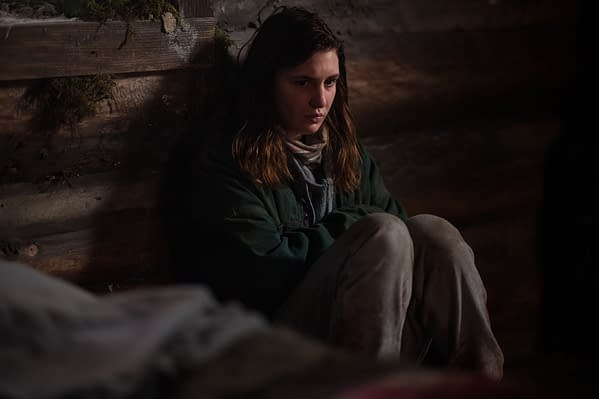 Something in the Way
Starting the episode with Nirvana's "Something in the Way" was a perfect way to encapsulate the dread and confinement of everyone shut in the cabin by the winter storm. The evidence of "cabin fever" is off the charts in this episode; even small amounts remain in adulthood as the characters explore Lottie's (Simone Kessell) compound. As cabin fever grips everyone, Shauna (Sophie Nélisse) does the same to the lifeless infant in her arms. As a sign of calm appears in the window, Shauna can move on in her way, and she seems to be alone as she creates a makeshift tomb for her dead child.
(L-R): Jasmin Savoy Brown as Teen Taissa and Liv Hewson as Teen Van in YELLOWJACKETS, "Burial". Photo Credit: Kailey Schwerman/SHOWTIME.
(L-R): Nia Sondaya as Teen Akilah and Alexa Barajas as Teen Mari in "Burial". Photo Credit: Kailey Schwerman/SHOWTIME.
The cabin door being opened, after being frozen shut (for who knows how long), is the catalyst for everything to boil to the surface. This episode is deeply profound and distressing, yet many moments bring clarity to so much of what these characters repressed post-wilderness. Shauna said her goodbyes with, "It's you and me against the world," and that may have emotionally broken me.
A glitch-filled intro that brought back Alanis Morissette's cover of "No Return", was such an impressive shift in tone as we quickly approach the end of this season. Yellowjackets moved past the emotional turmoil of the cabin introduction to the reunion we'd waited for at Lottie's compound. The shift between everyone settling in and handing over their cellphones and Van (Liv Hewson) and Taissa (Jasmin Savoy Brown) discussing the death of Shauna's child was a rollercoaster.
We have to chat about a heartbreaking moment between Van and Tai outside the cabin. From Taissa blaming herself (in a way) for the death of the baby to Van's attempts to console her, the emotional punch in this scene was so heartfelt. What twisted the course of their relationship was Van admitting she's lost some of her hope and survival strengths. If Van has changed her mindset, then that group is fucked. Teen Lottie's (Courtney Eaton) warning that the wilderness "doesn't trade"; instead, it "hears us" would be a huge reminder going forward. Taissa will likely still struggle to accept anything Lottie says about the wilderness and her alternate self that arrives in her sleepwalking. But soon, this may be something she either wrestles with in those woods or succumbs to. Time will tell.
Coach Ben, "PAUL!", and Misty's Missing Buddy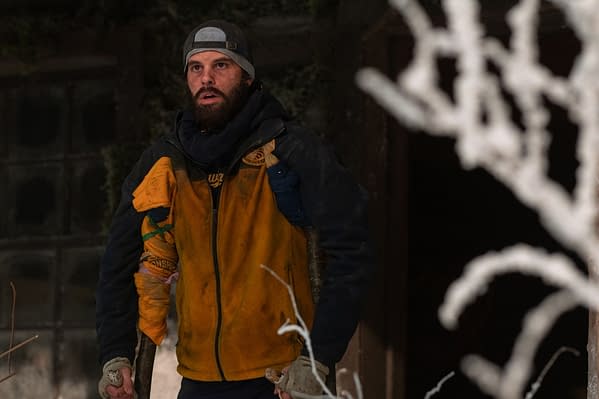 Coach Ben (Steven Krueger) is having visions again, but they're getting worse in this episode of Yellowjackets. They still involve his partner Paul (Francois Arnaud), but it's becoming evident that his mind is going. The shot of Ben standing outside the cabin as the doorway's antlers perfectly surround his head was fantastic. His shouting "Paul!" loudly was harrowing, to say the least. What was interesting about what Paul said in Ben's visions in his psychosis was that they continued to deny Ben of getting further wrapped inside the visions. Paul answered the telephone and said, "He isn't ready," and proceeded to tell Ben, "You aren't welcome" was unexpected and startling in many ways.
In the meantime, some of the girls are getting desperately hungry again in the Yellowjackets cabin (looking at you, "hear me out," Gen (Mya Lowe)). Misty (Samantha Hanratty) overhears this discussion about eating Crystal if they found her dead (ruh roh) and sparks something in her to move the body. Misty's a little too good at acting, but in many ways, it was fate to have her end up where she was out in the woods. Proving her grief seems to be an acrobatic journey as she gages reactions from the other girls who speak ill of her. As a bunch try and search for Crystal and Shauna spends some time crying for Jackie in the meat shed, Misty finds some concerning empty space below the cliff. Some extra supernatural shit must be happening. First, Javi (Luciano Leroux) appeared out of the blue, alive and well; who knows if that could be the fate for the fallen Crystal (big stretch, but it may happen).
When you take a moment to realize why it seems like Ben has snapped out of it (as he shaves and speaks coherently), you're heart will break into a million pieces. Looking back, it wasn't much of a quick decision to approach the cliff like he did. It was a trek for him, but his freshly shaven face was ready for the love of his life, which was nowhere to be seen except by him. Asking Misty to push him over the cliff was difficult to hear. And while she couldn't get through to him with threats of any kind, speaking about the grief over the baby spoke to him somehow. This scene had me holding my breath and about to sob at any moment. Not even Misty's threat of eating Ben's "high-calorie butt meat" was enough, but grief can speak volumes for some people. While emotional gut punches were being thrown, something worse was about to come along.
Caligula Has a Broadway Debut…with Walter?
Back at Lottie's compound in the present day, the newly arrived adults of Yellowjackets select from an activity list provided. Shauna (Melanie Lynskey) selected Self-Care, Misty (Christina Ricci) selected Guidance, Van (Lauren Ambrose) selected Forage, and Taissa (Tawny Cypress) selected Renewal. Natalie (Juliette Lewis) watched on and ended up being the mentally healthy one in this scenario, oddly enough.
(L-R): Christina Ricci as Misty and Melanie Lynskey as Shauna in YELLOWJACKETS, "Burial". Photo Credit: Colin Bentley/SHOWTIME.
In Self-Care, Shauna watched over a baby goat she named "Bruce;" in Guidance, Misty tried to avoid but ended up going in a sensory deprivation tank, in Forage Van gave up on the process and grabbed some liquor from her trunk, and Taissa attempts to paint a wall with a makeup brush but ends up spilling to Lottie about her sleepwalking again.
When it comes to Shauna's experiences in this episode of Yellowjackets, there's an obvious fear slowly coming forward she has rarely addressed. Losing that child during labor in the wilderness stuck with her, and her revealing to Lottie the fears she has had of having the same happen to Callie was monumental for her character to acknowledge. The assumption that she'd be made to kill the baby goat at the end of the day was unsurprising, but that didn't make it less heartbreaking to hear that from her. Shauna assumes what people will want from her and goes from there. She may be the one who truly captured what was meant to come from these activities.
As Shauna is discovering her hidden fears and inner strength, we go into some Lynchian territory with Misty's experience in the sensory deprivation tank. Misty ends up having one of the funniest scenes we've had lately in the series, including a dressed-up Walter (Elijah Wood) with a Garfield phone (I'm jealous) and a dancing, life-sized, Caligula played by John Cameron Mitchell. As a big fan of Hedwig and the Angry Inch, I was overjoyed by the casting choice made. The editing and transitions in this scene were so smooth and wonderfully peculiar. The neon sign versions of the destroyed black box, needle & syringe, and axe were the perfect addition to Misty's trip through her own mind. Misty left an awkward voicemail for Walter after her experience in the tank was as wonderfully cringe as one would hope it'd be.
So, Lottie's "new/temporary" therapist isn't real. A surprise to all of us apparently, including Lottie, who had a fun vision of the Antler Queen (herself?). There were some interesting moments as Lottie was beginning to accept the primal and authentic parts of herself. She had encouraged the same of others, including Taissa, but there's been a fear in her own mind to do the same. The trauma manifests in its own ways; Lottie seeing how far her visions are surrounding her may be the wake-up call she needs. It's time for a character like her to let others in on her experiences, and it can't be the imaginary therapist.
Yellowjackets, If You Bury All Your Gays…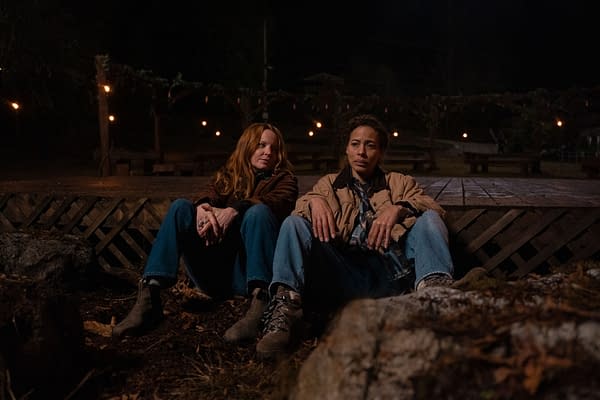 The scene at Lottie's compound between Van and Taissa did have some fantastic shots and moments of stillness. In moments like this, I appreciate the beautiful cinematography in Yellowjackets. But something that has me concerned was Van's cancer reveal. After the joy of watching them finally kiss, we get the horrific news that shortens our hopes for a longer connection between our favorite lesbians. Playing in my head was the iconic audio of "Let's Go Lesbians!" from Billy on the Street. With the news given to the audience and Taissa about Van's cancer, the concern and dread slipped in. It only got worse once Van revealed how bad the cancer has gotten, saying she has "months" to live.
As someone in the queer community and with a background in media tropes, this was upsetting for a whole other reason. It was horrible that a favorite character for many was seen in trouble of losing her business, but now she faced essentially a death sentence from her cancer diagnosis. While the trauma is plentiful and expected in this show, no matter if you're straight or gay, it feels a little bit too plentiful in some spots with this reveal. Ben's death feels imminent, but if Van's (and any others of queer identity) are added this becomes deeply concerning. A popular show has the power to show realism but also to change the narrative made for queer people again and again.
The Language of Brutality and Freedom
Lastly, Yellowjackets had one of its most brutal scenes at the end of this episode. There are a lot of conflicted feelings when watching this back-and-forth between Shauna's rage and the present-day gathering at Lottie's compound. Shauna deserves to get her emotions and rage out, but at the same time, Lottie is a character that has struggled in the wilderness as well, but in different ways. Lottie still has yet to be taken seriously about what she's experienced in the wilderness. So watching her get pummeled by Shauna in an act of "self-sacrifice" was heart-wrenching.
So much inner conflict was present in these moments. Two teenage girls, both with their own flaws and strengths, come together in such a weird and sacrificial way. I initially looked at this bloody and deeply upsetting scene with some anger, but in a twisted yet insightful way, it speaks to the need for the audience to adjust to the darkness approaching. This isn't a teen movie, it's the brutality of survival and the freedom in acknowledging trauma years and years later. Oh, and they found Adam's remains …so Shauna might be fucked.
Yellowjackets Season 2 Episode 7 "Burial"
---
---
Showtime's Yellowjackets S02E07 "Burial" was a wild ride full of moments that brought emotional panic and turned the corner towards the absurdity and brutality of survival and trauma. While some concerns remain involving the future of queer characters being depicted, the heartfelt humanity in the midst of supernatural sparks keeps this series producing fantastic episodes, one after the other.
Credits
---
---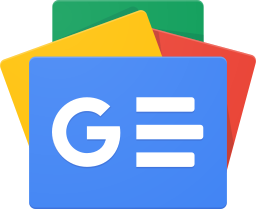 Stay up-to-date and support the site by following Bleeding Cool on Google News today!