Yub Nub: Is Disney+ Planning an Ewok 'Star Wars' Spinoff Series?
Before Star Wars fans banded together in their hatred of GunGun Jar Jar Binks, there were slightly shorter furry beings who were the target of ire and ridicule- the Ewoks. The murderous Carebear inhabitants of the forest moon of Endor (or the Forrest Moon, Endor) first made their appearance in Star Wars: Return of the Jedi, and two additional film titles after that- The Ewok Adventure: The Battle for Endor and Caravan of Courage, as well as an animated series that ran for two seasons. They're fluffy, they're cute, and they sure know how to use their local resources to help take down the Empire.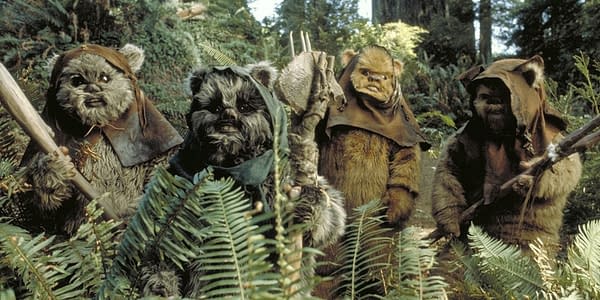 They also may be the subject of a Disney+ Star Wars series, if the current rumors can be believed.
According to a story from MovieHole, someone told them Disney+ is doing a series about the Ewoks. That's it. No additional information from them, or their "totally entirely reputable source".
Would a series about the Ewoks be a good idea? We're not sure, really.
Guess we'll just have to read "How NOT To Get Eaten By Ewoks" to prepare.
We'll let you know what we hear about Disney+'s cosmic conflict spinoff series plans.