This is the Top Ten Bleeding Cool Bestseller List, as compiled by a number of comic stores from their sales on Wednesday and Thursday. It measures what are known as the "Wednesday Warriors", those who can't wait till the weekend to get this week's comics. We salute you, and the keenness you bring to your passion. So, this week's list. DC's Year Of The Villain #1 came top but was was not the universal number one however. DCeased #1 also managed to place top in certain stores. But added to Batman and Justice League, they beak War Of The Realms #3 and the Savage Avengers #1 launch. As well as Walking Dead joining the top ten, Paper Girls also came along for the ride…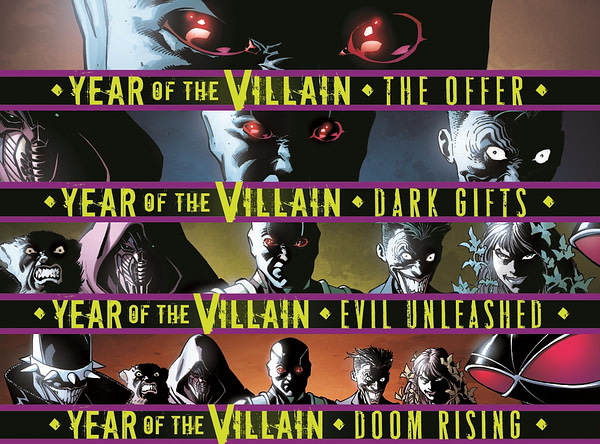 Top ten bestselling comics.
DC's Year of the Villain #1
DCeased #1
Batman #70
Justice League #23
War of the Realms #3
Savage Avengers #1
Uncanny X-Men #17
Walking Dead #191
Amazing Spider-Man #20.HU
Paper Girls #28
Thanks to the following retailers
Who had this to say:
DC's Year of the Villain took the first spot for us due to it being for just a quarter. Dceased #1 took second. Walking Dead 191 jumped up to third and sold out before 5:30 on Wednesday. Great cliffhanger. Batman who used to take the top spot so easily is bleeding out readership due to such a dragging of the story. It placed in 4th place for us. Deadpool #12 oddly enough sold out on Wednesday for us.
—
Paper Girls is almost number 1. WOW. DCeased is also picking up.
DC came into this week with a *heavily* loaded slate, and it paid off. Very nearly the entire top half of our list here are DC titles, with Marvel only managing to just crack the number five spot with the premiere issue of SAVAGE AVENGERS.
DC has had a fair amount of success generating buzz (and sales) with high-profile, loss-leader one-shots; from 2016's DC REBIRTH #1 and last year's DC NATION #0. This week brought us DC'S YEAR OF THE VILLAIN, which followed in NATION's footprints with an accessible-to-everyone twenty-five cent price point. Unsurprisingly, this was the book we moved the most copies of.
However, trailing behind YEAR OF THE VILLAIN by only a handful of copies sold was the premiere of DC's horror-infused mini-series DCEASED. Tom Taylor is a rising star in cape comics, and has plenty of experience writing high-mortality DC comics and coupled with that "how did they not use it sooner?"-level pun title, how could one resist?
BATMAN would have been number one almost any other week, but up against those two smash hits the Caped Crusader is taking a break down in the number three spot.
The rest of the list consists of some Marvel standbys such as UNCANNY X-MEN and AMAZING SPIDER-MAN, as well as their current event book WAR OF THE REALMS. DC manages to book end things with GREEN LANTERN and SUPER SONS holding down the bottom of the list.
—
It was a super strong week for DC, and with a 25 cent price, DC's Year of the Villain #1 was easily cemented as the best-selling comic of the week. Our Ssalefish-exclusive Joshua Middleton variant of the book was a huge hit, and I struggle to think of a single customer that DIDN'T pick up a copy when they came in this week. DCeased followed along behind, and a lot of folks were really pleased with their cover options, particularly the It-inspired horror variant. Very cool.
A big win for DC #1s aside, I have to mention that Avengers: Endgame has had a noticeable impact on foot traffic, and not in a good way. With everyone flocking to theaters to see the film following its release last weekend (some for the second or third time), it's as if Thanos really did snap away half the population- Along with $500 million in box office sales. Yikes.
—
For all the Avengers' popularity, it always is interesting how the movies' success doesn't exactly translate into comic sales. One has to wonder if there's more that Marvel Studios could do to intertwine the success of both- Take a note from Spiderverse, for example, which pushed a lot of people through the door due to the film's consistent recognition of the source material. It would be great to see something of that nature in the future of the MCU, but I reckon, for now, we'll have to wait and see.
—
DC takes five of our top ten spots this week, Marvel takes four, and Image takes one with Walking Dead. DCeased was a major hit, outselling DC's 25 cent Year of the Villain. Goes to show that even a two-bit price can't get readers excited if they aren't sold on the storyline. Savage Avengers was Marvel's best-selling book, showing that fans love the idea of Conan crossing over into the Marvelverse in a more significant way. And Walking Dead… well, the news of the final pages of this issue drove sales. The book would have done even better had Image actually told us what was going on, so that we could have ordered more (then we wouldn't have had to limit it to one copy per customer).
Notable sales:
Detective Comics #39 NG $850
Uncanny X-Men #8 VF $425
Spectacular Spider-Man #1 9.8 $500 Autographed Tom Holland Photo Variant