Kindred, as seen in recent Amazing Spider-Man comics by Nick Spencer and Ryan Ottley, once upon a time, was a human who died and went to hell. He became a demon and climbed the ranks of hell. He began torturing Mysterio in hell, and seemed to possess a mutual familiarity with Peter Parker, Spider-Man, referring to him as "Pete". Telling Parker that he was to be tormented for something he'd done. And reveals that he will do it through the family of Spider-people.
As a result, there has been a lot of speculation as to who Kindred is.
Theories are that he is the part of Spider-Man who died at the hands of Mephisto in One More Day.
Some suggest Uncle Ben.
Some the unborn May Parker who never existed because of One More Day.
Some, the body of Doctor Octopus, revived, with the centipedes filling the role of arms.
Som,e Flash Thompson.
But today's Amazing Spider-Man #31, we get more clues. Kindred has already captured and imprisoned Norman Osborn. One version of him anyway.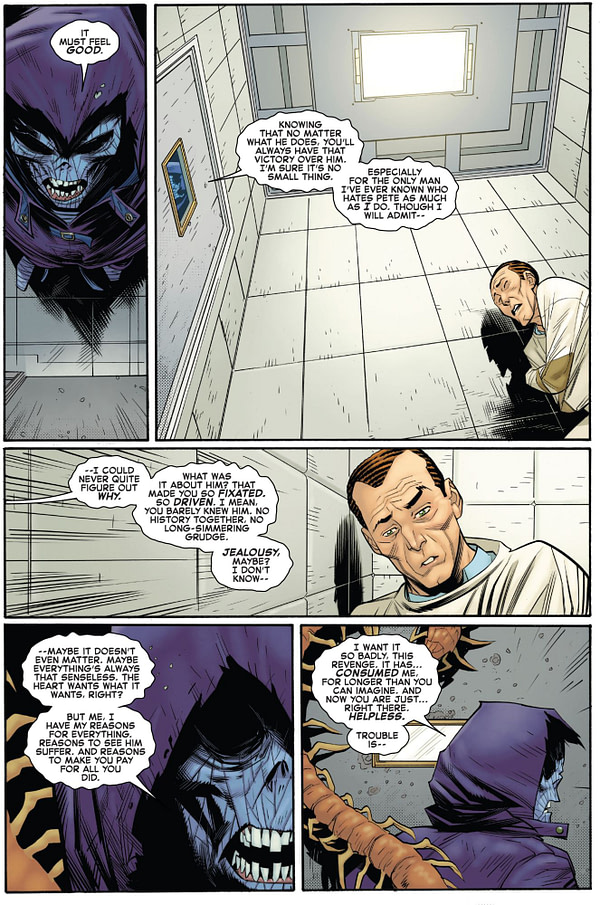 But I'd like to give a shout out to Cameron LaPage from the Bleeding Cool comments who suggested the pre-One More Day Harry Osborn. Who died after taking an advanced version of the Goblin Formula to fight Spider-Man, later discovering that it was lethal. Did his dead self go to hell, even as Mephisto resurrected a version of Harry Osborn in the 616? But leaving the pre-OMD version in hell to foster hate and to eventually become Kindred?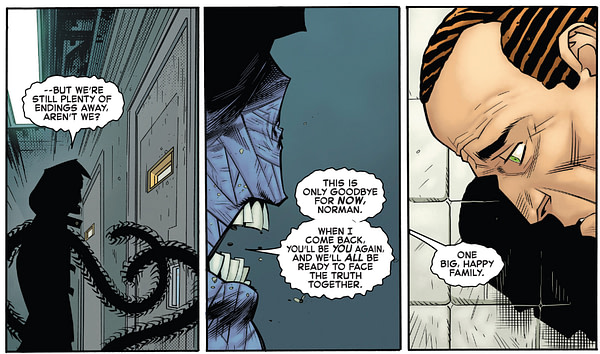 After all, they are family…
AMAZING SPIDER-MAN #31 AC
(W) Nick Spencer (A/CA) Ryan Ottley
ABSOLUTE CARNAGE TIE-IN!
•  Everyone who has ever worn the Carnage Symbiote has a Codex, including Norman Osborn from his time as the Red Goblin!
•  Can Spider-Man save Norman from Carnage? Does he want to?
•  WHAT OTHER SURPRISES ARE HELD HERE? MANY!!!
Rated TIn Shops: Oct 09, 2019
SRP: $3.99