Its the first day of C2E2 and the cosplay abounds! Here is just a sample of the excellent costumes around the convention from Robert Goode, and social media.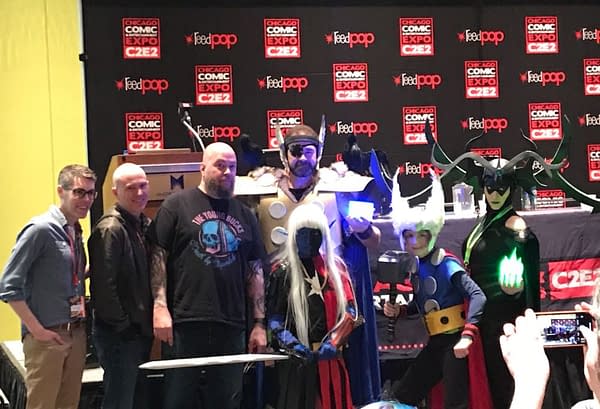 Rich adds: Thanks Robert, and here's some more going round on social media…
Great array of cosplayers at our #MarvelC2E2 cosplay photo op! #AgentMLovesC2E2 #C2E2 pic.twitter.com/LpRVhAUn7o

— Ryan Penagos (@AgentM) March 22, 2019
THIS MULTI-LAYERED BOTW COSPLAY 👌✨ pic.twitter.com/xuN7wMYG2Z

— Alison Wilgus @ C2E2 ✨R-13a✨ (@aliwilgus) March 22, 2019
One of my fav cosplay today. #C2E2 pic.twitter.com/rzwxn2lpK9

— Carter @ C2E2 '19 (@Soul_Xile) March 22, 2019
Amazing cosplay #Lesliepig, at #C2E2 by #SheaCosplay (if you know her, tag here 💖)! Thanks to @PaoloBelfiore and @ANN4RT for photos 💖 I'm super sorry that I'm not at the Con, as planned. I'm very sad. But, see you next time! And thanks to all nice people who search for me 💖 pic.twitter.com/DZHUoyty9P

— Mirka Andolfo (@Mirkand) March 22, 2019
My boys @c2e2 cosplay. They went as the Evolution of Miles Morales from @SpiderVerse #SpiderVerse #IntoTheSpiderVerse pic.twitter.com/3O5X8UJS8O

— RoGina (@gennatay) March 23, 2019
Oh, hey. Found the Phoenixes. #c2e2 #cosplay pic.twitter.com/WSHEiuQxTe

— J. Michael Bestul (@dashjperiod) March 22, 2019
Can you guess my C2E2 Cosplay? #villain ☔️ pic.twitter.com/ISPJ725u5Q

— Fal!Starr (@StarrSauce) March 16, 2019
Someone at @C2E2 cosplayed in my Wolverine costume… WITH HOT CLAWS! pic.twitter.com/vGf8G4toS3

— Dec @C2E2 AA O-3 (@declanshalvey) March 23, 2019
We are so excited for @kellysue & @Philjimeneznyc to drop Historia. This is our daughter (4) at @c2e2 pic.twitter.com/uZvlWTGSQy

— TJ Anderson (@TJSonOfAnder) March 22, 2019
View this post on Instagram
View this post on Instagram
And finally…
Ting ting…
Enjoyed this article? Share it!