Black Lightning s02e01 Recap: Tense Season Premiere, Timely Social Commentary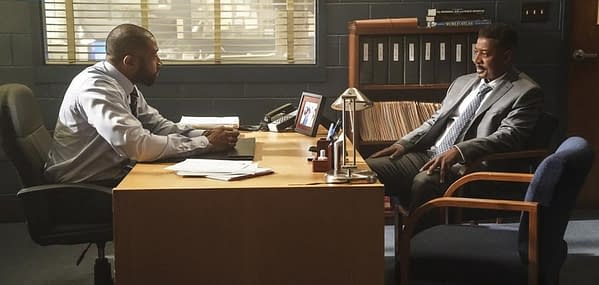 The second season premiere of the CW's Black Lightning definitely proved two things: there's no rest for the wicked- or the heroic; and that sometimes doing the right thing can lead to some very wrong things. Jefferson Pierce aka Black Lightning (Cress Williams), Anissa Pierce aka Thunder (Nafessa Williams) and the rest of "Team Lightning" have a lot more than a returning Tobias Whale (Marvin "Krondon" Jones III) to contend with: now that Green Light's out in the community, the battle for Freeland's future has gotten a lot deadlier – as you can see from these four key takeaways from 'The Book of Consequences: Chapter One – The Rise of The Green Light Babies'.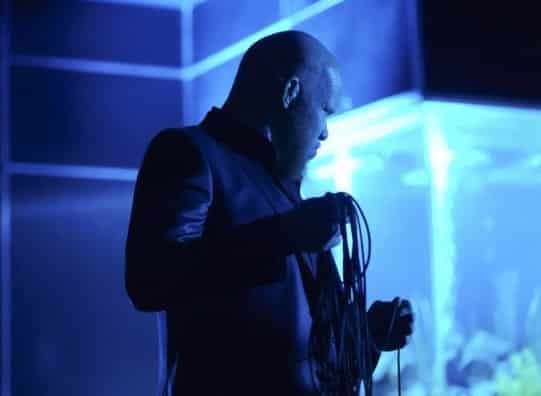 ● One aspect of Black Lightning's first season that fans connected with was its ability to keep the superheroics based in a real-world reality as much as possible, emphasizing that there are prices to be paid for the decisions that are made. Pierce's meeting with the Garfield High school board is a perfect example: it might be great to have a living, breathing superhero hanging around the school – but if no one knows who he is, then the only thing they see is a school with an absentee principal at times when his leadership was needed most. The Board's attitude makes sense in that context (even if it is tainted with a curious tone) – and why Pierce's decision to step down was the right one.
● Williams and her character Anissa really made an impression on viewers last season, so much so that the writers are giving her an opportunity to play what can best be described as a "third character." What's happened to Freeland is very similar to what we've seen happen in real life to Flint, Michigan (poisoning of a large population of color), and the recent U.S. immigration policy of family separation, and Anissa feels a sense of responsibility to the city and what's happened to it; in particular, the plight of the Green Light babies. This leads to a debate between her and her father, who believes she should work within the system to create change (being superheroes, you can see the irony there) – a belief that Anissa definitely does not share. Setting aside her personal and superhero personas, she dons a black outfit and begins robbing drug dealers to support her plans (???)
https://www.youtube.com/watch?v=1TJAOVF60Vw
● Jennifer's (China Anne McClain) still isn't adjusting to her powers like her father and sister have, and that should definitely cause some red flags to go up in viewers' minds. Making matters worse, from what we've seen of her powers it looks like Jennifer's functioning on a completely different vibe than Pierce and Anissa. The scene in the bathroom between Pierce and Jennifer, as he helps bring her power under control after another unexpected outburst, was an emotional knockout. The scene was a solid showcase for McClain's acting and an interesting visual allegory to a family's struggles with drug addiction – and Lynn suggesting a therapist felt like the right thing to do at the right time: again, it felt real.
● Final takeaway/highlight involves Tobias and how he might be realizing that Freeland has become something a little different and unfamiliar – even to him. After double/triple/quadruple (???) agent Kara (Skye P. Marshall) dispatched of Syonide (Charlbi Dean) with a little "soft shoe," she makes her way to Tobias' office – only to meet the business end of a harpoon gun. But…spoiler? It didn't stop her, barely slowed her down, and probably p'd her off. So expect to see more of her again this season – since it looks like she has some unfinished business with Tobias.
Black Lightning s0201 – 'The Book of Consequences: Chapter One – The Rise of The Green Light Babies': Jefferson Pierce (Cress Williams) and his family may have survived Tobias's (Marvin Jones III) attack, but they're not out of the woods yet.

Concerned for the safety of Garfield's students, the board considers a motion to shut down the school, forcing Jefferson to go to Napier Frank (guest star Robert Townsend) to sway the vote. Jennifer (China Anne McClain) struggles with her powers and her actions have unforeseen repercussions. Meanwhile, Anissa (Nafessa Williams) finds a new way to give back to Freeland. Lastly, Lynn (Christine Adams) continues her quest much to the dismay of Agent Odell (guest star Bill Duke). Damon Gupton and James Remar also star. Directed and written by Salim Akil. Robert Townsend, Bill Duke, and Angela Rye guest star.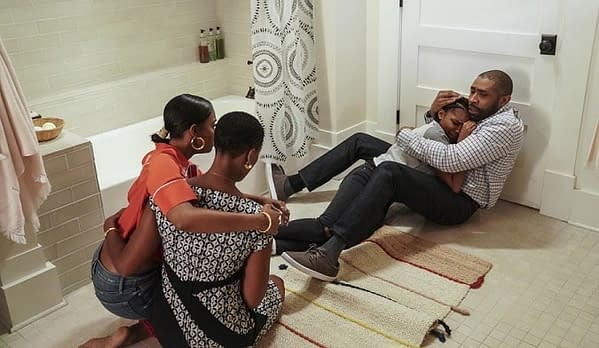 Now here's a preview of next week's episode 'The Book of Consequences: Chapter Two – Black Jesus Blues':
https://www.youtube.com/watch?v=3646AtJpXyk
Black Lightning s0202 – 'The Book of Consequences: Chapter Two – Black Jesus Blues': Jefferson (Cress Williams) must break the news to his students and faculty that he is stepping down. Struggling with his new life as Painkiller, Kahlil (Jordan Calloway) pays a visit to Jennifer (China Anne McClain) in hopes of mending things. Meanwhile, Tobias (Marvin Jones III) continues to enact his plan. Nafessa Williams, Christine Adams, Damon Gupton, and James Remar also star. Oz Scott directed the episode written by Charles D. Holland