Lying In The Gutters – 6th July 2015 – San Diego Dreaming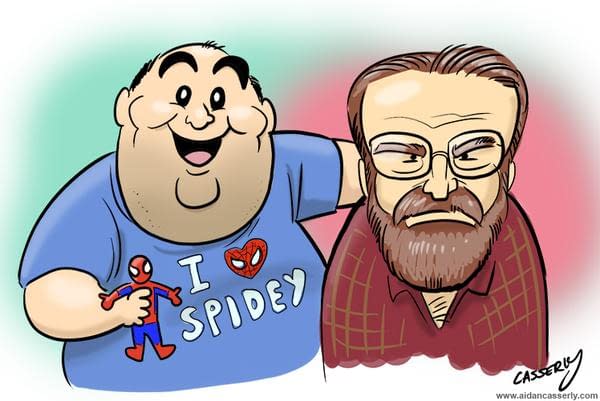 Cartoon by Aidan Casserly…
So, I'm off to San Diego tomorrow. That's if everything goes to plan. But first I'm off to see Ant-Man…
Top Twenty Traffic Stories Of The Week
1. Table Swipe File: Arthur Suydam At Montreal Comiccon
2. A Few Other #MarvelOctober Relaunches We Previously Didn't Know About
3. A Female Starlord For Guardians Of The Galaxy?
4. The Ultimates Is Back With Al Ewing And Kenneth Rocafort
5. Daredevil The Tutor In Charles Soule And Ron Garney Relaunch
6. A Very Pregnant Spider-Woman By Dennis Hopeless And Javier Rodriguez
7. New Avengers Brings You The Avengers Idea Mechanism From Al Ewing
8. Uncanny Avengers Relaunches With Gerry Duggan And Ryan Stegman
9. Fanboy Rampage: John Byrne Vs. Dan Slott
10. Retailer Posts Every Page From Marvel Preview Book, Out Tomorrow
11. Dennis Hopeless And Mark Bagley Relaunch All-New X-Men
12. Cullen Bunn And Greg Land Relaunch Uncanny X-Men
13. An… All-Old Hawkeye? From Jeff Lemire And Ramon Perez
14. Jeff Lemire And Humberto Ramos Launch Extraordinary X-Men
15. The Arthur Suydam Situation Refuses To Die
16. Silk Goes Supervillain With Robbie Thompson And Stacey Lee
17. Sam Wilson, Captain America #1 From Nick Spencer And Daniel Acuna
18. Venom: Spaceknight From Launches From Robbie Thompson And Ariel Olivetti
19. The Illuminati From Josh Williamson And Shawn Crystal
20. Warren Ellis And Gerardo Zaffino Launch Karnak #1, New Inhuman Title
And Ten You May Prefer
1. Francis Manapul Walks Off Detective Comics For Something New
2. Brian K Vaughan To Write The Walking Dead
3. How To Turn Your Star Wars #1 6th Print Into A 1st Printing
4. Kaare Andrews The One % – After Marvel Wouldn't Pay For His Drinks
5. Where Is The Thing In Secret Wars?
6. The 28 Skottie Young Marvel Pins Of San Diego Comic Con
7. Scott Pilgrim's Bryan O'Malley And Leslie Hung's Snotgirl
8. When Bleeding Cool Visited Twitter Headquarters For The #ValiantSummit
9. A Look At Bleeding Cool's Panels For SDCC '15
10. Gendercrunching April 2015 – Including Image, IDW, And Dark Horse