Marvel's Cloak and Dagger Season 1, Episode 5 Recap: Princeton Offense
This article contains spoilers for the Marvel's Cloak and Dagger season 1 episode 'Princeton Offense'.
.
.
.
.
.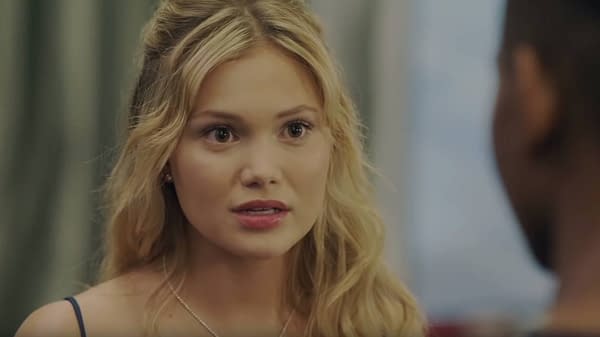 The episode starts with Tandy Bowen (Olivia Holt) sitting on the floor in the church going though all of the files she recovered from Greg's office after the fire. We then see a lone police car in the middle of nowhere and find Detective Brigid O'Reilly (Emma Lahana) in the back having sex with another officer when her phone rings. She goes back to the station and meets with Tyrone Johnson (Aubrey Joseph), who tell her about Connors (J.D. Evermore). When she says they can't get him on Billy's death, Tyrone brings up the drug dealing.
We cut to school, where Tyrone finds his locker all decorated for the finals. Tandy finds him there, and shows him that she can now make her daggers easily. She needs the computer lab, so she can print out bios on Roxxon employees. She tells Tyrone that there seems to be someone missing in the story about her father, and she's going to use her abilities to see people's hope to find out who it is.
Tyrone talks with his mom (Gloria Reubens) about Billy and the big game, then he ends up teleporting to see one of Billy's old friends, Duane. Duane has built up a restoration business, and the other boy ended up doing well too.
O'Reilly digs into the drug dealing history of the area and discovers that not long ago, a majority of the dealers were all taken down around the same time with information provided by Connors. While others see it as cleaning up the street, she sees it as someone eliminating the competition.
Tandy realizes that there is a Roxxon gala event that evening and one of the executives takes escort/models with him, so she signs up with the agency he uses and gets brought on board. Tyrone meets with Evita (Noelle Renée Bercy) in the priest's office before the game, where he gives her his letterman's jacket. They kiss. We get an interesting montage of Tandy working the gala while Tyrone is playing basketball.
O'Reilly goes to visit Tandy's ex-boyfriend to find out who's moving drugs in the city. Tyrone realizes that the ref is on the take, and when he fights for the ball, the ref touches him and he see the ref's fears of being beaten up by gambler/bookies. Tyrone stresses out and ends up teleporting the basketball to Tandy at the gala, where it just appears out of nowhere and starts bouncing. Tandy touches the different executives, and each one has a certain man in it that they seem to be degrading, which tells her who their boss is.
At halftime, Tyrone tries to relax. He puts a towel over his head and ends up at the gala. His powers have been going haywire all night, and he figures it's because Tandy has been using hers too much. Where they talk they find a picture of the guy she's been looking for: Peter Scarborough (Wayne Péré), the same man who came to their house after Tandy's dad's death and took all his stuff. Tyrone asks about how he can get back, and she tells him he needs to put his life at risk. She pushes him off the second floor and he ends up back at the school.
O'Reilly busts a dealer to find her source, but she gets everything from a runner and doesn't know the top man. Tandy starts doing research into Scarborough and realizes he is at the center of everything.
Tyrone gets the ball at the end of the game. Everyone he touches reveals their fears to him as he drives past them. He hesitates and then puts up the last shot, missing it and losing the game. The ref looks like he knows he's getting beaten now. Tyrone likely missed on purpose.
Tandy goes to Scarborough's house claiming to have a flat tire and asks to use his phone. Scarborough instead goes out himself to change the tire. Luckily, she did flatten it. She stands behind him, holding a light dagger and ready to kill him, but she stops. She touches him instead and sees a vision of him in the gulf collecting money from traps. He sees Roxxon employees' bodies and takes the money off of them until one is still alive and fights back. Scarborough drowns him, then continues to take the money. Cut back to reality, and he is just being nice as can be.
Back at his house, Evite is waiting for Tyrone in his bedroom. She tells him that she knows what he did and why — that she knows who he is. She then takes off her coat and is only in her underwear. We move to O'Reilly, who is doing some of the drugs that she took off the dealer. Connor walks in and catches her, but he takes a hit too. And it's obvious that she did this to get in with Connor.
The morning after with Evita, she leaves and Tyrone teleports back to the shop where Billy's friend, Duane Porter (Dallon J. Holland), is meeting with Connor. We find out that they're partners in the drug business, and it has to do with Billy's death. Tandy follows a name she saw in Scarborough's hopes that leads her to Mina Hess (Ally Maki), the daughter of another Roxxon employee who died in the incident that killer Tandy's father. Mina works for Roxxon.
Something interesting is that we have our first possible connection to the rest of the MCU, and that is Detective O'Reilly. In the episode she talks about her last job being in Harlem and working narcotics there. In Marvel's Luke Cage season 2, episode 8, which takes place in Harlem, there is a scene between Misty Knight (Simone Missick) and Nandi Tyler (Antonique Smith) where they talk about officers they used to work with, and they mention how O'Reilly moved to New Orleans. Maybe that is just a huge coincidence, but I don't think so.
There are a lot of pieces in play now. What is the relationship between Connor and Duane? Who exactly is Mina, and how is her father Ivan connected to Tandy's father? Exactly what does Evita know about Tyrone, and how does she know it? We're moving into the second half of the season, and the preview looks like things are going to be getting more intense.