This articles contains spoilers for Marvel's Jessica Jones season two episode – aka Three Lives and Counting.
.
.
.
.
.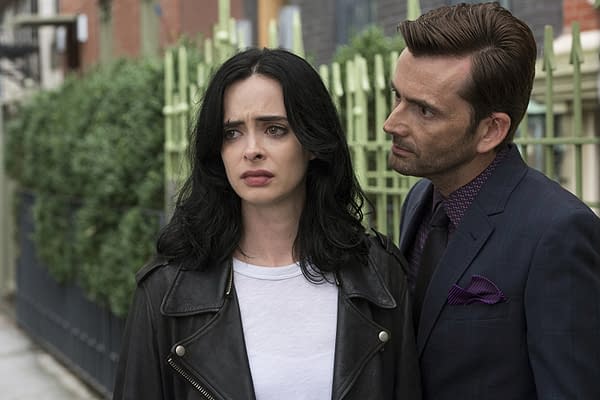 The episode starts with Jessica (Krysten Ritter) freaking out after killing Dale (Brian Hutchinson), but while she is panicking she realizes that she needs to clean up the house and make it look like a suicide. Which she proceeds to do including writing a suicide note, leaving out the trophies and then dropping the body off the roof. Immediately after we hear clapping and Kilgrave (David Tennant) appears to be standing on the roof with her. He is, of course, a figment of her imagination that keeps popping in and out during the episode trying to convince her that she is a killer because of her DNA and now that she's killed three people, including Kilgrave, she should just accept who she is. He even shows up when shes trying to take a shower… extra creepy. And the street thing that used to work in season one to calm her down isn't working anymore as Kilgrave joins in since he's in her head.
Alisa (Janet McTeer) gets a new guard and she much nicer than Dale was. Marilyn (Jennifer Fouche) lets Alisa call and check on Jessica. Karl's new papers are left under the door, Jessica takes them to Karl (Callum Keith Rennie) only to find he's gone and she deduces that he's been taken. She goes sees mom to find out where else Karl may have gone, Alisa gets up set and immediately blames Trish (Rachael Taylor), Jessica insists it's not Trish (but we know it was). Greatest moment in the series has to be Kilgrave singing I Want Your Cray Cray while leaving the prison. Heads back to Alias was Kilgrave continues to try and convince her that killing it okay, even him as it was poetic justice. She discovers that Malcolm (Eka Darville) has been helping Trish find Karl. She uses a dating app to triangulate where Malcolm is, while he's still trapped in the trunk. Trish is taking Karl to storage and a veterinarians to get what he needs to do his procedure on her. Malcolm gets out of trunk and confronts Trish, she pulls gun and forces Malcolm back while she and Karl get in the car. Jessica arrives just as they speed off.
Alisa sees the beach on TV and flashes back to her and Karl on the beach. He tells her he can't trust Hansen and Coslov anymore and is shutting down the clinic. Will take her with him because he loves her. They kiss. Malcolm remembers the logo on the bag Karl was carrying and finds the vet they visited. They get info by locking the worker into a dog cage and leaving her there. Jessica now realizes what they are getting items for. But the Kilgrave hallucinations are getting worse, to the point where Jessica almost strangles someone. Malcolm stops her and she goes to find Trish while Malcolm deals with the guy.
At IGH, Karl begins the procedure on Trish. By the time Jessica arrives, it isn't going well and Trish is near death. Jessica breaks in and nearly kills Karl but stops herself. Makes him realize everything he's done has caused death. She starts to pick of Trish to get her to a hospital. Karl grabs Jessica's gun, points at some tanks on the side and tells her to run. She grabs Trish and gets out of the building just as it explodes. Jessica gets Trish to the hospital and the doctors begin working on her. Malcolm arrives and he and Jessica argue. She fires him, but in case she changes her mind again, he quits. She is along in a room with the Kilgrave hallucination and realizes that she isn't a killer. She didn't kill Karl and she can control herself. Kilgrave says he'll be there if she needs him and leave.
Back at the prison, Alisa sees the report of Karl's death and the image tying him to Trish. She freaks out. Marilyn goes in to check on her and Alisa throws her across the room and breaks out of her cell with alarms going off.
That's where the episode ends. I wasn't sure how bringing back Kilgrave was going to work, but it turned out brilliant. Tennant is still amazing as the character, unlike any other role he's ever done. And it's a treat to have him back, even if for just one episode. The truth about Trish gets laid out just before the procedure when she talks about feeling powerless, having an abusive mother and a super powered sister. This is a deep-seated issue which I'm sure Jessica will end up feeling guilty about. It will be interesting to see if they continue down this line and give Trish powers after the procedure or if they go a different direction with the character. Jessica pointing out that his dating is just a different form of addiction is a pretty interesting moment as well.
Two more episodes to go… not really sure who to label as the big bad in this season as there really isn't a clear cut black hat here.
Enjoyed this article? Share it!