Marvel's Luke Cage Season 2, Episode 11 Recap: The Creator
This article contains spoilers for the Marvel's Luke Cage season two episode – The Creator.
.
.
.
.
.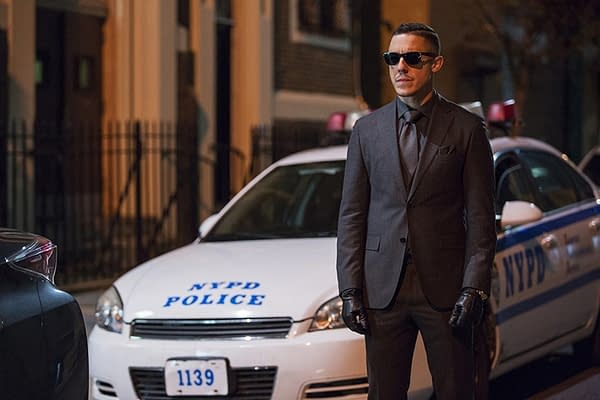 This episode starts with Luke Cage (Mike Colter) and Misty Knight (Simone Missick) at the scene of the Gwen's massacre and Luke is angry, thinks he should've just let Mariah Dillard (Alfre Woodard) burn that night in her brownstone. Misty notices the burnt corpse has an up close shot with no shell casing, meaning a revolver. Luke notices a blood trail moving away meaning that there may be a living witness. We cut to where Tilda Dillard (Gabrielle Dennis) is trying to heal John "Bushmaster" McIver (Mustafa Shakir), but the 'GMO' nightshade they have isn't doing it and he still looks in really bad shape. We then flashback to Kingston, Jamaican in the mid-1980s where we meet a young Cornell playing in a pool, young Mariah laying in the sun and young John working at the resort. Inside Gwen McIver and her lawyer are trying to work a deal with Mama Mabel, Uncle Pete and a younger Ben Donovan to split the deal that Bugsy Stokes and Quincy McIver had before they both died. The negotiations aren't going well. Back to modern day Mariah and Hernan "Shades" Alvarez (Theo Rossi) are being shown the new safe room at Harlem's Paradise made from a type of plastic used to make nuclear bomb shelters. Shades asks if she thinks this will stop Bushmaster from coming after her for what she did and Mariah says, "what WE did."
Misty does her visual thing but can't quite see if it was Mariah yet and Luke interrupts her. Mark Bailey (Justin Swain) comes in with names on some of the victims including Anansi and the figure out that the missing witness was likely his wife, Ingrid (Heather Simms). Luke hits the streets trying to find Ingrid and making sure it wasn't any of the other gangs. Misty gets pulled in to do a press conference to try and calm the city down. She does a good job. Shades, still obviously effected, goes to Mariah and asks what she was thinking. Mariah tells him she sees the doubt and fear in his eyes, but she needs him to leave Hernan aside and be Shades and get the job done. At the station, Misty sees that only 9mm rounds were used on everyone else, just the one .38 shot was fired and that's the same caliber that shot Candace (in season 1). Back with Bushmaster we find out that as a kid he was given a mysterious vaccine along with a bunch of other kids, all of them died but him. Tilda thinks the nightshade is what's killing him (though the explosion looks like it might've helped). We flash back and see the night that the bottle of rum crashed in through the window of young John's house. His mother pushed him out the window to safety but the house collapsed before she could get out. Mama Mable came by and tossed the lawyers contract onto the fire. Tilda feels sorry for Bushmaster, but is reminded the same Stokes blood runs in her veins.
Ballistics comes back and matches the bullet from Anansi to the one that killed Candace, and that it comes from an older model revolver… like a trophy piece. Mariah meets with the Koreans to make a deal to get into the drug trade, something Mama Mabel never wanted in Harlem. Luke finds Ingrid at one of the clinics and takes out two of Mariah's goons that were looking for her too. He tells Ingrid he will protect her and heads out into the parade to lose any tail. But Shades grabs her and pulls her into a room, but he couldn't pull the trigger. He's lost his nerve and bails before Luke finds Ingrid again. Ingrid says she doesn't want to relive what happened to her husband, she won't talk to the cops. She tells Luke if he wants this to end, he should just kill Mariah himself. But Luke tells her that the answer to war isn't more war and too many innocents have died. She tells him that he's not much different than her nephew, except he focuses his anger where Luke internalizes it, which is more dangerous. He's going to Ingrid to her friends and they move into the parade. Tilda is told to give Bushmaster more nightshade regardless of the risk. And we flashback again but 2-years after the fire. Young John is working a fruit stand when Uncle Pete walks up and shoots him twice in the gut, telling him, "When you see Quincy, tell him that was from Bugsy." His uncle Anansi takes him to a healer. We see the healer working and paralleling with Tilda working in the modern day. We see the nightshade work on both versions of him, we see the shrapnel from the bomb blast be pushed out of his body and him heal. And then we hear that Ingrid has been telling Luke the story. Ingrid insists that Luke and Bushmaster are similar and that she won't talk to the cops, she just wants to see her husband.
Misty finds another case where the same revolver was used, a body fished out of the river. It is, of course, Peter Stokes. We the go to Mariah who suddenly starts having a conversation with Mama Mabel and Uncle Pete about the drug trade and about Tilda. Mariah ends up yelling that she will own the whole town to an empty office. Bushmaster is okay and his man calls to let everyone know but finds out about the massacre and is too broken up to say exactly what happened. Misty takes the Pete information to Ridley who sees that Scarfe was part of the Pete case and the DA won't touch it. They have to find the gun itself. Misty then calls Luke who tells her that Ingrid won't testify. That she just wants to take Anansi's body back to Jamaica and Luke thinks they should let her. That it's not worth Ingrid's sanity. Bushmaster, Tilda and his man go to Gwen's to see what happened. Bushmaster is upset, he feels that was meant for him. But he lets Tilda go.
Shades returns to see Mariah flirting with her assistant. Shades tells him to leave but Mariah says she decides that. Shades pulls his gun and the assistant leaves. Shades tells Mariah it's like he's seeing her for the first time. That there is a code of the streets and she's breaking the rules, innocent people are dead. Shades tells her he's done, that she's lost her heart. That she watched Anansi burn and didn't even flinch. She tries flirting with him to bring him back around, but it doesn't work. She tells him that he's been off since Comanche died. She starts talking trash about Comanche, about he and Shades being lovers. Shade snaps and starts choking Mariah. But he stops, tells her she's not worth the effort and walks away. As Mariah is trying to catch her breath, Tilda walked in, asked her if she gave the order for the attack at the restaurant. Mariah says she lit the match and pulled the trigger. Tilda storms out. Shades goes to Misty and tells her that Mariah has gone to far and she needs to go… and he's going to help. He turns himself in. Bushmaster has gone to see his uncle's body when Ingrid and Luke arrive. She tells them not to fight, that they need to talk while she sees her husband. They talk. Luke tells him to walk away because if they fight again he'll make sure Bushmaster doesn't walk away. Bushmaster tells him he'll be ready and he doesn't look forward to killing Luke. Luke leaves them and as he's walking home, Sugar (Sean Ringgold) Sugar finds him. Sugar tells him things are out of hand and Harlem doesn't need a sheriff anymore. Luke says he's write, it needs a king then says they need to talk.
This episode was full of surprises and changing of loyalty. For a while there it seemed like Bushmaster was the worst and Luke should help Mariah, but now she's gone above and beyond and has made Bushmaster seem like an antihero. Two things they're driving home a lot in this season is Luke's anger and how much he and Bushmaster are alike. Tilda appears to genuinely feel sorry for Bushmaster. But the biggest thing has to be Shades. In case you didn't pick up on it in the previous 23 episodes of Luke Cage, the Mariah / Shades relationship is a gender flip version of Macbeth / Lady Macbeth with him pushing her to take the crown and kill if necessary. If you hadn't picked up on that, they went ahead and had a scene of Shades obsessively washing his hands to get blood off that wasn't there anymore and you have Mariah arguing with the dead. But even with all that, I didn't see Shades turning himself in.