Marvel's Luke Cage Season 2, Episode 9 Recap: For Pete's Sake
This article contains spoilers for the Marvel's Luke Cage season two episode – For Pete's Sake.
.
.
.
.
.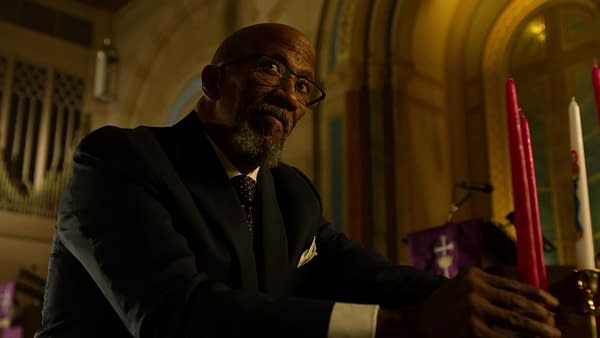 The episode starts and it looks like it might be in a bottle. A bottle episode is a TV term where the whole story takes place on existing sets with mostly the series regulars. And while the Rand building where they all end up isn't an existing set, you have Luke Cage (Mike Colter), Reverend Lucas (Reg E. Cathey), Misty Knight (Simone Missick), Mariah Dillard (Alfre Woodard) and Tilda Dillard (Gabrielle Dennis) all held up together trying to survive the night while John "Bushmaster" McIver (Mustafa Shakir) has his men scouring the streets to find them. Misty called Danny Rand and got the code to a new building still under construction where they could lay low. But tempers start up immediately and Misty and Mariah bump heads and even the reverend's prayer circle didn't help. But Tilda tends to the reverends hand that he hurt while punching a thug. Luke tries to convince Mariah to flip on Bushmaster so they can have him arrested and off the streets. She'll only do it if she gets immunity on the guns that she sold to Bushmaster. Misty says no, but Luke points out that Hernan "Shades" Alvarez (Theo Rossi) wouldn't be part of the deal… and Mariah is okay with that. Misty and Luke argue about the idea, but Luke makes the argument that they can only take on one devil at a time and the move takes down Bushmaster, they can go after Mariah later. Misty heads back to the station and discovers that Deputy Chief Priscilla Ridley (Karen Pittman) has come in to take over and they bump heads immediately. Tild overhears Mariah and Luke talking about their place in Harlem, Mariah says "Harlem doesn't need a hero, it needs a queen."
Ridley agrees to pitch the immunity deal to the district attorney. Luke and his father get to sit down over a cup of cocoa and talk. Not about their past, but about the burden of responsibility and having a calling. He calls Luke out on pushing people away when he's stressed, just like he does. They also talk about how Tilda used her herbs to make the reverend's hand better and what is magic vs what is science. DA Tower approves the immunity and sends the paperwork over. Misty tells Ridley that she had argued with Ridenhour about making a deal with Mariah and now she's doing the same. Ridley insists that this is the right play, tells Misty to get it done. But Nandi Tyler (Antonique Smith) is listening and hears where Misty has Mariah stashed. Luke talks to Tilda about what Bushmaster got from her. She explains about how she merges ancient and modern medicine, but Bushmaster used the herbs, including nightshade, in some arcane rituals to get his strength and invulnerability. She wants to figure out how, but isn't sure she could come up with a way to stop him. She feels responsible in part for making him. Luke asks her to tell him everything she can, Tilda agrees in exchange for Luke telling her everything he knows about Mariah.
Bushmaster is still wanting more nightshade but his uncle won't help and it will take too long to grow. Nandi arrives at the club, tells Bushmaster she knows where Mariah is if this offer is still good. Mariah and the reverend have a talk about raising children and how they failed their kids. He shows her pictures of Luke as a kid and they share a nice moment… then she swipes his phone. She calls Shades, but he ignores it not knowing the number and that he's sitting in Gwen's, the restaurant Bushmaster's family owns. We then cut to a scene that is almost impossible to pay justice to in a description. Tilda confronts Mariah about what she learned… and the truth comes out. Mariah loves Jackson Dillard, but he was gay and their marriage was a sham to make his family happy. His family was happy he was marrying a woman regardless of who or that she already had a baby. Jackson wasn't Tilda's father, we learn the truth that Uncle Pete would sneak into Mariah's room and have sex with her. She never wanted it and when she got pregnant, Mama Mabel sent the baby off to live with the Johnsons. And Mariah confesses to killing Cornell because he taunted her, telling her that she wanted it… that's why she hit him and killed him. She insists she never wanted it and never wanted Tilda, because all she saw when she looked at her daughter was Uncle Pete. It is a powerful, shocking and heart-wrenching scene that has to be seen to be fully appreciated.
Misty arrives and Mariah signs the papers. The cops raid Harlem's Paradise but no one is there. That's because he's taken everyone to the Rand building to get them. Bushmaster offers to let them all go if Luke gives him Mariah. Luke considers it and knows Mariah would've sold him out, but Luke was raised better than that. He jumps out the window and takes the fight to them. He and Bushmaster throw down and where Bushmaster isn't as strong as he used to be, he is still a good fighter. Misty is inside with the others taking on some of the gun men. Mariah picks up a gun and starts fighting back. Bushmaster pulls a knife and goes for Luke's eyes, but Luke gets the upper hand and beats him down. Bushmaster tells him that if he wants to stop him, Luke will have to kill him. Luke says he'll be there to stop him every time. The cops come and arrest Bushmaster and his men. Mariah vanishes and her immunity deal with her. Luke talks to his father, who asks him to come home with him to Georgia. But Luke says his work in Harlem isn't done. The reverend talks about how dealing with people disconnected from their soul can weigh on you, fill you with anger and darkness. Luke says he understands. His dad tells him to don't let his calling become a curse, for Luke to be better than him. He tells Luke that he's never been more proud of him and that he loves him. They hug it out and then head off to get some food.
On his way to prison, Bushmaster tells a story of the birth of Jamaica and then blows everyone up with a bomb he was smuggling. Tilda returns to Mother's Touch to find a wounded Bushmaster and one of his men waiting for her. She's told that she either saves him or she dies. Shades finds Mariah walking the street. She says she is no longer denying who she is and she wants what is hers. He has a gift for her, Bushmaster's uncle tied up in the trunk.
This episode was pretty amazing for the performances by both Alfre Woodard and Reg E. Cathey. Both highly emotional scenes had the music cut off to add impact to the words being said. The hiding out, the fighting, all of that was good… but those performances made this the best episode of the season so far.