Black Bolt & Lockjaw Return From Attilan With A New Mezco Figure
Black Bolt, the Silent King of Attilan has arrived. He's only silent by choice as this Marvel Comics Inhuman icon can crumble cities with just a whisper. There was a time where the Inhumans were Marvel's main priority but it seems that they have all up and vanished again. However, Mezco Toyz has announced a Black Bolt and a Lockjaw One:12 collectible figure set. Lockjaw features a new light-up ability or his centerpiece on his head, lights up. Lockjaw is packed with detail and has six points of articulation. As for Black Bolt, he is jampacked with detail and just as much articulation with over 32 points. He does come with two separate ad swaps as well as eight interchangeable hands, including a pair of fists, a pair of grabbing hands, and two pairs of posing hands. Black Bolt does come with a screaming effect so you can pose him in action. Don't forget you will get the themed base and the adjustable posing post with the figure. The Black Bolt and Lockjaw combo is a great offer and should satisfy any fan of the Inhumans from Marvel.
The Marvel Comics Black Bolt and Lockjaw One:12 Collective Figure Set is priced at $130. They are set to release between June 2020 and August 2020, pre-orders for them are already live in located here. Don't forget to check out the other Marvel One:12 figures from Mezco Toyz.
"I. Am. AWAKE!!"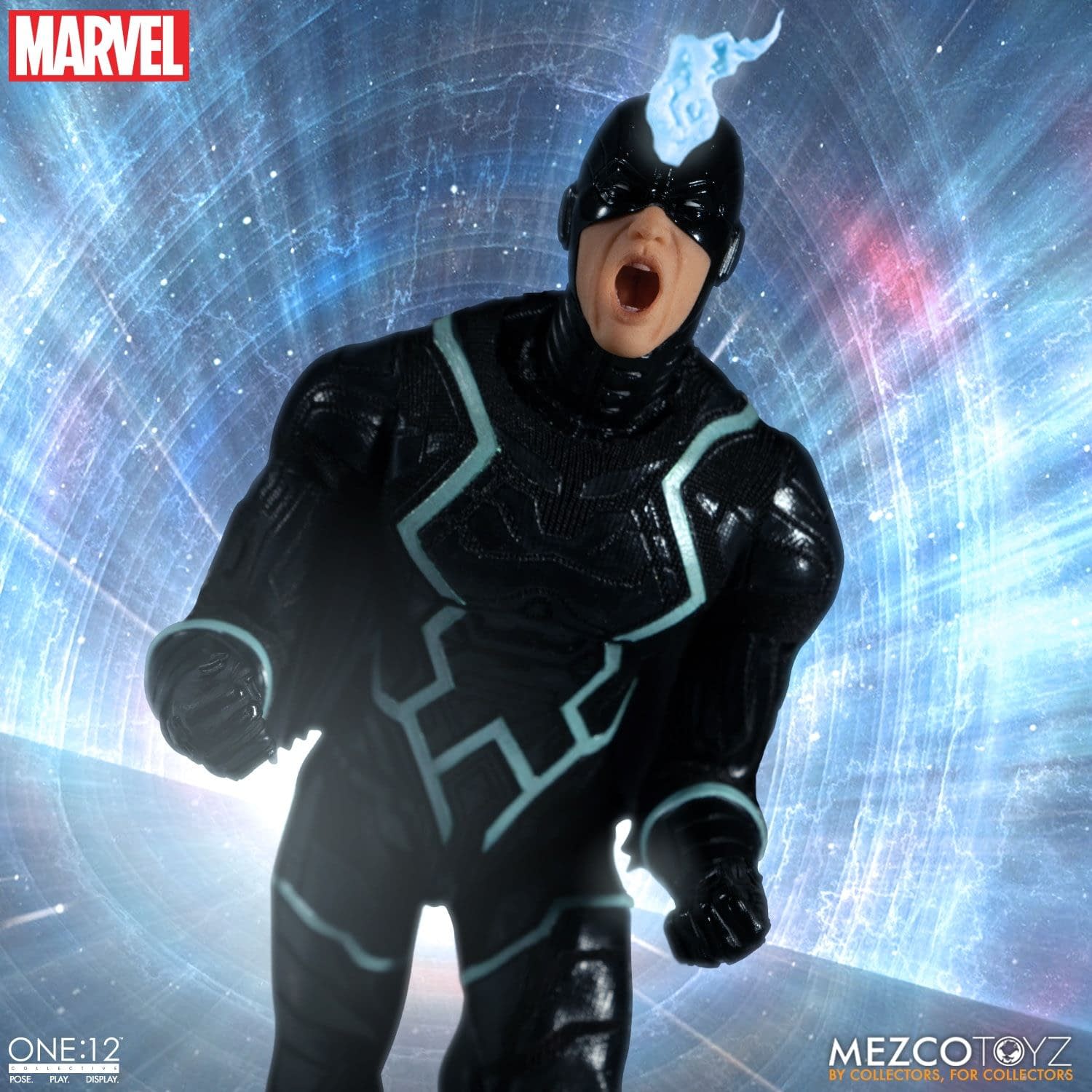 Marvel Comics – Black Bolt and Lockjaw One:12 Collective Figure Set
The One:12 Collective Black Bolt is outfitted in an energy-harnessing suit capable of controlling his destructive power. The energy he harnesses can be turned into powerful blasts of concussive force. The antenna on Black Bolt's head allows him to channel his power inward to increase his strength, stamina, and speed. Complete with 2 head portraits, the King of the Inhumans comes with a devastating sonic scream FX that can be displayed using the included post.
Lockjaw, the loyal protector of the Inhuman Royal Family, features a light-up function that illuminates the antenna on his head. Using Kree technology, the antenna enhances Lockjaw's teleportation radius.
Exposed to Terrigen mists before birth, Black Bolt obtained a dangerously loud voice that causes massive damage with even a whisper. Reigning in silence, the King of the Inhumans can level cities with a single word due to his sonic powers.
Lockjaw, faithful and fuzzy companion to Black Bolt, gained the ability to teleport across time and space after being exposed to Terrigen mist. With super-canine strength and telekinetic abilities, Lockjaw is an indispensable part of the Inhuman world.
THE ONE:12 COLLECTIVE BLACK BOLT & LOCKJAW SET FEATURES:
Black Bolt

One:12 Collective body with over 32 points of articulation
Two (2) head portraits
Hand painted authentic detailing
Approximately 17cm tall
Eight (8) interchangeable hands

One (1) pair of fists (L&R)
One (1) pair of grabbing hands (L&R)
Two (2) pairs of posing hands (L & R)

Lockjaw

6 points of articulation
Hand painted authentic detailing
Approximately ??cm tall
COSTUME:
Energy-harnessing suit
Underarm wings
Wrist gauntlets
Knee armor
Armored mid-calf boots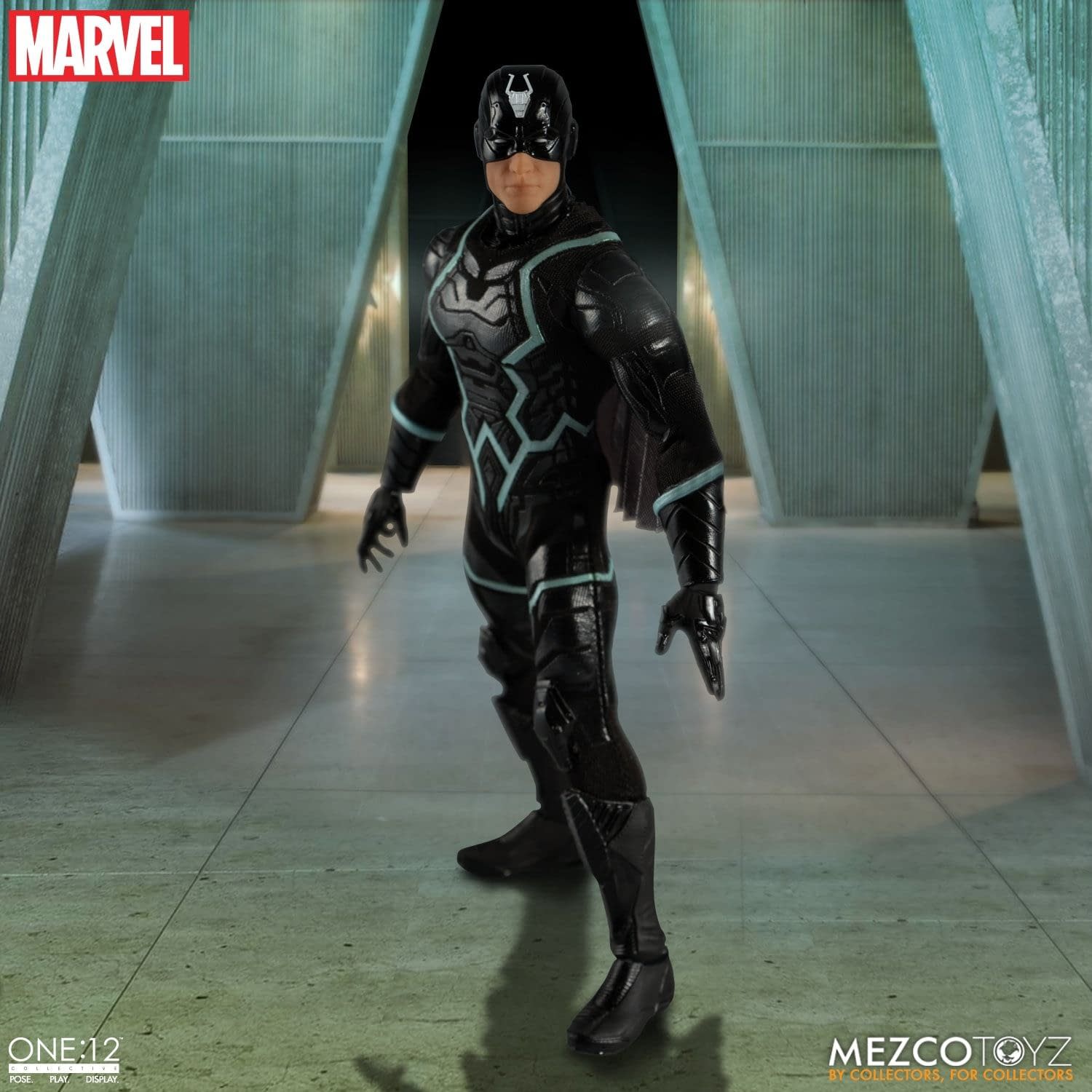 ACCESSORIES:
One (1) sonic scream FX
One (1) sonic scream FX display post
One (1) One:12 Collective display base with logo
One (1) One:12 Collective adjustable display post