Funko Announces Hollywood Walk of Fame Event With Exclusive Pops
The iconic Canadain creators and puppeteers Marty and Sid Krofft will finally be getting their star in Hollywood next week. If you don't know them that has created some classic shows like Banana Splits, Land of the Lost, and Sigmund and the Sea Monsters. Funko is no stranger to parties or exclusive Funko Pops so when the Krofft Brothers finally get their star they are making their way to the Funko Hollywood HQ for a signing! Two figures have been announced for the event as a Gold HR PufnStuf Pop and a Gold Sleestak Pop receive a limited release. No info on how many will be released and if you're lucky you can get them signed on site. So if you're lucky enough to be in Hollywood Friday 13th try to get one of these amazing Funko Pops for your collections and that Sleestak is a beauty!
The Funko news release is what follows:
Come celebrate Sid and Marty Krofft at the Funko Hollywood store! Sid and Marty Krofft are receiving a star on the Hollywood Walk of Fame right in front of Funko Hollywood! Following the star ceremony, we will be holding an in-store signing featuring two exclusive Pops! for the event.
Where is it?
Funko Hollywood Store 6201 Hollywood Blvd #100, Los Angeles, CA 90028
Please note that the normal entrance for the store will be inaccessible due to the star ceremony. The temporary entrance for the store will be located at the double doors to the right of the main entrance by the Saturday Morning Cartoons set (closest to the parking entrance and Pep Boys) while the Star Ceremony is set up.
When is it?
Thursday, February 13th
11:00am the Funko Hollywood store opens and you can purchase exclusives
11:30am-12:15pm Walk of Fame Star Ceremony
1:00pm Line up for the signing
1:30pm – 2:15pm In-store signing
Are there exclusives?
Yes! There are two exclusives available for purchase for this event. Gold HR PufnStuf Pop! and a Gold Sleestak Pop! Exclusives are limited to one of each exclusive per guest.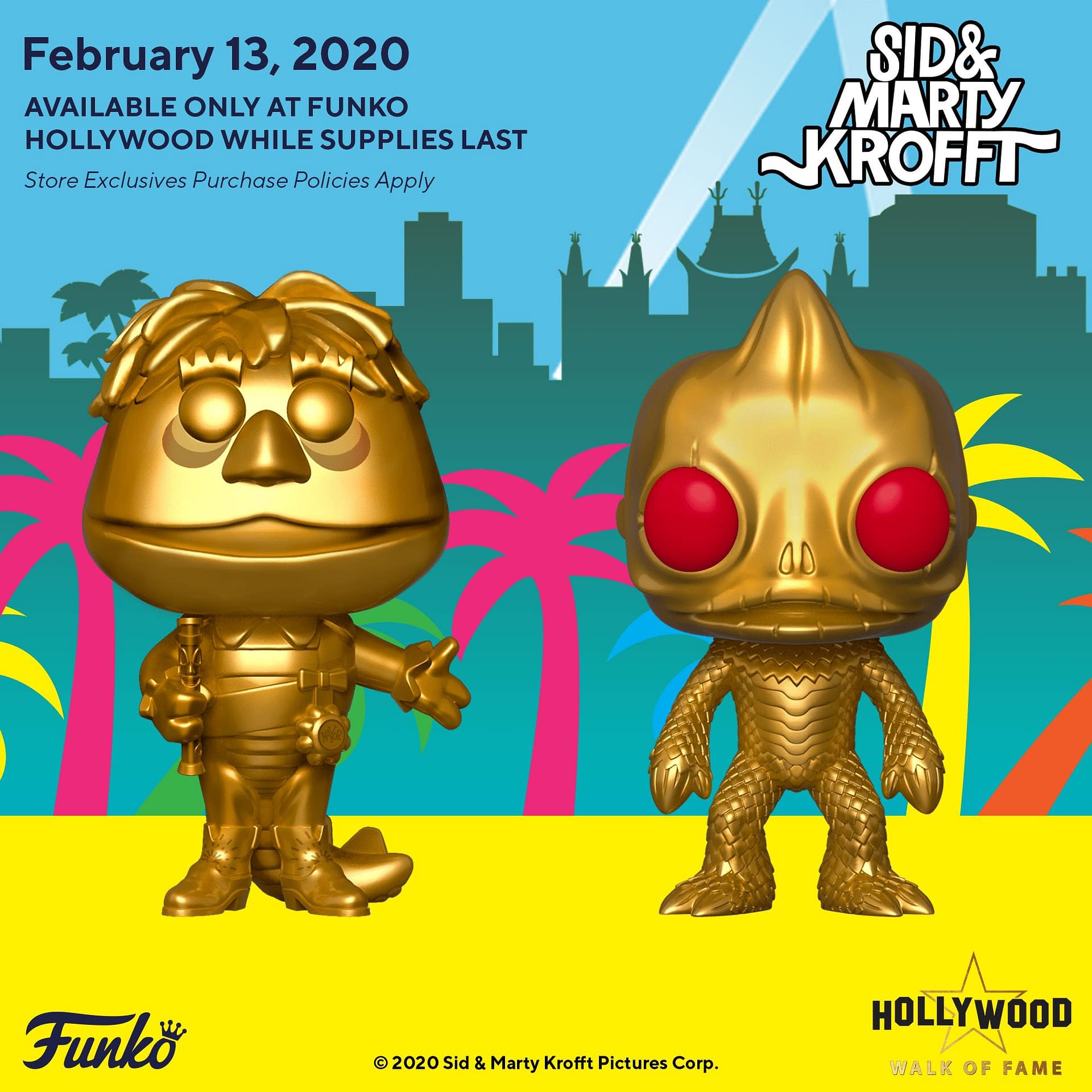 Can I line up for exclusives?
Camping out is not permitted
The first 50 people to purchase both exclusives will receive a wristband that guarantees their spot for the signing.
You may purchase exclusives when the store opens at 11am
You may line up for the signing at 1pm
What can I get signed?
You can get one or both exclusives signed, but Sid and Marty Krofft's time is very limited so you are not able to bring outside items to be signed.
What if you run out of exclusives?
Exclusives are limited and are available on a first come first served basis
Who is signing?
Here's more information about the Star Ceremony,
All star ceremonies are free to attend. There is a public viewing area for all Walk of Fame star ceremonies. There is no fee to attend, no tickets, no admission fees.
Wear comfortable shoes and hydrate, bring sunscreen.
We do not allow chairs or step ladders in the audience area of the ceremony.
Star ceremony begins promptly at 11:30 a.m. and will be over by 12:15 p.m.
Crowd needs to disperse immediately following the end of the star ceremony please as we must give back the sidewalk and the street to the community.
The Walk of Fame event is streamed live exclusively on

www.walkoffame.com

. The complete star ceremony is available on

www.walkoffame.com

only. Fans can watch the complete star ceremony anytime on

www.walkoffame.com

on the star's page
Check out the Hollywood Walk of Fame site for more info! https://www.walkoffame.com/pages/upcoming-ceremonies