Spider-Man Gets a New "Avengers: Endgame" Figure from MAFEX
Spider-Man has received a lot of attention from Avengers: Endgame and Spider-Man: Far From Home. Collectibles have easily been flying out of the woodwork and why wouldn't they, Spider-Man rules! This time we can add another Iron Spider figure to our going Spidey collections as MAFEX announces a new figure. This one comes with the Nano Gauntlet, external leg attachments, and a kill mode head. This figure should please a lot of Spider-Man fans and the posable capabilities are almost endless. The added legs are a nice addition and give Iron Spider a new field of dimension. The paint scheme is pretty well done too with that metallic style element. Any Spider-Man fan should add this figure to their collection web and treasure it.
The MAFEX Iron Spider Spider-Man Avengers: Endgame Figure from Medicom is priced at $94.99 and is set to swing on in September 2020. Pre-orders are already live and you can find them located here. Don't forget to check out the other MAFEX figures coming soon like Carnage, Gigatron, and Batman and stay tuned here at Bleeding Cool for new MAFEX and Medicom figures when they are announced.
"Hey! Holy cow! You will not believe what's been going on. Do you remember when we were in space? And I got all dusty? And I must've passed out because I woke up and you were gone. But Doctor Strange was there right. And he said 'It's been five years. Come on, they need us.' And he started doing the yellow sparkly thing that he does. Anyway…" Peter Parker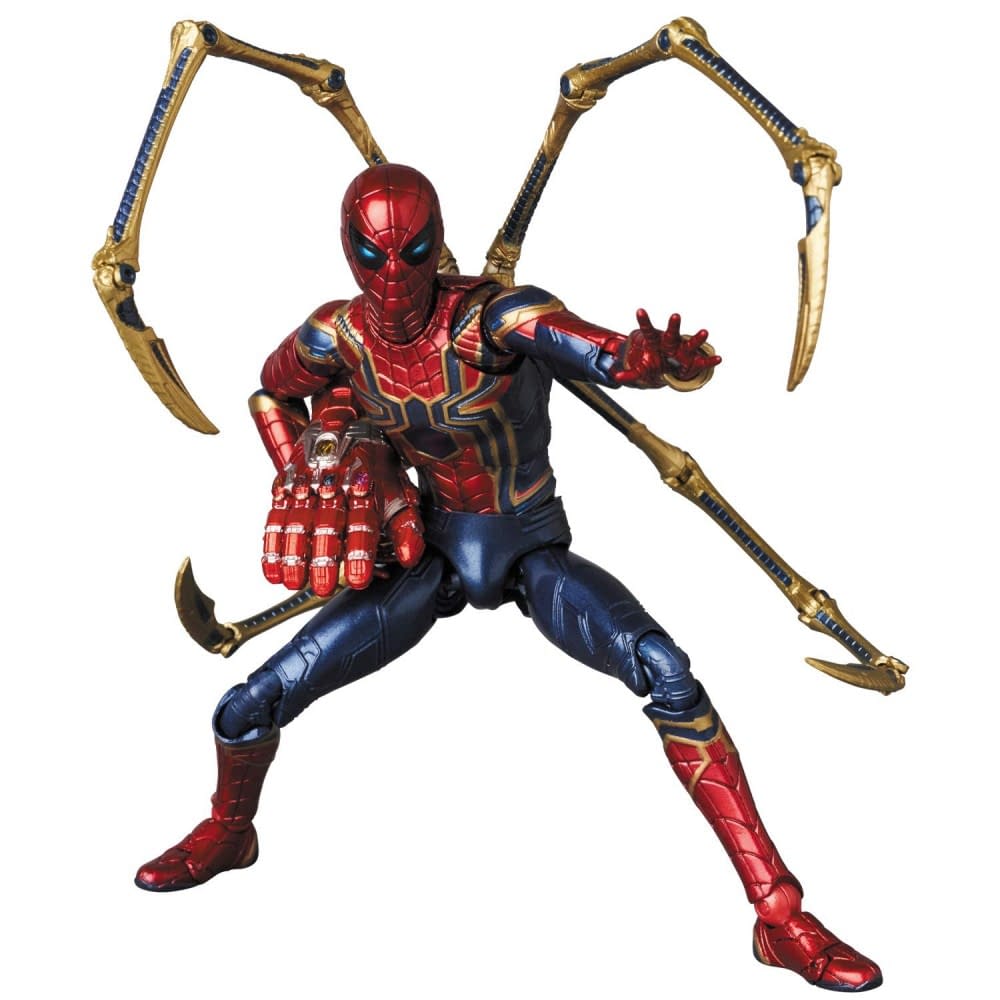 Mafex No.121 MAFEX IRON SPIDER (ENDGAME Ver.)
Both the best form and the outstanding movable area!
The strongest action figure ever!
Scheduled to be released in September 2020
* Consumption tax will be charged separately.
Sculpting PERFECT-STUDIO
Height approx 145mm
-From the movie [AVENGERS ENDGAME]
-Three-dimensional "IRON SPIDER"! Completely reproduce the shape and pattern of the suit!! Includes two new colored masks and a kill mode head! With web effect parts that can reproduce the play! Includes nano gauntlet parts and comes with various wrist parts included
-Various actions can be reproduced!
-Movable figure stand included!
* We are shooting a sample under supervision.
一Some items may differ from the products on sale.
(C) 2019 MARVEL