Ghostbusters was one of those great ideas to come out of the prime of the 80s. Speaking of the 80s and "prime" it makes me think of Optimus Prime another 80s classic, Transformers. Now you know what would really make a great and kick-ass collectible a crossover figure. Well, look no further as we are getting the first outside convention exclusive Transformers generations Ghostbusters Ecto-1 figure. There is a Transformers Ghostbusters, going around so this crossover isn't necessarily new and we have seen another Transformers figure come out of San Diego Comic Con. But this one is available for all collectors and it is definitely something special. The figure is based on the G1 classic series, and it is based on the Ghostbusters Cadillac. In just 22 steps you can transform the Cadillac Ecto-1 into the ghostbusting Transformer Ectotron. He even comes with his own proton pack, blaster and even a little Slimer figure. This is a Transformers figure I can't wait to own. I'm always a fan of my favorite series getting crossovers. Anyone that loved the 80's should on this figure, or if you're just a fan of Transformers or Ghostbusters.
The Transformers generations Ectotro Ecto-1 Ghostbusters figure from Hasbro is priced at $41.99. He is set to come out at the end of this year, December 2019. Pre-orders for this awesome Transformers Ghostbusters crossover figure are located here.
Who are you gonna call? Transformers!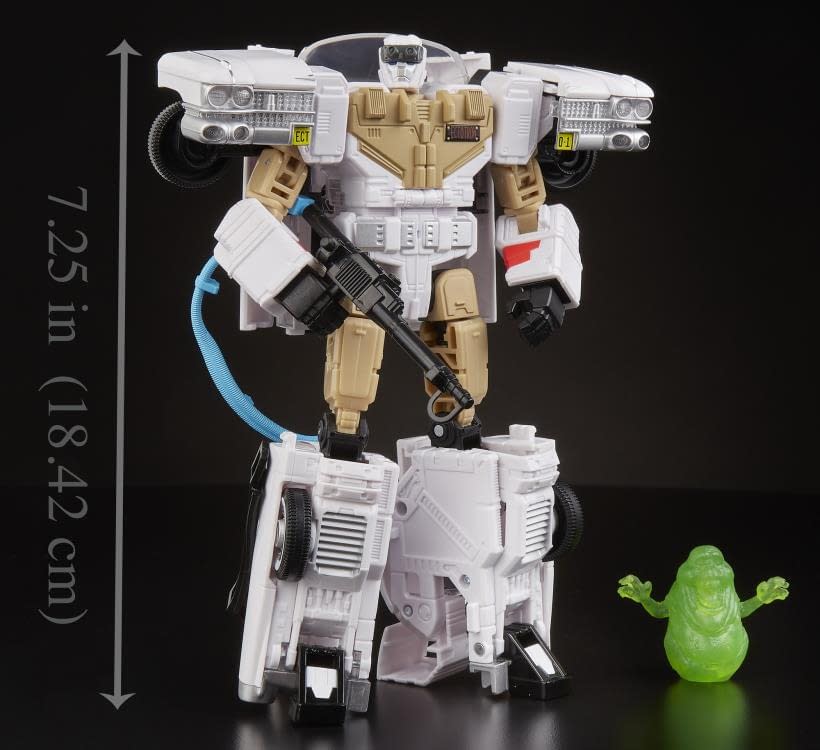 Transformers Generations Ectotron Ecto-1 Figure by Hasbro
Product Description
Transformers robots have always been — More than Meets the Eye. Now, through the Transformers Collaborative, fans can experience these larger than life characters as they team-up, mash-up, and meet up with other characters, teams, and people who share this same special quality.
It is a world of constant change, where things are not what they seem. It is the world of the Transformers… and the Ghostbusters… a world of heroic Autobots and evil Decepticons… and ghosts!
Discover how these worlds collide in this Transformers-Ghostbusters mash-up pack! The iconic Ecto-1 Cadillac from the 1984 Ghostbusters movie is now a Transformers robot — a converting Paranormal Investigator, called Ectotron!
Product Features
Made of plastic
Mashup of Transformers and Ghostbusters
Convert Ecto-1 Cadillac mode to Ectotron robot mode in 22 steps
G1 Inspired package
Features classic Tech Specs showing the capabilities of Ectotron, including strength, speed, and bust-abilty
Instructions may or may not include English translation
Box Contents
Ectotron Ecto-1 figure
Slimer figure
Proton pack
Blaster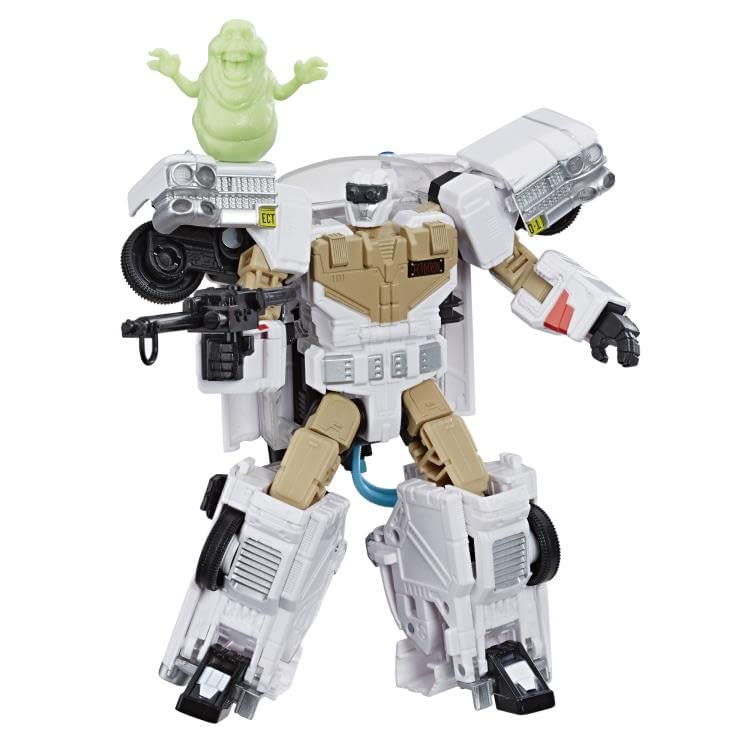 Enjoyed this article? Share it!