Good Smile Company has been releasing some amazing collectibles recently and with our newest announcement, it really takes the cake. It looks like we'll be getting another entry for their Nendoroid My Hero Academia line. Joining Deku and Bakugo and the other is the world's #1 hero All Might. His all for one full-fledged powered up muscles and superhero suit have been carefully recreated for this figure. One interesting feature for this character is that his eyebrows are also articulated so you can pose them in a wide variety of expressions. He does come with a secondary portrait so you can give him a more expressive serious face. All Might does come with accessories like a punching effect as well as his "Smash" catchphrase that can't be displayed on the display stand above All Might. He's adorable little My Hero Academia All Might Nendoroid from Good Smile Company is perfect for any fan. They suggest he looks way better positioned with other characters, that way you can create some iconic scenes. If I'd suggest I think Deku will be your best bet if you had to have a posing partner and this little figure could dearly bring a dynamic feel to your collection and definitely be a talking point.
A Good Smile Company My Hero Academia All Might Nendoroid figure does not have a price or release date just yet. We do know that pre-orders will go live today and that's when we'll get all of our other information. You do have the ability to purchase the other Nendoroid from My Hero Academia, like Deku, Bakugo, and Todoroki. You can find their links all located here. Don't forget to check out all the other amazing collectibles coming soon from Good Smile Company.
I am HERE!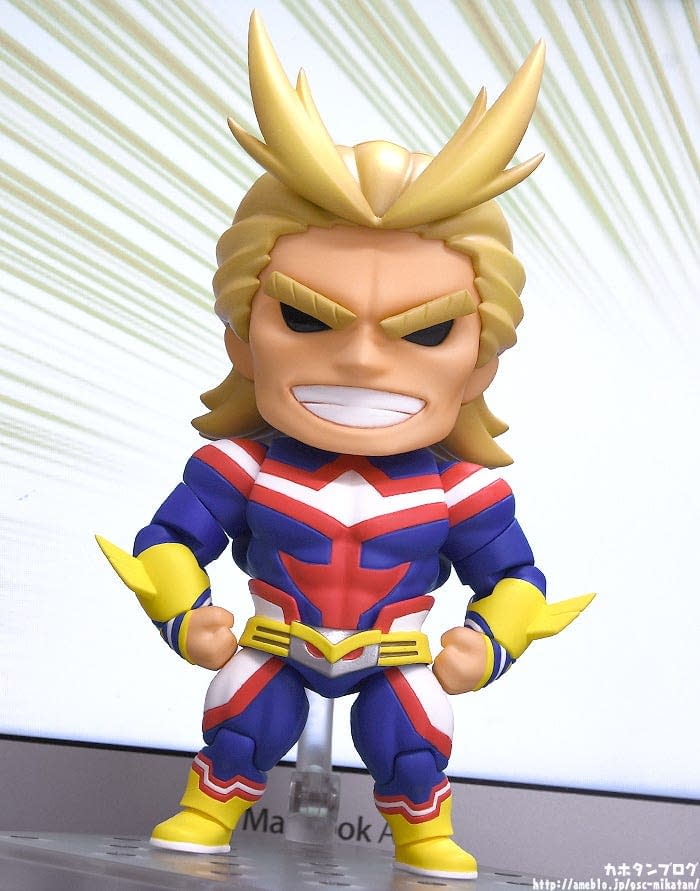 Nendoroid All Might (My Hero Academia)
From the popular anime series "My Hero Academia" comes a Nendoroid of every Hero's idol, All Might! He comes with two face plates including his brave standard expression (with articulated eyebrows) and a serious expression for when demonstrating his full power!
His hero costume has been faithfully recreated in Nendoroid size. He comes with effect parts, a "SMAASH" text plate and a sparkle sticker in order to recreate all kinds of action-filled scenes and poses, including scenes of him using his "One For All" Quirk! Be sure to add him to your collection!
Enjoyed this article? Share it!