Grimlock is a powerful Autobot ally and a member of the Dinobots. Sideshow Collectibles had him set as the first look for an upcoming statue but finally, we get the rest of the statue with pre-orders finally going live. This classic Transformers generation 1 Grimlock is beautifully crafted and perfect for any Transformers fan. The statue comes in at 10 inches tall as he stands on the top of the rubble covered Autobot logo base. He has posed in his Tyrannosaurus rex mode and does include an alternate portrait where he is roaring. The paint on the statue features a very unique cel-shaded deco that definitely captures that two-dimensional style from generation one Transformers cartoon. A lot of these cel-shaded Transformers collectibles are flying off the shelves and I think this.
The Grimlock Transformers Generation 1 Statue by PCS Collectibles is priced at $250 that's a pretty amazing price for such a unique statue. He is set to roam the earth again between September 2020 and November 2020. Pre-orders are already live and you can find them located here.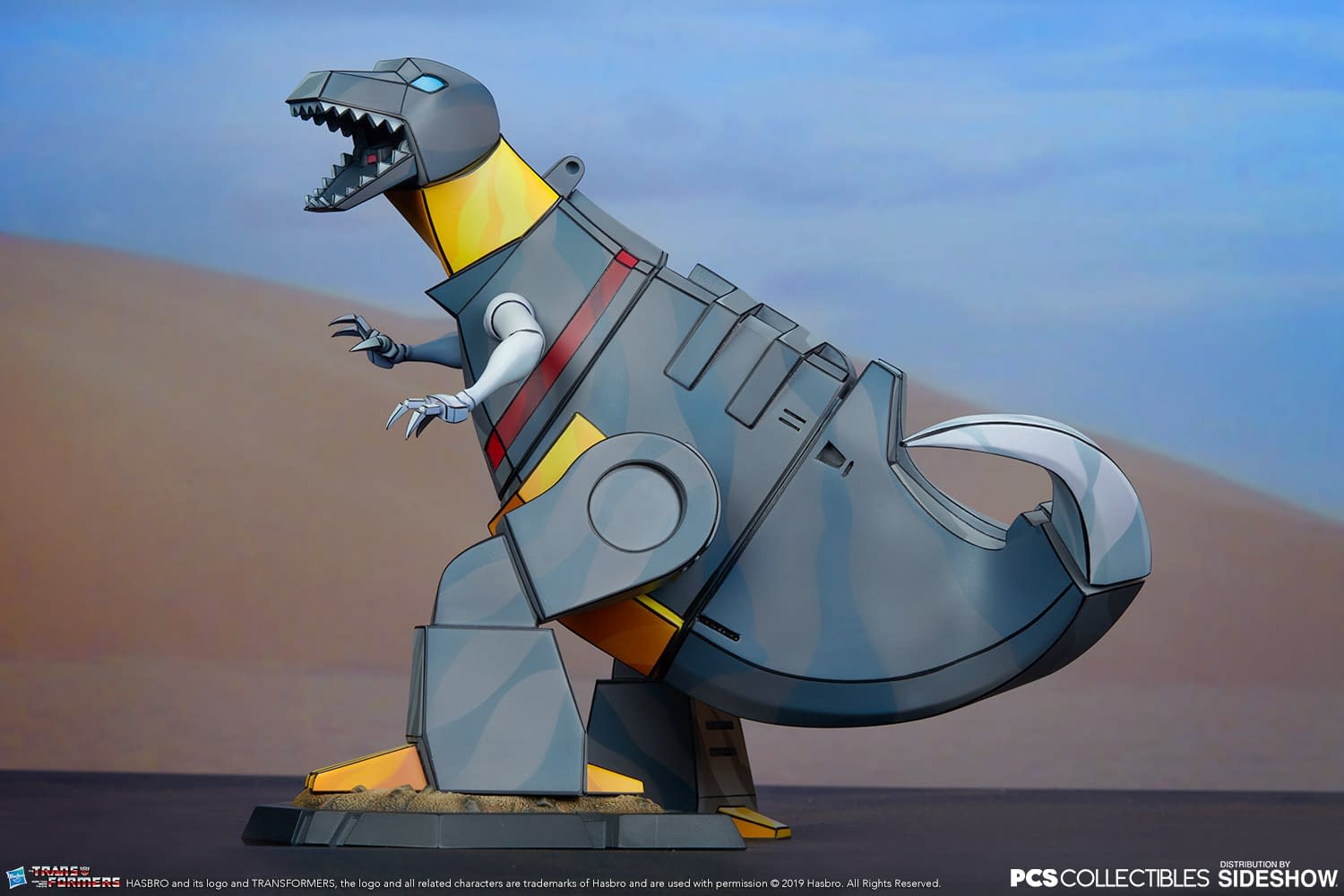 Grimlock Transfomers Generation 1 Statue by PCS Collectibles Classic Scale 
ABOUT THIS STATUE
"Me Grimlock love challenge!"
Sideshow and PCS Collectibles present the Grimlock Classic Scale Statue, stomping his way into your Transformers collectibles.
The Grimlock Classic Scale Statue measures 10" tall on top of a rubble-covered Autobot logo base. As the leader of the Dinobot faction, Grimlock stands in his Tyrannosaurus form, ready to battle with his savage instincts.
The Grimlock Statue features a unique cel-shaded deco application that captures the iconic two-dimensional style of the Generation 1 Transformers cartoon as a three-dimensional collectible. Grimlock's dinosaur form is detailed with grey and yellow tones as well as red accents and a red Autobot logo on his chest to show the warrior's allegiance. The Transformers statue also includes two portraits to choose from, including a closed mouth and an open mouth roar, allowing fans to craft their ultimate Dinobot display.
This Tyrannosaurus rocks! Make your Transformers collection a little more fearsome with the Grimlock Classic Scale Statue by PCS Collectibles.