Full Look at the Upcoming 1978 Superman Figure from Mezco
Christopher Reeves comes to life in this beautiful Superman Day Mezco Toyz exclusive figure. From the iconic 1978 film Superman, he is ready to take flight with this next One:12 Collective figure. We previously saw a solo image but now we have full details as well as for up close pictures of the upcoming figure. The price mysterious price of $125 has been solved as it looks like it will include a special light up display base featuring pieces of Krypton from teh Fortress of Solitude. Of course, this is taken right from the iconic film and will easily please any dedicated fan. The figure itself is nicely sculpted and will feature two different head sculpts one of which is a creepy smiling expression which is a slightly odd choice. Interchangeable hands will also be included as well as other accessories including Kryptonite necklace and crystals that will activate the light up base.
The Kryptonite Fortress of Solitude base is a very interesting choice for this figure. It fits the figure perfectly and these scenes are very iconic from the Superman films. The costume is an exact recreation of the on screen suit and that is a huge plus. I am glad that Mezco Toyz is diving into the realm of DC Comics older movies and I hope we can see more like this Christopher Reeve's Superman in the future. Pre-orders for the 1978 Superman are live, he is priced at $125, and he is located here.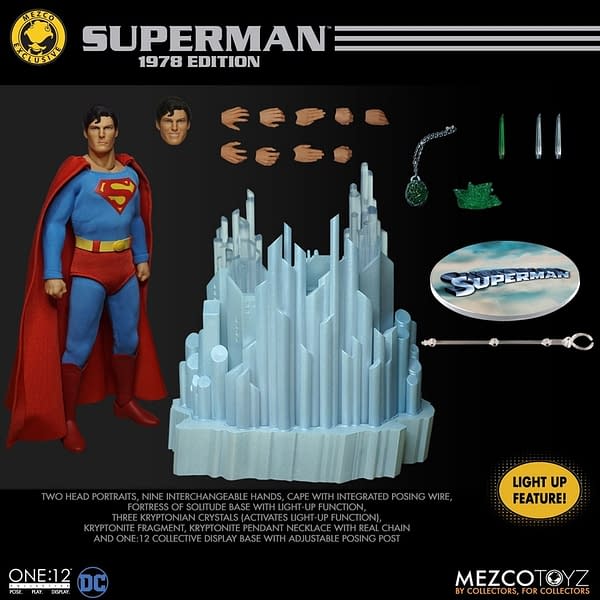 One:12 Collective Superman – 1978 Edition
"You'll believe a man can fly." "Based on Richard Donner's Academy Award nominated film "Superman", the Man of Steel joins the One:12 Collective. The One:12 Collective Superman – 1978 Edition is outfitted in his iconic suit from the film, which proudly displays the 'House of El' family crest and features a cape with an integrated posing wire. Two head portraits are included depicting Christopher Reeves portrayal of Superman. The Last Son of Krypton comes complete with a Fortress of Solitude base that features a light-up function which can be activated by specific placement of the included Kryptonian crystals, or via an on/off switch."
"Superman comes with a range of Kryptonite accessories including a fragment which can be held in his left hand, and a Kryponite pendant with a real chain, as used by Lex Luthor in the film. Sent to Earth from his dying planet of Krypton, Kal-El is raised by farmers Johnathan and Martha Kent who name him Clark and raise him as their own. Discovering he has extraordinary powers and abilities far beyond those of mortal men, Clark soon becomes his adoptive home's first and greatest hero – Superman."
THE ONE:12 COLLECTIVE SUPERMAN FIGURE FEATURES:
All-new One:12 Collective body with over 28 points of articulation
Two (2) head portraits
Hand painted authentic detailing
Approximately 16cm tall
Nine (9) interchangeable hands
One (1) pair of fists (L&R)
One (1) pair of flying hands (L&R)
Two (2) pairs of posing hands (L&R)
One (1) of Kryptonite shard holding hand (L)
COSTUME:
Fitted suit with authentic detailing as seen in the Superman movie
Cape with integrated posing wire
Waist belt
Knee-high boots
ACCESSORIES:
One (1) Fortress of Solitude base with light-up function
Three (3) Kryptonite crystals (activates light-up function)
One (1) Kryptonite fragment
One (1) Kryptonite pendant necklace with real chain
One (1) One:12 Collective display base with logo
One (1) One:12 Collective adjustable display post