NECA's Friday the 13th 2009 Jason Figure is One of Their Best
NECA's line of Ultimate Jason Voorhees figures are quite some of the best on the market. You wouldn't think that you would ever need more than one of them, but they do such a great job on the figures that each feels like a work of art. Having already released five versions of Jason in their Ultimate collection, one would be forgiven if they thought the Friday the 13th remake version from 2009 was one they could skip. After getting our hands on one, that would be a mistake.
As always, the packaging from NECA is top-notch. Featuring the film's one sheet on the front, posed pics on the back, and an awesome window box when you open the flap, each Ultimate figure is torture to have to open. They display so nicely MOC, that it would be perfectly acceptable to never open these things and keep them in the box forever. That is the mark of a truly great toy line: you never have to open it to appreciate it.
But then you DO open it and you can fully appreciate what NECA accomplishes with this line. Every little detail on Jason is meticulously sculpted and painted that makes it feel like they just shrunk Jason down and stuck him in a box. For this figure, I really love the outfit. The greys and blacks mesh so well with his dirty, disgusting looking shirt. Ditto for the dirty mask. I have to say though, for this one I love the unmasked head and burlap sack. That unmasked head is so gnarly, and coupled with the long blonde hair from that film it really looks gruesome.
That one eye peeking out from behind the sack is legitimately frightening. Of the accessories for this version, I think I prefer the axe. NECA sure did put in a ton, including a machete, fire poker, screwdriver, pick axe, and an extra hand. None of the weapons are hard to get him to hold, and as far as articulation, I will always wish that these had ab crunch, but I don't miss it. Jason is so big and bulky that he is imposing in this form no matter how he is posed on your shelf.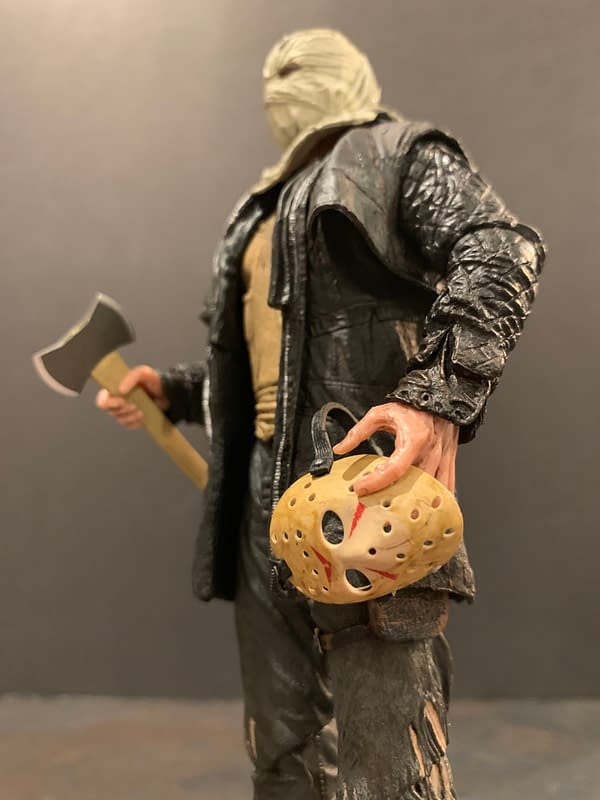 Not everyone likes this remake, but this figure is an essential buy. With the news about the rights possibly holding up future figures besides what has already been revealed, now is the time to get every version of Jason you can get your hands on. This is one of my absolute favorites in the Ultimate line period, let alone Jason. Grab yourself one right now here.