New Pennywise Hot Toys Figure Will Have You Float Too!
Pennywise is still making the news as IT Chapter Two dominates the box office. This is no surprise as the film was a fusion of a great cast and the supernatural skill of Pennywise himself, Bill Skarsgård. Bill's performance as Pennywise is absolutely extraordinary, he brings Pennywise to life in a way only he could master. Hot Toys is capturing that marvelous portrayal and solidifying it in their newest figure. The realism of this figure is pretty uncanny on itself as the detail is marvelous. He comes with two separate heads, one being the normal face and the second the more demonic with his teeth showing. He gets a huge set of interchangeable hands, which is perfect because he comes later with a great set of accessories. The iconic red balloon, bloody skateboard, paper boat severed arm and a jack in the box. Pennywise also gets a sewer grate base display stand to give you that floating feel.
Hot Toys has not released a price or a released date yet. I'd imagine we won't see Pennywise until 2020, but you never know. This is a great addition to any IT fans or Horror fans collections.
"A storm blew me away. Blew the whole circus away."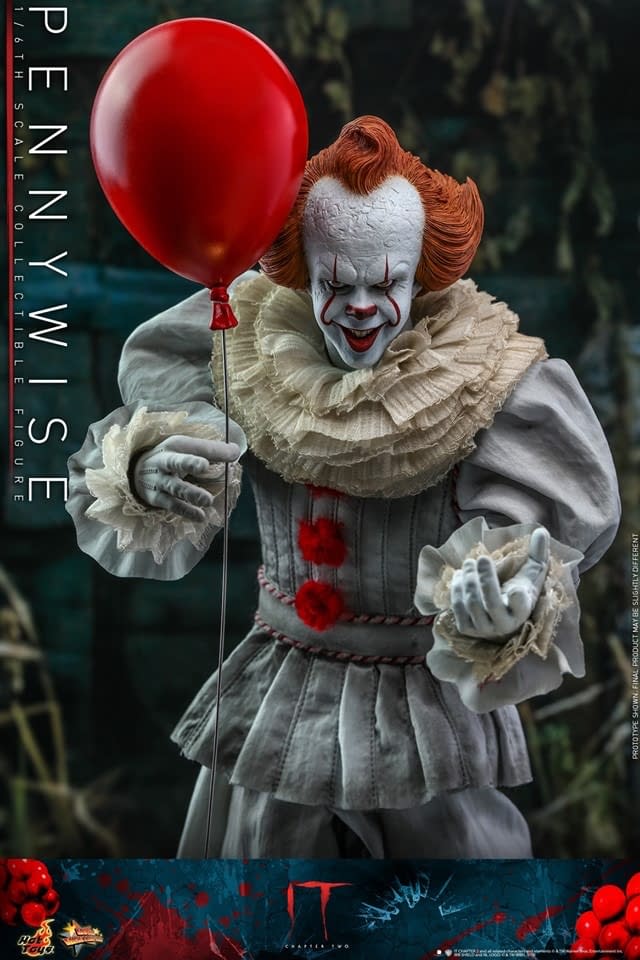 IT Chapter Two – 1/6th scale Pennywise Collectible Figure
"For 27 years, I dreamt of you. I craved you. I've missed you!"
Nearly three decades after the Losers Club defeated Pennywise, he has returned to terrorize dreams once more. Now the Losers have grown up and gone their separate ways. However, people start disappearing again. Each receives a phone call from the lone member who remains in their small hometown, together they must destroy Pennywise once and for all.
Using a variety of powers that include the ability to shapeshift, manipulate, and go unnoticed by adults, this dancing entity primarily appears in the form of a terrifying clown. Today Hot Toys is thrilled to introduce the one-of-a-kind 1/6th scale Pennywise collectible figure inspired by the Dancing Clown emerges from sewers of Derry!
The movie-accurate figure is masterfully crafted based on Bill Skarsgård's portrayal of Pennywise in IT Chapter Two, features two newly developed head sculpts with the incredible likeness and demonic yellow eyes including a smiling head sculpt and a fanged head sculpt revealing layers of pointed teeth, the signature grey-white outfit with sophisticated tailoring and ruffle detailing. An array of accessories including an infamous red balloon, a creepy Pennywise Jack-in-the-Box, a sculpted paper boat, a skateboard, a right severed arm, and a specially designed sewer grate diorama dynamic figure base encapsulating the scene of unhallowed horror within.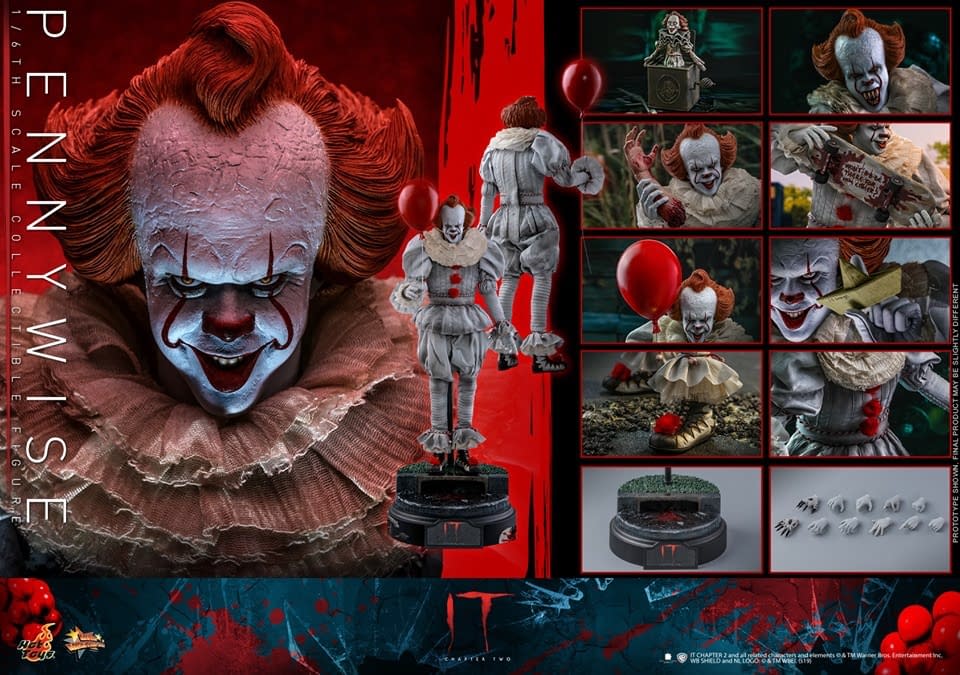 Come home now. Float with this Pennywise figure to witness the final chapter of IT!