SDCC 2020 Exclusives Include Nightmare Before Christmas and Thanos
Diamond Select Toys continues with their San Diego Comic Con 2020 reveals as Disney's Nightmare Before Christmas and Thanos gets special reveals. This makes day 6 of the reveals even though the infamous Summer Convention has been postponed this year. First up is a special Nightmare Before Christmas that will showcase the final fight between Oogie Boogie and Jack Skellington. This figure set will include Jacks's faithful pet Zero and Santa Claus aka Sandy Claws. Right off the bat it does not seem that special but the packaging will feature a working black light that will show off the figures glow in the dark. This set is quite limited with 3,000 pieces and is priced at $119.99 and you can find them located here. You will also be able to lock down yours at your local comic shop who has a Diamond account.
The second reveal for day 6 is not one but two miniature Infinity Gauntlets with both versions from Avengers: Infinity War and Avengers: Endgame. The two pack gauntlet set will feature both gauntlets stuck in their iconic snapping pose. Both miniature replicas will feature special LED light bringing life to the Infinity Stones inside them. This SDCC 2020 exclusive is limited to only 2,000 pieces, is priced at $59.99, and can be found here. Stay tuned here at Bleeding Cool for other SDCC 2020 exclusives as they get announced.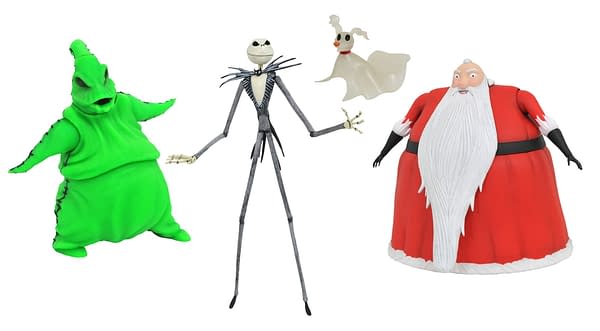 SDCC 2020 THE NIGHTMARE BEFORE CHRISTMAS LIGHTED ACTION FIGURE BOX SET
It's Jack vs. Oogie Boogie for the fate of Santa Claus! The final showdown of Tim Burton's The Nightmare Before Christmas has been captured in action-figure form, as Jack Skellington takes on that bag of bugs Oogie while Santa looks on. Plus, the packaging features a working black light, so you can turn it on and watch them glow! Figures designed by Eamon O'Donoghue, sculpted by Cortes Studios. Limited to 3000 pieces. A Diamond Select Toys release!
SDCC 2020 MARVEL INFINITY/NANO GAUNTLET LED PREVIEWS EXCLUSIVE DESK MONUMENTS
From the blockbuster Avengers: Endgame comes these stunning LED-lighted replicas of the pivotal gauntlets that destroyed, then saved, half of the Marvel Universe! With each posed for their fateful snaps, they're ideal for bringing a touch of cosmic power to any workplace or collectibles shelf at home. Limited to 2000 pieces.