Metal Gear Solid is a cult classic video game that has easily inspired many games since. The story of Solid Snake and the Metal Gear is slightly a confusing tale but easily worth it. First 4 Figures is bringing Metal Gear Solid back to life with their new Solid Snake 8" PVC statue. The statue is nicely designed and filled with detail within his statue. This statue will be priced at $84.99 and is set to release between February 2020 and April 2020. Fans of Metal Gear Solid should add this statue to their video game collection and prepare for the next mission. Pre-orders are already live and can be found here.
Check him out below: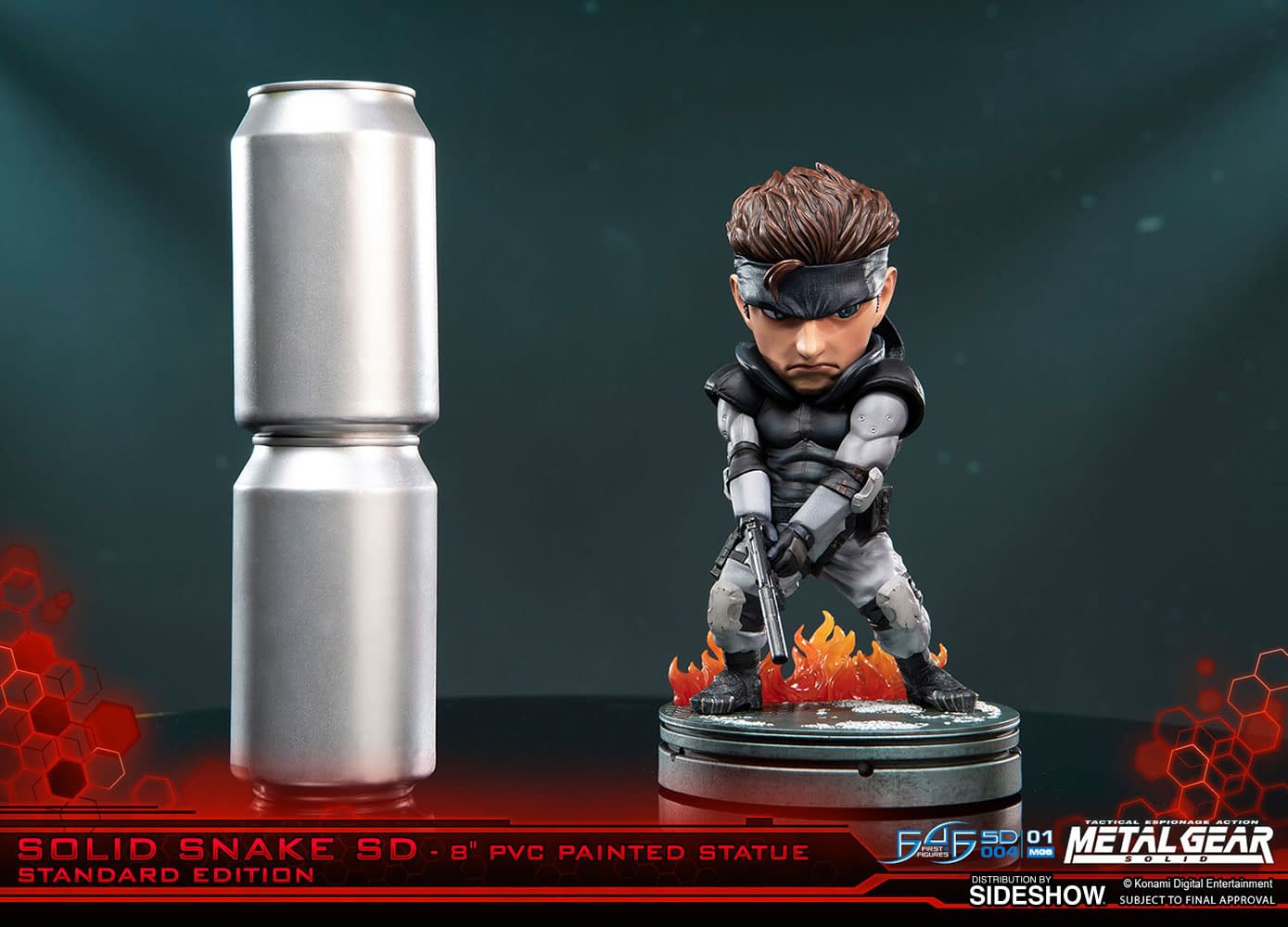 Solid Snake Figure by First 4 Figures
ABOUT THIS FIGURE
Sideshow and First 4 Figures present the Metal Gear Solid Solid Snake SD 8" PVC Painted Statue.
"Unfortunately, killing is one of those things that gets easier the more you do it." ― Solid Snake, Metal Gear Solid
Although adorable in nature, Solid Snake SD is still very much the lethal weapon he is notorious as. Underestimating his prowess on the battlefield is a sure-fire way to lead to his target's demise.
Known as David before his military days, Solid Snake was a former spy, special ops soldier, and mercenary. Being fluent in six languages and possessing an IQ of 180, he was known as "the Man Who Makes the Impossible Possible". He became a living legend among the military black ops because of his deeds.
Solid Snake is the product of the Les Enfants Terribles project, which produces clones of the world-renowned soldier Big Boss.
At first, Snake was a United States Army Special Forces (a.k.a. Green Beret) but was later transferred to High-Tech Special Forces Unit FOXHOUND while under the command of Big Boss. He became a war hero for stopping potential nuclear catastrophes on multiple occasions by repeatedly disarming and destroying the international threat code-named Metal Gear.
Later on in Snake's career, his body began to age rapidly due to genetic changes from his original cloning process. With the unfortunate deterioration of his health, he was forced to retire after his final mission in taking down the corrupt organization behind American politics known as the Patriots.