The Dark Lord Sauron has finally returned and is ready to conquer not just Middle-Earth but your collectible room too! Prime 1 Studio has announced a new Lord of the Rings statue that is a worthy piece for any dark lord. The statue showcased Sauron from the beginning of Fellowship where he raises his hand up high. The ring is sitting upon his finger ready to create a whole long line of future adventures. From the design and the paint and to the base, it is all beautifully crafted and a worthy collectible. There is even an exclusive edition that comes with a replica One Ring and a cut off finger display stand. The statue will the stuff of legends so act fast before it vanishes. The statue is going to be priced at $1,299 for the stand and $1,399 for the variant with the One Ring Replica. Pre-orders are already live and you can find them located here.
"One Ring to rule them all, One Ring to find them, One Ring to bring them all and in the darkness bind them."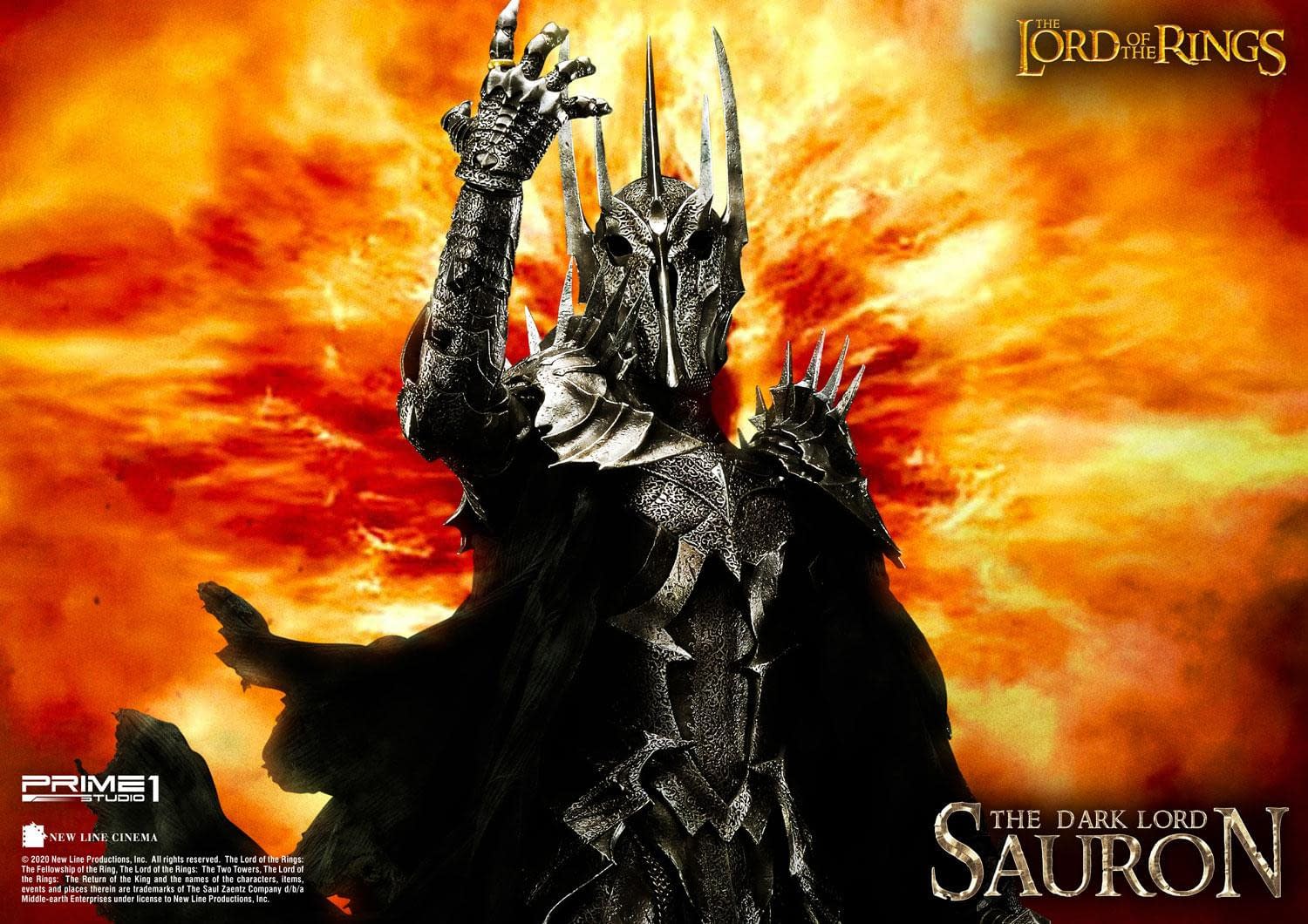 Premium Masterline The Lord of the Rings (Film) The Dark Lord Sauron EX Version
"You cannot hide. I see you. There is no life in the void. Only death."
Prime 1 Studio is proud to present the first piece from The Lord of the Rings Film, the 1/4 Scale Dark Lord Sauron.
The Lord of the Rings is a film series of three epic fantasy adventure films directed by Peter Jackson, based on the novel written by J. R. R. Tolkien. Dark Lord Sauron is the main antagonist of The Lord of the Rings; he rules the land of Mordor and has the ambition of ruling the whole of Middle-earth. He is also the creator of the One Ring – one of the most powerful artifacts ever created in Middle-earth.
In Jackson's series, Sauron is portrayed as a towering "black knight" in spiky plate armor wielding a huge black mace. We based the statue pose on the film scene where Sauron is raising the right arm with the One Ring on his finger. We did our best to recreate his beautiful armor covered in a mysterious pattern, the black cape he is wearing is made of a real fabric.
This is a must-have piece for all high fantasy & Lord of the Rings fans!
Specifications:
– Statue Size approx. 43 inches tall [H:108.7cm W:66.7cm D:70.7cm]
– Cape Size [Height:80cm Weight:90cm]
– One (1) specially designed base
– Poseable Fabric Cape
– One (1) The One Ring (In the Exclusive Version only)
– One (1) Ring Stand (In the Exclusive Version only)