"The Mandalorian" Death Trooper's Gets Their Own Hot Toys Figure
With Disney getting the rights to the Star Wars franchise a lot of this has been updated in the mythos. Even now we are still getting new stories with The Mandalorian and The Clone Wars that add new adventures and tales for their ever growing world. One of my favorite additions to the new lore is newly added Stormtrooper classes. This is war and we originally only saw a couple of trooper classes for their growing army and in Star Wars: Rogue One we were introduced to the Death Trooper. These slick back troopers are tactical specialist that won't miss their target. We saw them return once again in the season finale of The Mandalorian, and it was nice to see their story continue to grow after their introduction. Hot Toys is bringing The Mandalorian's Death Trooper back with its newest figure that is packed with detail and even features an LED function. The sculpt and craftsmanship are very smooth and it'll be a nice addition to any Star Wars fans army.
The Mandalorian Death Trooper Hot Toys Figure does not have a price or a release date just yet but you will be able to pre-order him here once they go live here.
Ready. Aim. Fire.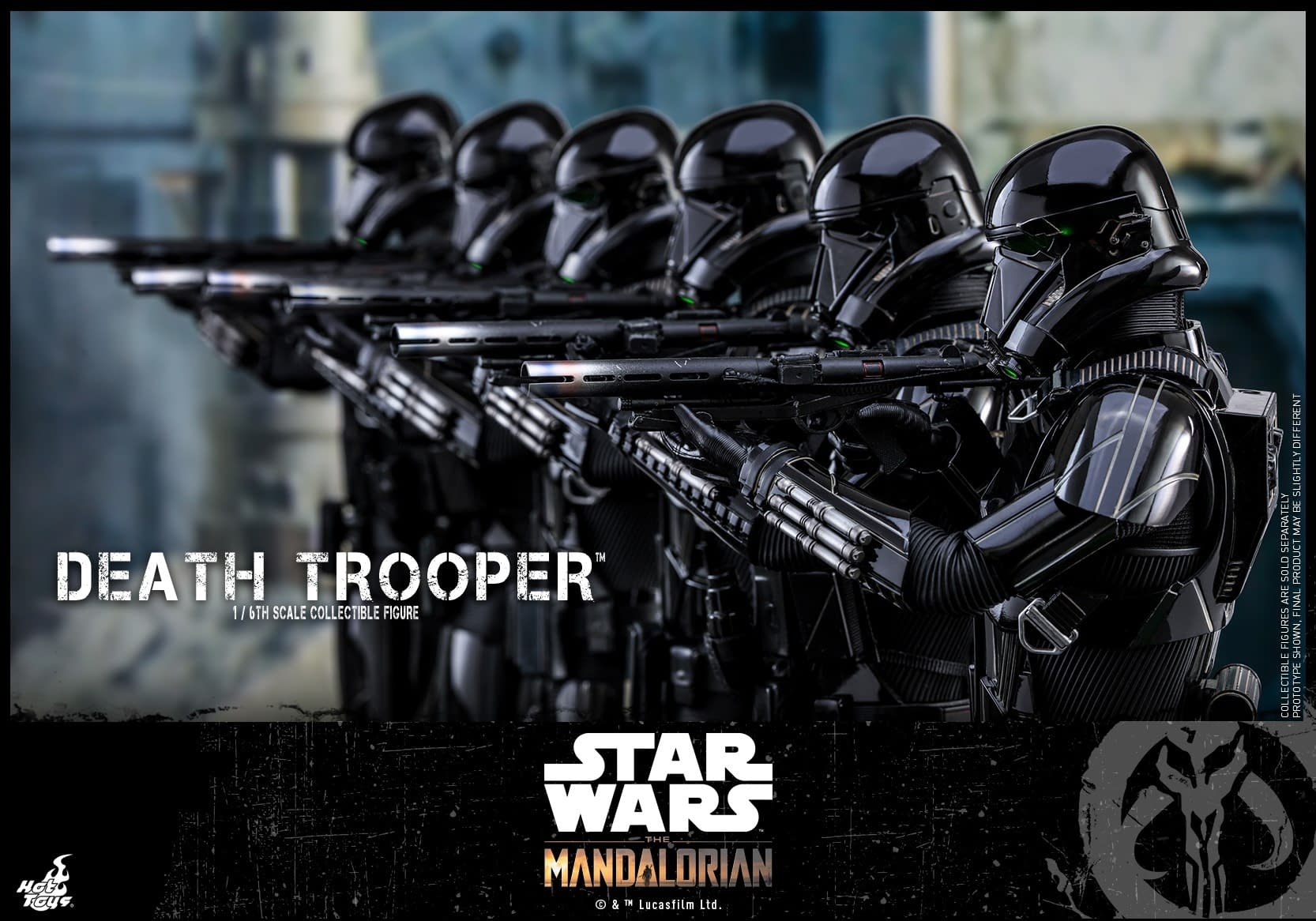 The Mandalorian – 1/6th scale Death Trooper Collectible Figure
The elite soldiers of Imperial Intelligence, death troopers are encased in specialized stormtrooper armor with a dark, ominous gleam. These soldiers have returned on screen in the Star Wars live action series The Mandalorian, under the command of Moff Gideon to flush out the Mandalorian and his friends from the cantina.
Today Hot Toys is pleased to expand The Mandalorian collectible series and present the 1/6th scale Death Trooper collectible figure from this first-ever live action Star Wars series!
The highly-accurate collectible figure is specially crafted based on the appearance of the Imperial Death Troopers in The Mandalorian. It stands at approximately 32.5cm tall, featuring a finely crafted black colored armor, helmet with scope and LED light-up function, blaster rifle, blaster pistol, and a figure stand!
Recruit the Death Trooper 1/6th scale collectible figure now and expand The Mandalorian collection.