Predator as a Yellow Lantern is probably the coolest and most badass thing ever. Based on the 2008 Dark Horse/ DC collaboration Green Lantern story. This NECA two-pack will release alongside the Alien/ Batman and will be an NYCC Exclusive. It comes jam-packed with a nice assortment of accessories and even includes a head swap for Hal Jordan to switch him to Jon Stewart! Predator is beautifully crafted for this figure set and it shows with his Sinestro Corp weapon set. From a shoulder cannon, a spear and his retractable throwing blade, the Predator essence is shown inside this superhero mashup. His figure can even remove his iconic mask to reveal his ugly mug. Hal Jordan/Jon Stewart is also a perfect two for one special. While it would be cool to have two lanterns verse one Predator (which seems fair), having the ability to show off each lantern with Predator is pretty sweet. This is a perfect convention Exclusive and it is high on my watch list to get from NYCC.
NYCC attendees can buy this and the Joker Alien/Batman set for $60 each and non-attendees can purchase it for only as a set for $120 when available or here.
Check out all the Sinestro Predator and Green Lantern action below!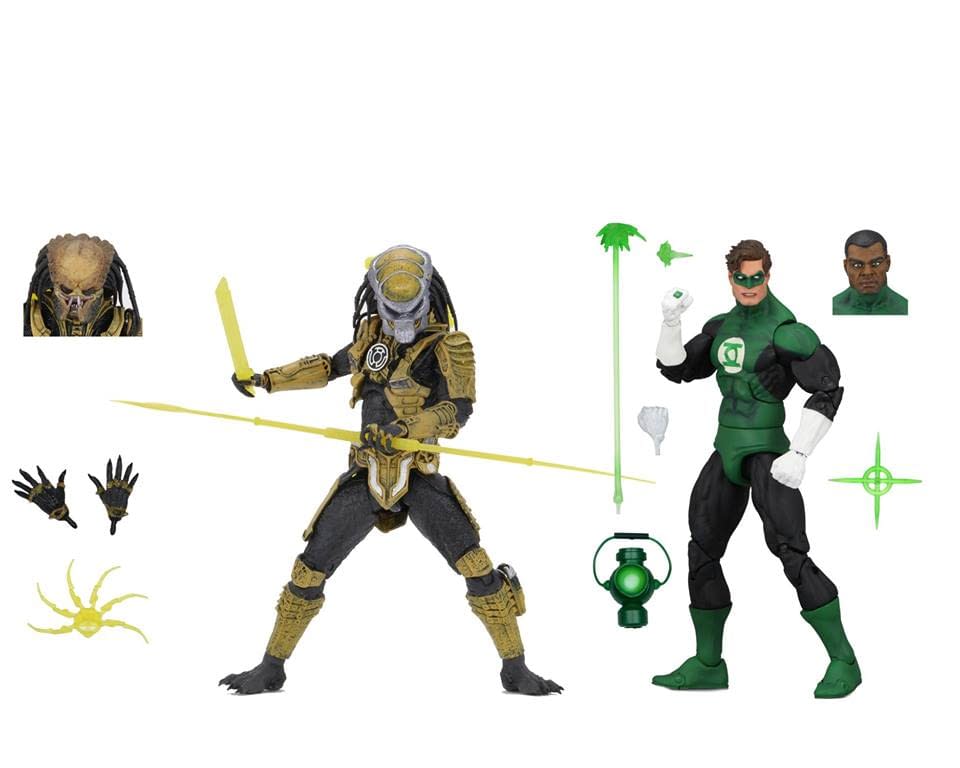 Green Lantern (Classic) – 7" Scale Action Figures – Green Lantern and "Sinestro Corps" Predator 2-Pack
This action figure 2-pack is inspired by a classic comic book mash-up! In a 2008 story arc of the #GreenLantern comic book, the already fearsome Predator Yautja joins the Sinestro Corps to attack the Earth, armed now with power rings. The set includes two brand new, 7" scale comic book based figures, both with over 30 points of articulation. Green Lantern features interchangeable head sculpts and comes with lamp, attachable burst effects and interchangeable hand. The Predator features two heads, detachable backpack, interchangeable hands, sword, spear and more!
Window box packaging with embossed opening flap.
Enjoyed this article? Share it!