Terminator Has Returned to 1984 in New Prime 1 Studio Statue
The Terminator is back and this time it is the classic 1984 version from the original 1984 Terminator film. You can never get tired of the classics and this new statue from Prime 1 Studio just reminds us of how badass that film was. The T-800 model statue is back and with a perfect model after Arnold Schwarzenegger. The statue has two separate versions available, one is a standard and the other is deluxe that includes a battle-damaged head. The statue is made of high-quality materials from latex and fabrics to give us one of the most realistic Terminator statues out there. The statue does feature an LED aspect that lights up his robotic eye and can be shown better if you remove the sunglasses. This is a must-own statue for any Terminator fan to add to their collection.
The High Definition Museum Masterline Black Label The Terminator (Film) T-800 Terminator Statues by Prime 1 Studio are set to release between January 2021 – April 2021. The standard is priced at $2,229 and pre-orders are located here. The deluxe with the battle damage head is priced at $2,999 and pre-orders for that are located here.
I'll be back.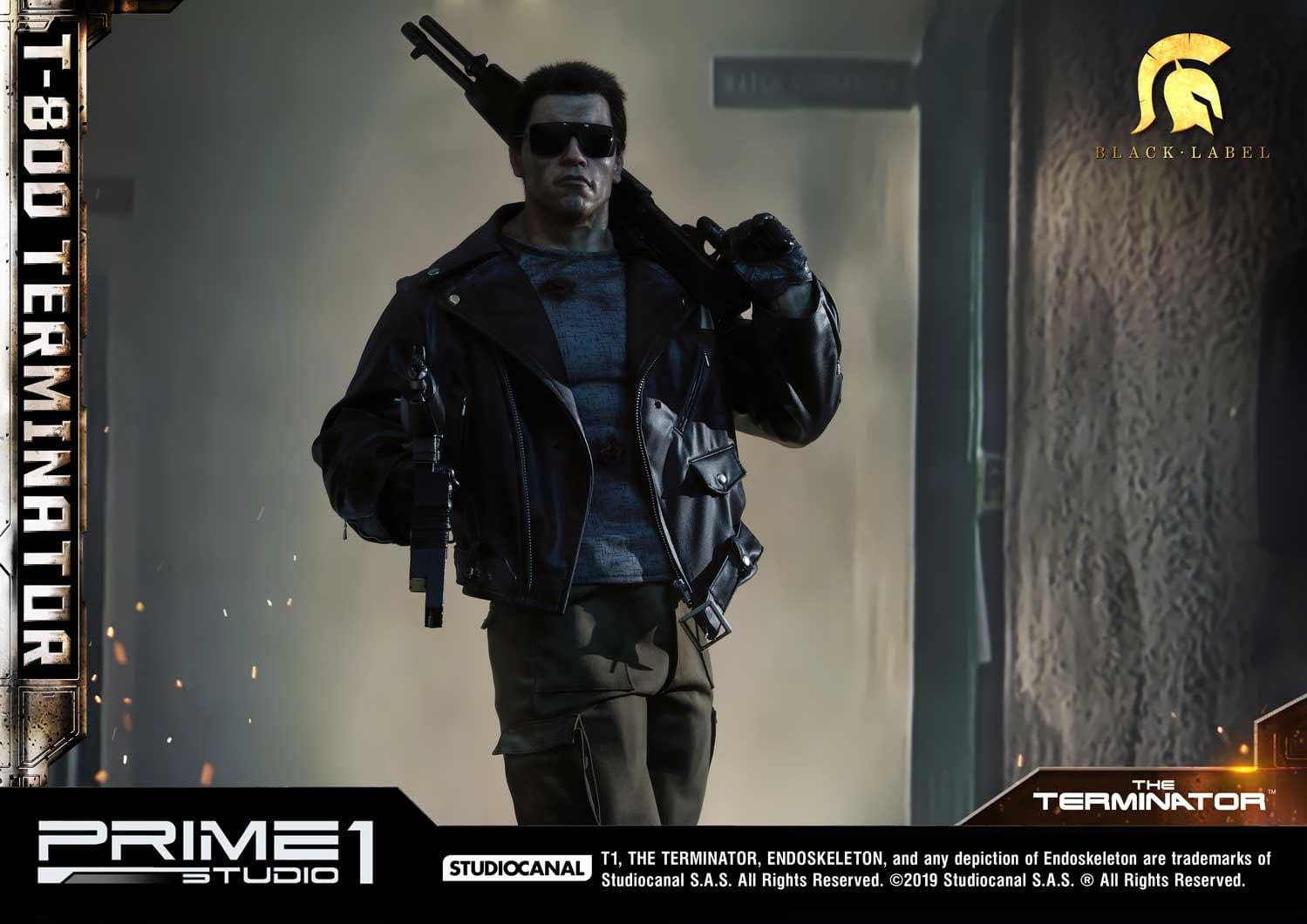 High Definition Museum Masterline Black Label The Terminator (Film) T-800 Terminator
Prime 1 Studio is excited to present the second piece of High Definition Museum Masterline Black Label Line, the 1/2 Scale T-800 Terminator Statue from The Terminator Film.
The Terminator is the first work in the franchise. It stars Arnold Schwarzenegger, Michael Biehn and Linda Hamilton. The Cyberdyne Systems Series 800 Terminator also known as T-800, is a type of Terminator mass-produced by Skynet. It was Skynet's first cybernetic organism, with living tissue over a hyper alloy endoskeleton. This made it Skynet's first successful Infiltrator unit capable of infiltrating the Resistance. The T-800 Terminator, a cyborg assassin, sent back in time from 2029 to 1984 to kill Sarah Connor, whose son will one day become a savior against machines in a post-apocalyptic future.
Featuring the likeness of the actor Arnold Schwarzenegger, the statue captures a famous shootout scene at the police station. The statue is made of high-quality materials, to give a more realistic look and feel the head is using premium grade silicone. The detail of each part including the leather jacket is pure perfection. The weapons: SPAS-12 and AR-18 in both hands are also precisely reproduced with a high attention to details. In addition, the eyes are equipped with the LED light-up function, so they look as if they are aiming at a target. The Deluxe version comes with an additional Portrait.
This is a must have piece for all Terminator fans!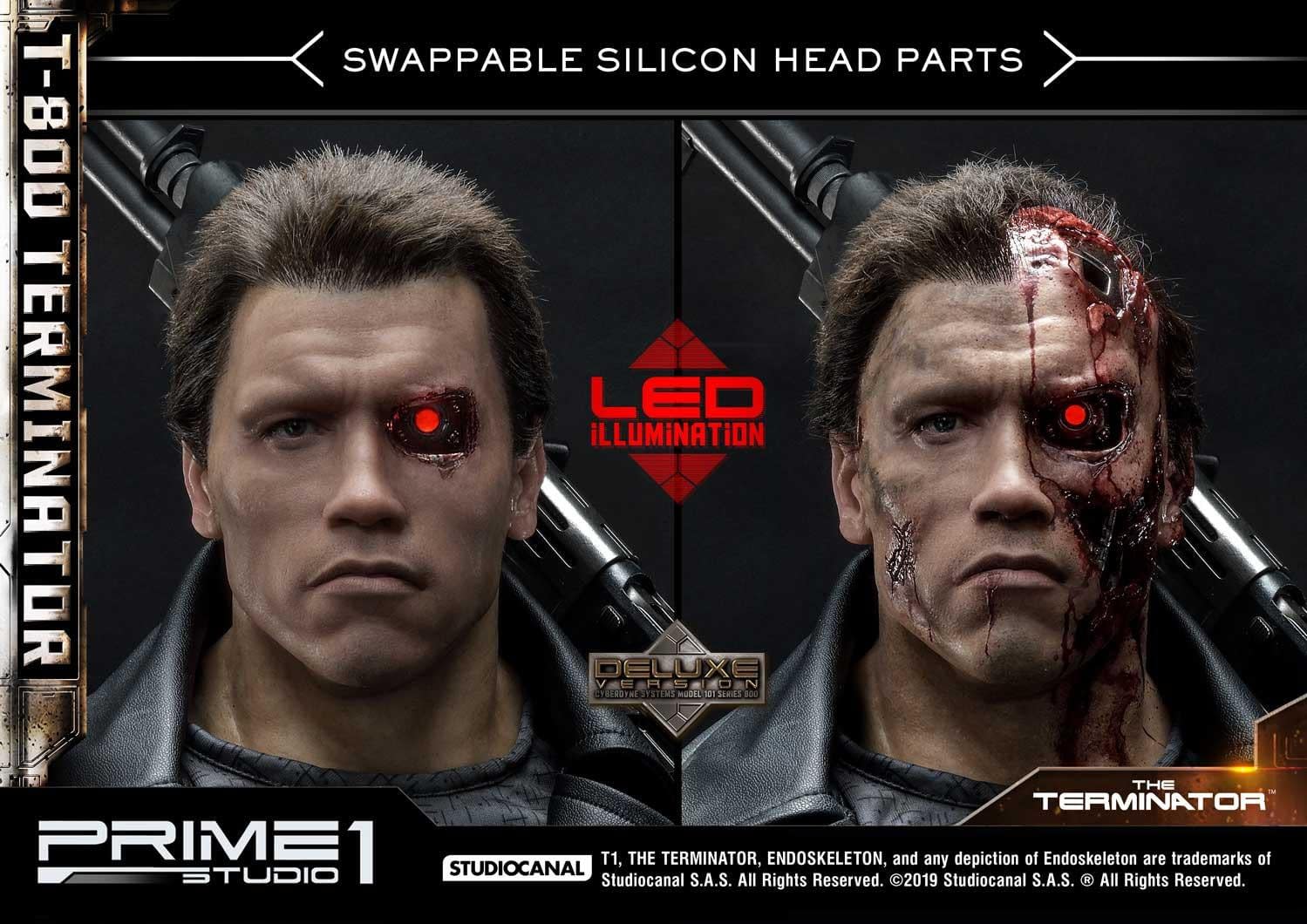 Specifications:
– Statue Size approximately 46 inches tall [H:117cm W:47.7cm D:73.2cm]
– One (1) specially designed theme base
– One (1) removeable Sunglasses
– Two (2) Silicone Portraits (Normal & Damaged) with LED light-up function