The Witcher is not far away from its Netflix release and we are already to see Henry Cavill take on the role of Gerald. Until we get to see collectibles come out from that version we still get The Witcher 3: Wild Hunt collectibles this time featuring Yennefer with a new 1/4 scale statue. Prime 1 Studio has announced that there will be two Yennefer statues, one is a standard and another is deluxe that is limited to only 500 pieces. Yennefer is standing on a themed diorama base and stands at proximally 20 inches tall. The statue really captures Yennefer's beauty and would be perfect for any fans of The Witcher. If you get the deluxe version it does come with additional Uma statue that can be attached to the base changing the whole feel and vibe of this collectible. Take your The Witcher love to a new level and lock down the statue before she vanishes again.
The Premium Masterline The Witcher 3: Wild Hunt Yennefer of Vengerberg (Alternate Outfit) Statues are set to release between December 2020 and March 2021. The standard edition statue is priced at $699 and you can find that pre-orders are already live in located here. The deluxe statue is priced at $799 and remembers it is only limited to 500 pieces and pre-orders are live and can be found here. With Prime 1 Studio payment plans are available so use if needed.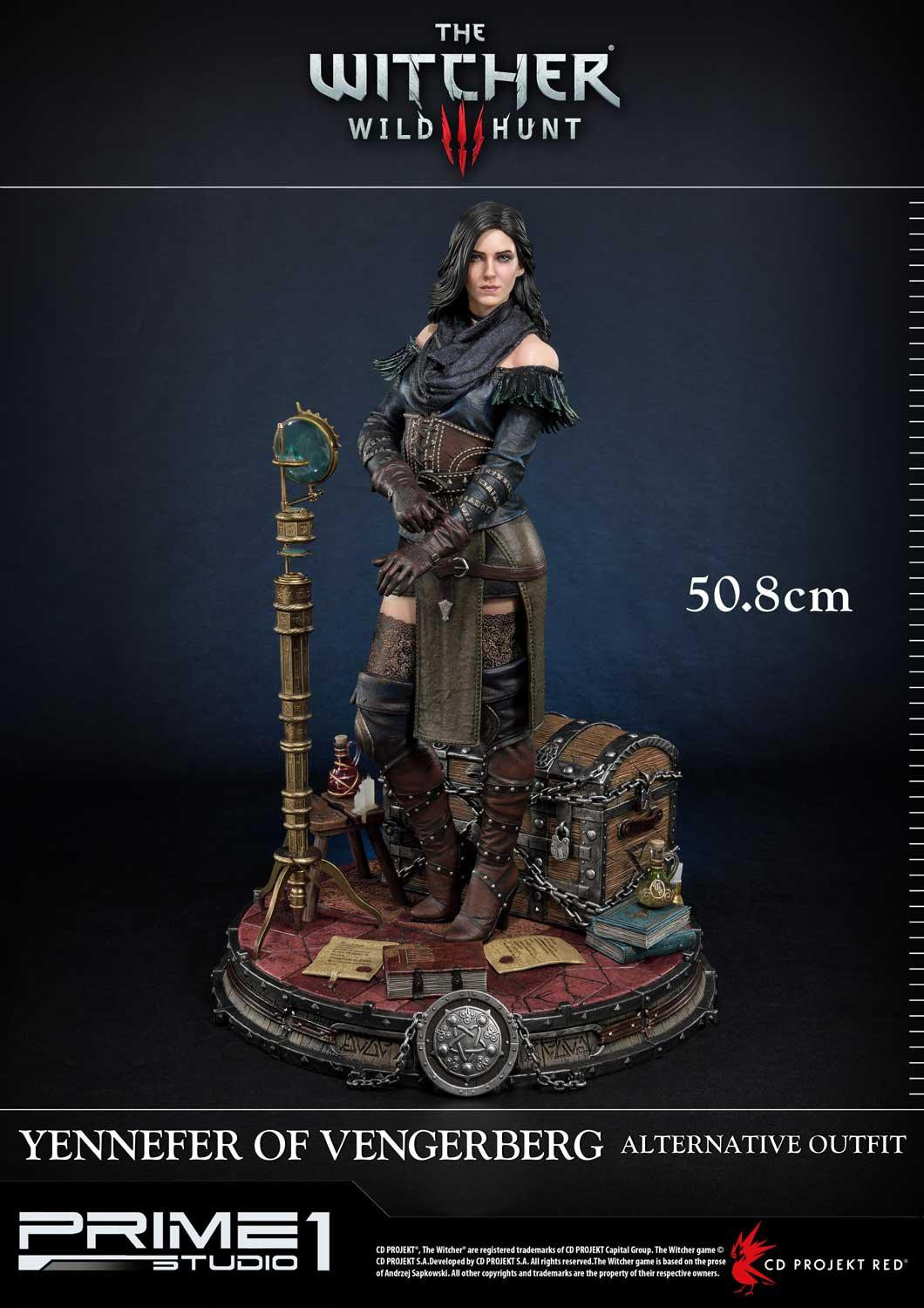 Premium Masterline The Witcher 3: Wild Hunt Yennefer of Vengerberg (Alternative Outfit) Statues
"I'm not heartless, I've just learned how to use my heart less."
Prime 1 Studio and CD PROJEKT RED are proud to present PMW3-08DX: Yennefer of Vengerberg Alternative Outfit Deluxe Version from The Witcher 3: Wild Hunt. This Alternative Outfit is one of the 16 free DLCs for The Witcher 3: Wild Hunt (it can be disabled or enabled in the Downloadable Content tab of the main menu in the game).
Yennefer is a sorceress who lived in the capital city of Aedirn – Vengerberg. She is Geralt's love before his memory loss, a teacher and a mother figure to Ciri. Famous for her beauty, with locks of curly, raven black hair, pale face, violet eyes and slightly long nose. She wears a black velvet choker with a star-shaped jewel sparkling with diamonds. Her beauty and sexy outfit are crafted with a perfect accuracy and attention to details.
Sculpted in approximately 20 inches tall, standing on the base inspired by the Witcher world featuring the megascope – a device used for magical operations like communication or teleportation, old books, potions that gives a nice vibe of sorceress surroundings.
The Deluxe Version includes the additional Uma statue that can be attached to the base.
Don't miss out to add this stunning piece to your Witcher collection!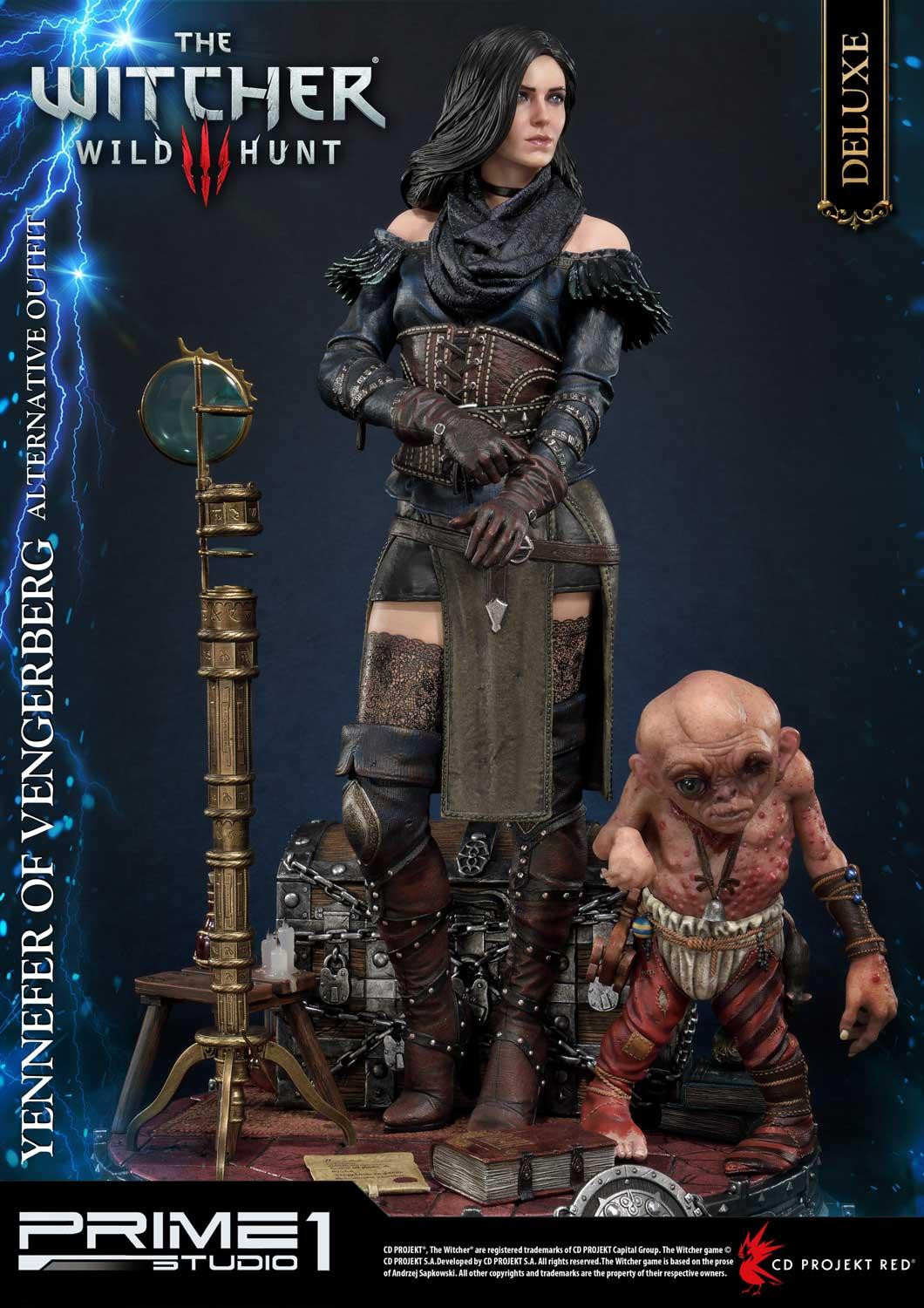 Specifications:
Statue Size approximately 20 inches tall [H:50.8cm W:34.1cm D:34.9cm]
One (1) designed base
One (1) Uma statue