Hot Toys SDCC 2020 – Ragnarok Stan Lee and Spider-Man 2099
San Diego Comic Cons reveals are all starting to get announced and it looks like Hot Toys is next. We recently covered the huge line up of Funko SDCC 2020 exclusives but Hot Toys puts all those to shame with these two Marvel figures. First up is another Stan Lee cameo from Thor Ragnarok as they mysterious barber. With high accurate detail, Stan Lee comes to life with this figure and is packed with accessories. He will be getting two swappable right-hand robot attachments that are perfect from giving you the perfect hair cut. He will also come with 7 hands that will allow for a more human look to the character. Stan Lee's costume is beautifully crafted and is ready to join the ranks of your Marvel or Thor Hot Toys collection.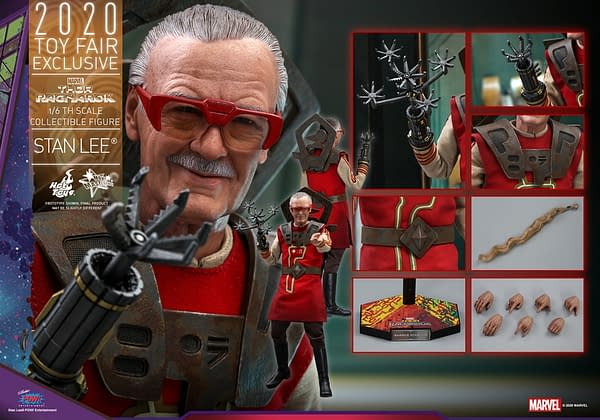 This second figure is the real star as Hot Toys has announced the Spider-Man 2099 costume from the hit PlayStation 4 video game Marvel's Spider-Man. This has to be clarified as it is not based on the hit 90s comic but the appearance in the game giving him more modern accessories. Spider-Man 2099 is beautifully sculpted and his costume is extraordinary. It seems Hot Toys moved away from cloth to give his suit a better shine. He will come with a huge assortment of interchangeable hands and web effects. One thing missing is the web cap he is quite known for but that is all up in the air as this is based on the video game appearance. This Spider-Man is a fan favorite and this is the first time we are getting. Hot Toys version of it. This will be the highlight of the Hot Toys SDCC 2020 reveals.
We would have seen all four of these Marvel figures at San Diego as well as other conventions over the summer. This will allow more collectors to get their hands on the figure they want without breaking the bank. Both Stan Lee and Spider-Man 2099 are very popular figures and these will be most likely limited upon release. I would expect these to go live on Sideshow Collectibles under their Hot Toys tab between now and the rest of July. Keep your eyes peels on their around noon each day and you should be fine. It is unclear if these figures will be able to be bought right up or if pre-orders will be set up. Stay tuned here at Bleeding Cool for all you SDCC 2020 exclusive needs as they come out.