Vegeta Goes Ape with New "Dragonball Z" S.H. Figuarts Figure
A new Saiyan has arrived. Vegeta is here and Goku has been preparing for this moment and take down the invading Saiyans. However, Vegeta has some tricks up his sleeve and is ready to really unleash the beast! the Great Ape is here and S.H. Figuarts is bringing him to life! This figure is super badass and any Dragonball Z fan needs to own this figure. There are diecast parts and special articulation to balance the massive size of this 12.7" tall figure. Vegeta will also come with interchangeable hands including a pair of hands that feature two hands crushing the iconic Goku. You will also get an awesome scaled Yajirobe that that can even cut off his tail as the tail come with a cut version. Even the display stand is hefty and perfect for this figure and ready for your collection.
The Great Ape Vegeta S.H. Figuarts Figure is priced at roughly $170, He is set to arrive on Earth July 2020 and pre-orders are already live and you can find them located here. Enhance your Dragon Ball Z today and lock down the ultimate power before it disappears.
"Bear witness to the ultimate power of the Saiyans Kakarot. The Giant Ape Destroyer of Planets! Soon this world will feel my wrath. Now let it be dead…"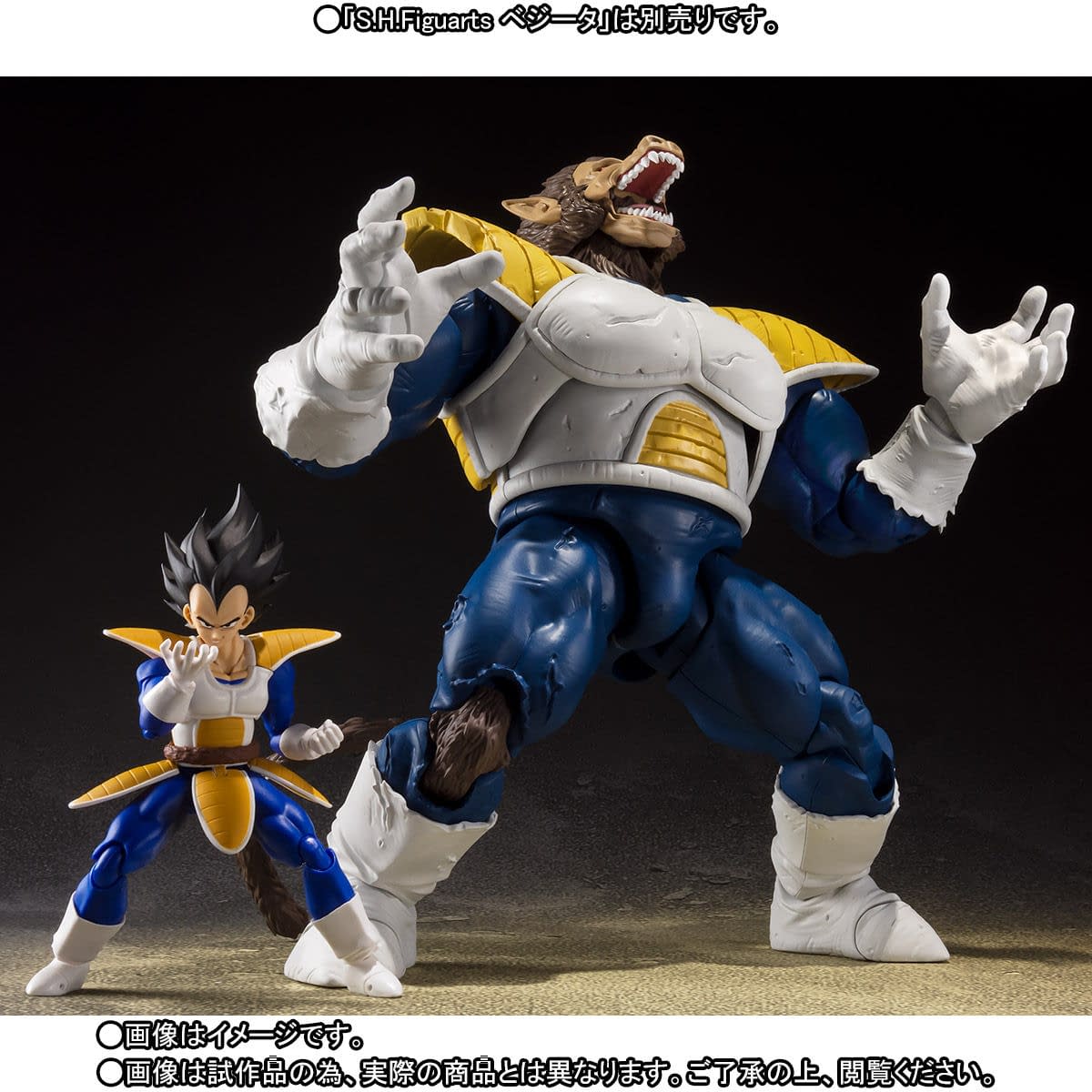 S.H.Figuarts Great Ape Vegeta $170 July 2020
Tamashii Web Shop-limited item
Product Specifications
– Height: about 310mm
– Material: ABS, PVC, Die-cast
Set Contents
– Body
– 1 replacement wrist, 2 replacement right wrists
– Replacement Son Goku grip hand parts
– Eye parts for replacement
– Tail 2 types (normal and cutting)
– Yajirobe (non-movable)
– Dedicated pedestal set
Price: 18,700JPY (tax included)
Release Date: July 2020