The Xenomorph Swarm X-Rex Returns with Plague Variant from Rebor
Rebor does it again as they announce another Swarm X-Rex figure. This one will feature a new Plague Variant that has a new head sculpt and paint scheme. The X-Rex brings back the magic like the Alien Xenomorph animals we saw from Kenner years ago. The X-Rex will have a removable tongue and head done that will show the plague bone structure underneath. The arms are able to be rotated and the tail is bendable. This is one collectible that will be a must have for any Alien fan if they kissed his original release.
The idea of the Xenomorph creatures during the prehistoric age is a true wonder. Unlike the Kenner toys that featured more modern animals like Rhinos, snakes, and dogs this opens up a whole new realm. If we could see a series in the future of Xenomorph dinosaurs that would be amazing. I would love to see some iconic dinosaurs like a Velociraptor, Stegosaurus, and Triceratops all with new Alien variants. Throw in a Predator variant and we could be making some money here. This is truly an untouched market and I feel like there is a big enough fan base for in the Xenomorph Alien community for it to flourish. The Plague Variant Swarm X-Rex from Rebor is priced at $44.99. He is expected to arrive in July 2020 and pre-orders are already live and located here.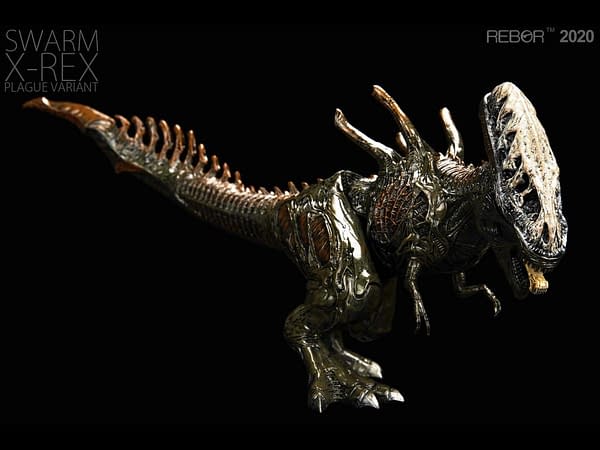 "From Rebor, this Swarm X-Rex figure measures about 17 inches long. The Plague Variant version has been made of solid PVC and features a new head sculpt and coloring. The figure features a removable head dome and tongue, rotatable arms, and a bendable tail."
Product Features
16.93 inches (43cm) long
Made of PVC
Rotatable arms
Bendable tail
Removable tongue
Plague Variant version