Yu-Gi-Oh Summons Dark Magician Girl with Good Smile Company
Yu-Gi-Oh is still as popular maybe even more since the card game got released in 1999. The manga turned card game has given us not only a long cast of main characters but a nice world of monsters. Once summoned to the field these creatures are our allies to win the game. This time Good Smile Company is summoning Dark Magician Girl to the field once again as the Yu-Gi-Oh figma figure gets a re-release. She is highly detailed and user posable and a perfect addition of any fans collection. Dark Magician Girl will come with not only a display stand with a bracket but a nice set of accessories. She gets her wand, spell book, spell effect, and even three interchangeable faces. If this is a figure you missed in the past you should hurry and get her before it's too late.
The Yu-Gi-Oh Dark Magician Girl figma Figure from Good Smile Company will be priced at around $59 (after conversion). She is set to cast her spell on the world once again August 2020 and pre-orders are live and are located here. Make sure you catch all these re-releases at Good Smile Company while you can before your favorite characters disappear again.
"Can you defeat the combination of me and my master?"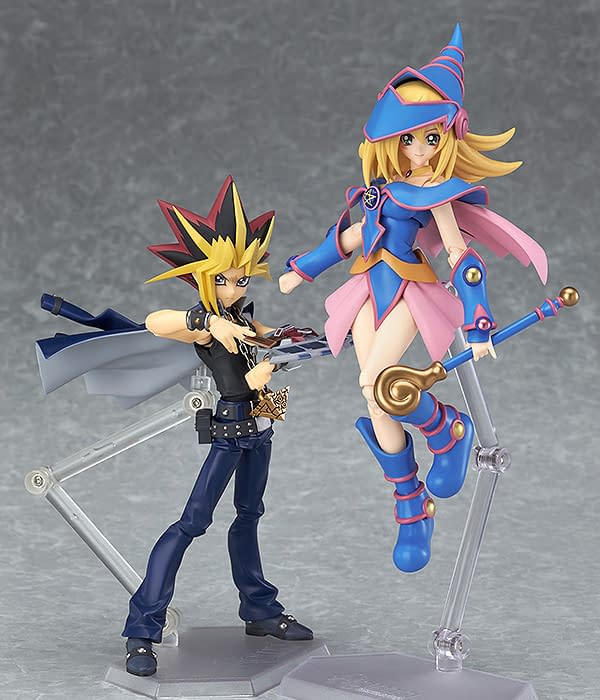 figma Dark Magician Girl
The cute magician girl is back for a rerelease!
From the popular anime series 'Yu-Gi-Oh!' comes a rerelease of the figma of Yugi Muto's close companion, the Dark Magician Girl!
Using the smooth yet posable joints of figma, you can act out a variety of different scenes.

Three face plates including a winking face, a gentle smiling face and a confident expression are all included.

Optional parts include her wand, the 'Magic Formula' spell book and a bent lower leg parts to display her standing on one leg with the other bent back, or even kneeling!

An articulated figma stand is included, which allows various poses to be taken.