Here comes Black Friday – and here comes a host of US stores running Black Friday sales! is there one near you?
Golden Apple, 7018 Melrose Ave, Los Angeles, CA 90038 (323) 658-6047 Meltdown Comics, 7522 Sunset Blvd, Los Angeles, CA 90046 Impulse Creations, 8228 E 61st St, Ste 121, Tulsa, OK 74133-1921
This year, we'll be open extended hours in our brand new location with more inventory on display than ever before. We'll also have 20% off all new comics, 25% off all graphic novels & trade paperbacks, 1000s of $0.50 comics, and slashed prices on action figures, starting at $1.99 with dozens of figures under $7.00. All sales prices are available both online at www.ImpulseCreations.com and in person with the exception of the $0.50 books which are available in store only.
Comic Book Jones, 2220 Forest Ave, Staten Island, New York 10303 Midtown Comics, New York, NY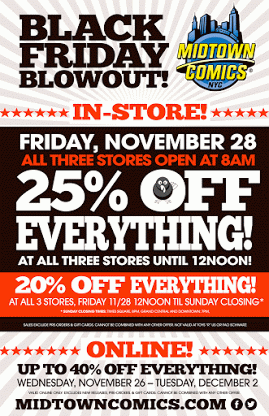 Third Eye Comics, 2027 West Street, Annapolis, MD 21401, 410-897-0322 and 16062 Three Notch Road, California, MD 20619, 301-737-8838 Collector's Paradise, 7131 Winnetka Ave, Sherman Way, Canoga Park and 319 S. Arroyo Parkway Unit 4, Del Mar, Pasadena. Cosmic Comics, 3830 Eat Flamingo, Las Vegas, NV89121
Join us here at Cosmic Comics during our extended business hours of 6 a.m. to 9 p.m.on Friday, November, 28th for the BIGGEST Black Friday Sale of 2014!

Get your coffee ready and make your plans for an awesome Black Friday Sale 2014!
AMAZING Black Friday Sale 2014 Deals Include:

30% OFF High Grade Comics!
30% OFF T-Shirts!
30 % OFF Action Figures!
30% OFF Lamps!
30% OFF Heroclix!
30% OFF Boardgames!
30% OFF Statues!
30% OFF Toys & More!

OVER 50,000 Back Issues from the 1950's to Present up to 50% OFF! OVER 10,000 Graphic Novels from 30% to 80% OFF!50% OFF Select Sets & Variants!50% OFF Bronze & Modern Back IssuesBOGO Select T-Shirts

Comic Books as low as 25 cents!

PLUS! Don't miss our BLACK FRIDAY SALE 2014 DOOR BUSTERS! The first 50 customers get a FREE box of 100 comics!!!*
Brave New Worlds, 55 North Second St Philadelphia, Pennsylvania Collectors Corner, 7911 Harford Rd. Baltimore, MD 21234 CC Thanksgiving – Blackest Friday, Brightest Saturday Sale! OPEN Midnight BLACK Friday!

Tons of Merchandise that has never been available before in the store will be Priced and Placed in the Gamers Sanctuary Room All 3 Days of the Sale including tons of Vintage Action Figures, Toys, Games & More! Carol and John's Comic Book Shop, Kamms Plaza Shopping Center, 17462 Lorain Ave, Cleveland, OH 44111 For this sale we pull out over 50,000 comic books from the back room and put them at $1.00 each. These boxes are IN ORDER so be sure to get your list together.
Also the night:
20% off all Graphic Novels and Hardcovers
50% off all Back Issues
20% off the New Comic Wall
20% off Statues, Action Figures, and T-Shirts
Discount Graphic Novel Bins reduced to 75% off.
10% off EVERYTHING else in the shop.

We will provide cool holiday music, some movies to watch in the back ground (Guardians?!) , a free pizza drop at 7:30 pm, and drinks and snacks throughout the night. (word is a couple of those drinks become adult beverages around 10pm)

And finally…
THE RAFFLES! This has become the most popular part of the night.
We'll be raffling off 50 hand picked Hardcovers and Graphic Novels at a rate of 5 per hour starting at 7:30pm.
You get a raffle ticket for every 10 dollars you spend and the tickets stay in there all night long. YOU MUST BE PRESENT TO WIN! This greatly increases your chance of winning if you stick around. We also do other random raffles throughout the night when the energy is up!
At midnight we raffle off a $100 gift certificate. You must also be present to win that.
Keith's Comics, Mockingbird Central Plaza, 5400 E Mockingbird Ln, Dallas, TX 75206 Conquest Comics, 659 Route 9 Bayville, New Jersey +1 732-551-2164
50 % off T-Shirts50 % off Back Issues (In Boxes)20 % off Back Issues (On wall)50% off Comic Book Sets 25% off Action Figures. 20 % off Funko Pop Figures. 20% off Statues & Busts. 25% off Trade Paperbacks and Graphic Novels. The Amazing Spider-Man # 7 Variant Cover that is normally $15 will be cover price, $3.99 for the weekend.We will also Have a small quantity of Mystery Boxes !for $25 each ! Each box will be filled with all types of Goodies, comics, toys, Funko pops and more !
Planet Comics, 2704 N Main St Anderson, SC 29621 864-261-3578
Black Friday sale starts at 8:00 PM Thanksgiving Day and runs straight through to 6:00 PM Sunday. Store is open 24 hours/day from 8:00 PM Thursday to 6:00 PM Sunday with savings up to 75% off.
Chapel Hill Comics, 316 W Franklin St, Chapel Hill, NC 27516 (919) 967-4439 Lobo Anime & Comics, 106 Juan Tablo Blvd, NE Suite D, Albuquerque, NM 87112 Famous Faces & Funnies 3030 W New Haven Avenue, West Melbourne, Florida 32904 321-259-3575 And even Canada joins in…
Strange Adventures, 101 Portland Street, Dartmouth, Nova Scotia All the stuff in the panoramic photo is 50% off all through November at Strange Adventures – Dartmouth!

Enjoyed this article? Share it!