$22 To Speak To Scott Snyder, Tom King or Greg Capullo For 3 Minutes
We talked about the NYCC Metaverse online replacement from ReedPop yesterday, as well as an online precursor Metaverse 'event' from tomorrow until Sunday 16th, which will no doubt work as a precursor to the larger October event. We also noted that, unlike the Comic-Con@Home replacement for San Diego Comic-Con there will be opportunities to interact with the people being served up on remote video. But it seems that, unlike San Diego, Metaverse will come with a price.
In the comic book side, Friday and Saturday will see a couple of free panels on YouTube.
FREE: Comic luminaries Tom King, Mitch Gerads and Marguerite Bennett chat about dream projects – Friday, August 14 at 4:20 PM ET / 1:20 PM PT / 9:20 PM BST
FREE: Favorite comic book moments with Scott Snyder, Greg Capullo, Tini Howard and Khary Randolph – Saturday, August 15 at 5:45 PM ET /2:45 PM PT / 10:45 AM BST
But for one-on-one interaction, there will be a cost – $22 for each creator's time and attention for three minutes (just over twelve cents a second) , or two together for $38.50.
Marguerite Bennett: Three minute meet and greet – Saturday, August 15 – 6:00PM ET / 11:00PM BST $22
Tini Howard: Three minute meet and greet – Sunday, August 16 – 5:00PM ET / 10:00PM BST $22
Khary Randolph: Three minute meet and greet – Saturday, August 15 – 1:00PM ET / 6:00PM BST $22
Greg Capullo: Three minute meet and greet – Sunday, August 16 – 4:00PM ET / 9:00PM BST $22
Tom King: Three minute meet and greet – Saturday, August 15 – 4:00PM ET / 9:00PM BST $22
Scott Snyder: Three minute meet and greet – Sunday, August 16 – 3:00PM ET / 8:00PM BST $22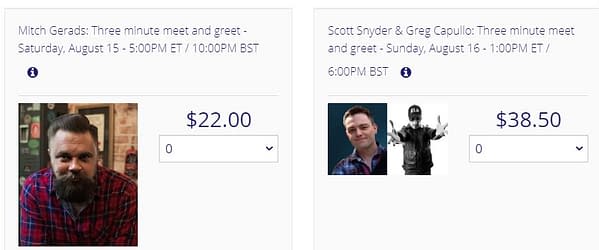 Mitch Gerads: Three minute meet and greet – Saturday, August 15 – 5:00PM ET / 10:00PM BST $22
Scott Snyder & Greg Capullo: Three minute meet and greet – Sunday, August 16 – 1:00PM ET / 6:00PM BST $38.50
Tom King & Mitch Gerads: Three minute meet and greet – Saturday, August 15 – 2:00PM ET / 7:00PM BST $38.50
That's cheap in comparison to other categories however…