4 More Comic Stores Damaged or Looted During the Protests in the USA
This morning, Bleeding Cool reported on eight comic book stores that had reported being damaged or looted over recent nights, which ran alongside widespread protests across the USA. Since then, several other comic stores have also taken their experiences public. As before, they have different experiences and ways of responding.
Vault of Midnight – Grand Rapids, Michigan
Vault of Midnight posted their experiences.
Last night, Vault of Midnight Grand Rapids was one of the businesses damaged after the protests downtown. We are making quick work to repair the space (with the help of our amazing staff and equally amazing volunteers).

We love and respect our community and stand with them in the ongoing fight for justice. We hope that you'll join us in actively caring for and supporting our friends, neighbors, and fellow humans who fight every day to make their voices heard.

Thank you sincerely to everyone who has checked in with us. We will be closed for repairs for a few days and will update you all when we are able to reopen for curbside and mail order service.
They continue to post Black Lives Matters imagery and logos to their social media despite the damage to their store.
Downtown Comics on Monument Circle, Indianapolis, Indiana
Downtown Comics reported broken windows but is encouraging local artists to decorate the hoardings on the store that they have been putting up. However, they requested, none of that 'political nonsense.'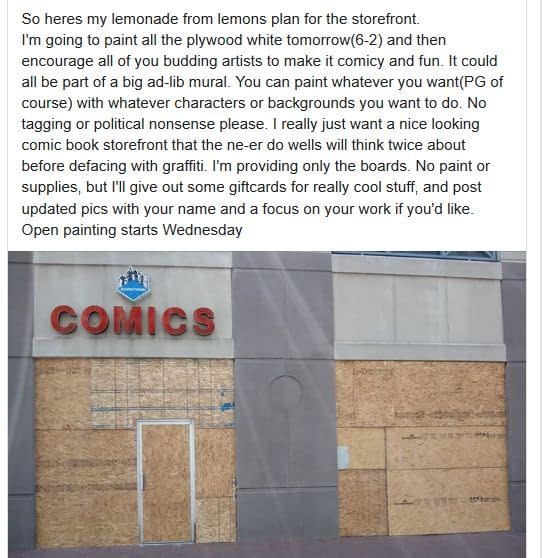 The Laughing Ogre, in Columbus Ohio
The Laughing Ogre had their windows broken out Saturday night also but also reported a can-do attitude.
UPDATE: This store was included erroneously, apologies for upset caused. They state "Just to clarify, there have been no protests within at least a mile of the store. One of our windows was broken, probably by an individual who knew police would be in other parts of the city. We are fine!"
Uncle Hugo's Science Fiction Bookstore & Uncle Edgar's Mystery Bookstore, Minneapolis, Minnesota
Uncle Hugo's and Uncle Edgard's joint store, which has been selling comics longer than almost anyone, suffered a lot worse as fires broke out.
There was a call from the security company around 3:30 this morning that the motion detector was showing somebody in the building. I threw on clothes and headed over there. When I was 2 blocks away I received a call that the smoke detectors were showing smoke in the store. Every single building on both sides of Chicago was blazing and dozens of people dancing around. As I pulled into the dentist's lot I could see that flames were leaping out the front windows of the Uncles. It looked to me like they had broken every window on the front of the Uncles and then squirted accelerant through each broken window. It looked hopeless to me, but I went around to the back door to see if I could get to a fire extinguisher. As soon as I opened the back door a wave of very thick black smoke poured out, so I quickly closed the door again. The dentist's building was not showing any flames and the garage door was open, so I went in to see if I could save it. There is a door from the garage into a break room, and there was almost no smoke in the break room. There is a second door from the break room into the main clinic. When I opened that door I couldn't see a fire, but the smoke came pouring into the break room, so I quickly closed that door and headed back to the car. Some of the rioters were busy breaking every pane of glass in the transit hub. The former Sheraton did not seem to be on fire yet, and there were guests who were staying there. It looked like somebody may have broken a window on the first floor along Chicago and started a fire, but it could have just been a reflection of the flames from the Uncles. I didn't notice anything going on yet at the Global Marketplace, but the rioters were headed in that direction. There is no way a mere fire could bring that building down, but it could wipe out all of those businesses, and there are hundreds of people who live above the Global Marketplace who could be trapped by the smoke. Since Chicago Ave. was full of dancing rioters, broken glass, and flaming debris, I went down the alley and took Lake St. home. There were blocks of Lake St. where every building was blazing. No sign of any cops, national guard troops, or any help.

I'm pretty sure the insurance policy excludes damage from a civil insurrection, so I suspect I won't get a cent for either the building or the contents.
They also wanted to state that while they are looking at the best crowdsourcing to rebuild but they have not just authorized anyone to fundraise for them.
Atomic Basement, Los Angeles
Mike Wellman of Atomic Basement in Los Angeles, had his own different story to share. After posting
It's pretty great how aiming a GLOCK can make a crowd disperse and turn tail pretty quickly. It worked well last night. Tonight is Round 2.
He told Bleeding Cool,
Last night was pretty intense, not sure if you heard. Pretty much everything around me has been looted and burned. Round 2 is tonight. When we moved into the shop last November/December, I made friends with a little neighbour. Last night, he ran off a crowd of people intending to loot my shop and the liquor store next to me simply by aiming his glock pistol at them. It was the first time ever in my life that I was grateful for a pistol.
If you have any other comic stores to add, you can contact richjohnston@bleedingcool.com. Please stay safe tonight, and remember that property can be repaired far easier than people.