Dynamite has sent us a creator's commentary featuring Pete Woods talking about the third issue of Project Superpowers: Hero Killers that he worked on with writer Ryan Browne.
Cover:
So once again we're running with a suggestion for editor Matt Idelson. He thought it might be fun to do a play on those old covers with a mini story on them. This is ripped pretty shamelessly from a Dick Ayers "Rawhide Kid" cover. Page 1:
Rainbow Boy sure seems to get all the breaks when it comes to getting the key to the city. We all know however that when we see a character walking to the refrigerator in a darkened kitchen for a late-night snack, things probably aren't going to turn out well.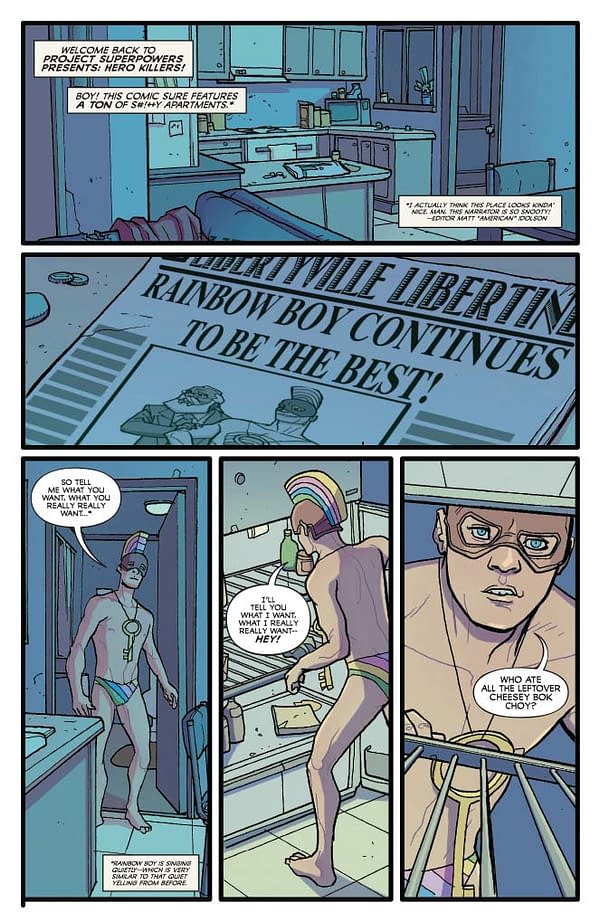 Page 2:
See? It's a universal law.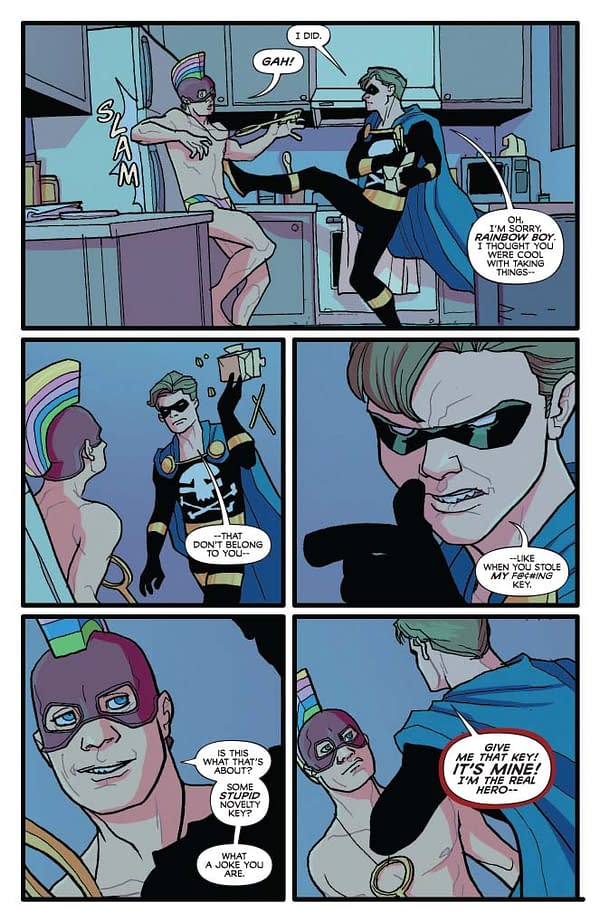 Page 3:
Celeste came up with the rainbow blast effect and I think it looks awesome. Plus more or Ryan's excellent sound effects.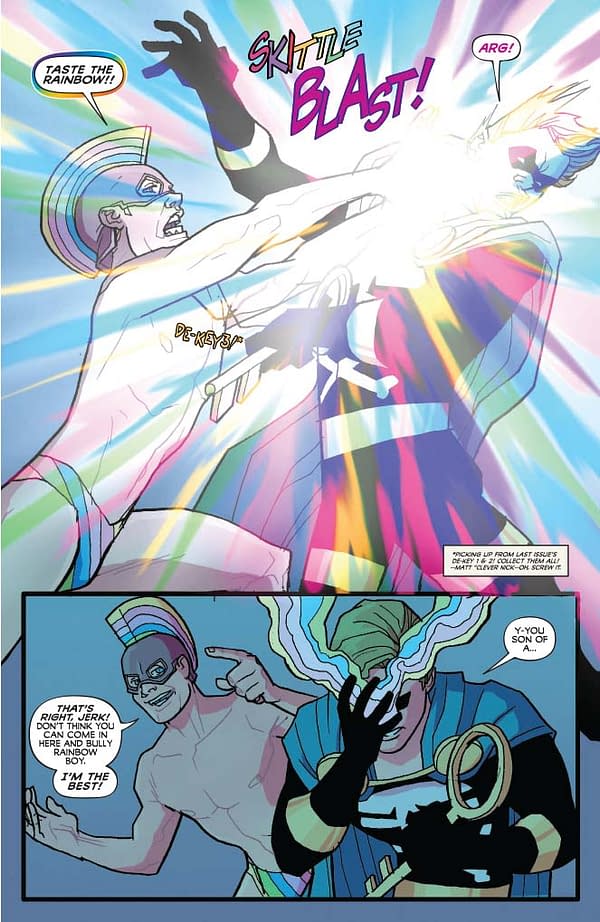 Pages 4-5:
Rainbow scars are actually pretty cool. Also, I think the rainbow colored blood was Matt's idea and I love it.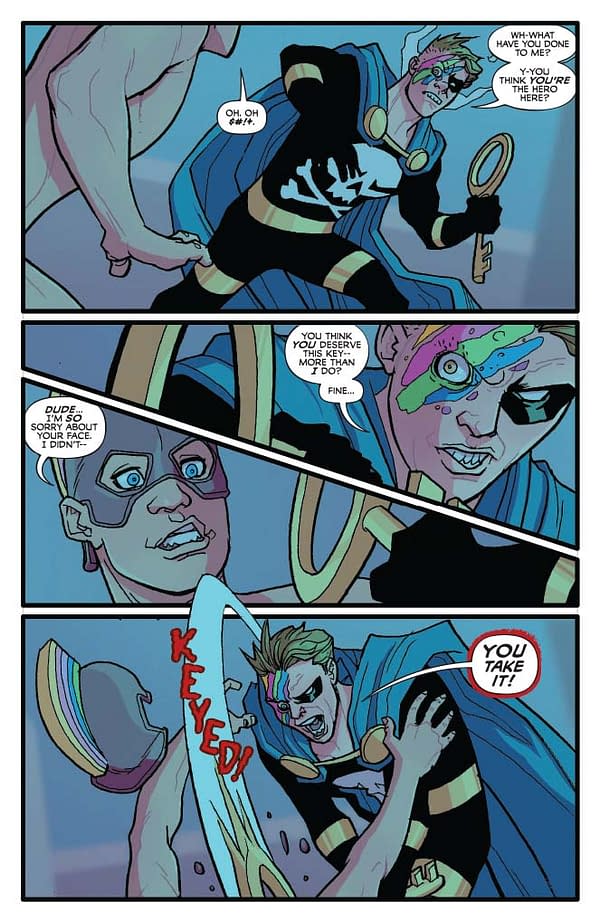 Page 5 panel 9: I know. We're shameless.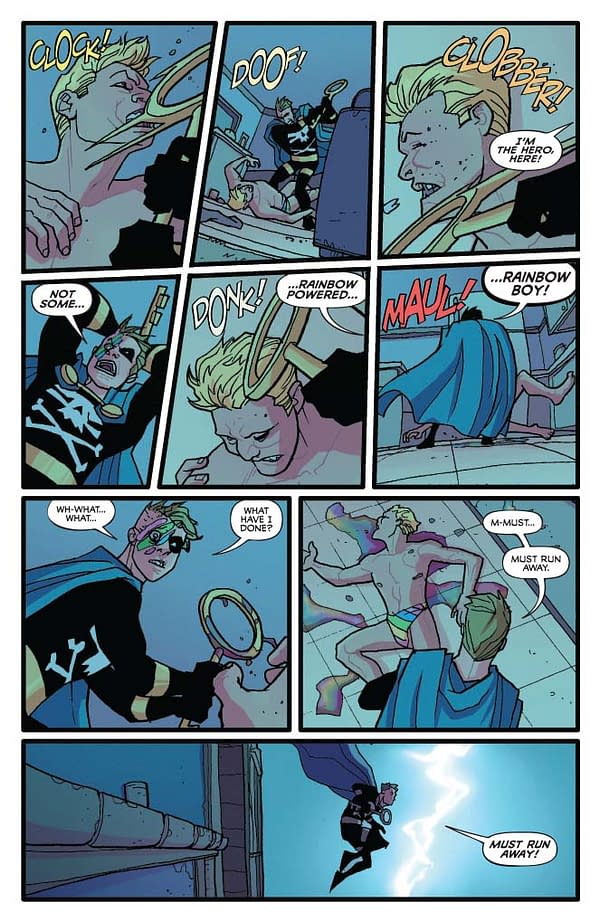 Pages 6-8:
Poor Sparky. He's just not got what it takes to deal with all of this. He's a good kid trapped in a rotten world. One more thing goes wrong and I'm afraid he might snap.
Pages 9-10:
Wait, did you hear that snapping sound too? This was a fun – if disturbing – scene to draw.
Pages 11-12:
Things just aren't working out well for Tim and Sparky. I'll bet if they really work hard at it they can turn things around though. Right? Also, I hope readers don't have a thing with eyeballs popping out because there's a lot of that. I guess it would have been better if I warned you back on page 9, huh?
Page 13:
Dimension 42! I love drawing this place because I can essentially unwind and doodle. We find out here that Black Terror's Meat-Hammer is sentient. Don't blame me for the barfing dudes. That was Ryan and I have to draw what he tells me.
Page 14:
Background story that doesn't matter but adds flavor. When Doctor Von Physics first appeared in Dimension 42 he was attacked by a vicious predator that had been munching on the little pink people for as long as they can remember. Von Physics defeated the beast, tamed it, filed down its teeth, and it now serves him as a chair. These are the stories artists tell themselves as they draw.
Pages 15-16:
Look at that. I told you they could turn things around. Tim's a problem solver. Also, we see the beginnings of Tim's new costume! Don't worry, it'll get worse!
Pages 17-18:
I love these little guys. I wanted to make Xalbort, the leader of the pink people, look a bit like the Mayor. Why? I dunno. Fancy mustaches and beards just radiate leadership abilities. Also, does anyone know if you can be arrested for drawing the abuse of a corpse? Asking for a friend.
Pages 19-20:
A friend had shared some old Tom and Jerry cartoons on Twitter while I was drawing this page. That's how the junk yard got its name. Here we learn that Captain Battle, Jr. while very brave and heroic, isn't very bright.
Pages 21-22:
Shock ending! Whammo! At least now we know why Rainbow Boy keeps getting those keys.
Hope you all liked this issue! See you next month for issue 4!
Enjoyed this article? Share it!