A Cover Gallery For Toe Tag Riot, Ridding The World Of Racists, Homophobes, And Misogynists
Toe Tag Riot is finally arriving from Black Mask Studios this Wednesday, and you may have been following some of their Westboro Baptist-taunting content here on Bleeding Cool. Written by Liberator's Matt Miner and drawn by Sean Von Gorman, the book also features a large slate of variant covers by some very talented folks. And what's not to like about a 'zine inspired story of a punk rock zombie band that takes on the various nasty elements in the world?
Here's how Black Mask describe the book:
Matt Miner (Critical Hit / Vertigo's CMYK) & Sean Von Gorman (Secret Adventures Of Houdini) bring a book unlike anything on shelves, a love letter to the comics found in zines and the punk rock mini and indie comics now relegated to dustbins and long boxes. Toe Tag Riot is a hilarious and gory tongue-in-cheek story about a punk rock band cursed to become zombies whenever they perform their music!

The band goes on a last cross-country tour in search of the cure to their affliction, but being the ethical sometimes-zombie punks that they are, Toe Tag Riot uses their zombie superpowers to rid the world of racists, homophobes, misogynists and all kinds of other nasty people. Read the LGBT-positive book that the Westboro Baptist Church themselves accidentally endorsed and then felt really stupid about doing!
And here's the cover gallery for Issue #1:
Cover A by Tristan Jones. Available wherever finer comics are sold.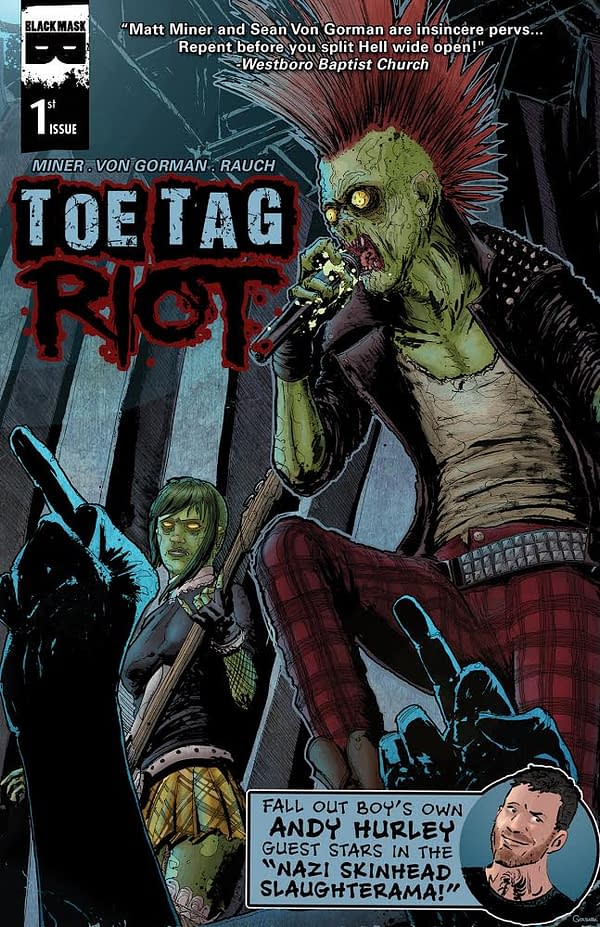 Cover B by Rod Reis. Available wherever finer comics are sold. Cover C by Megan Hutchinson. Available only at Third Eye Comics.
Cover D by Anna Fitzpatrick. Available only at Black Cat Comics. Cover E by Simon Fraser. Phantom Variant.
Cover F by Jonathan Brandon Sawyer. Rare Phantom Variant. The phantom variant is only available at these shops- Dr No's, New England, Pittsburgh Comics, Black Cat Comics, Happy Harbor, Rick's Comic City, Rubber Chicken, Third Eye, Forbidden Planet, Larrys Comics, Graham Crackers, Jetpack.