Today's Grayson is an example of the success of innovation and experimentation at DC Comics – Batgirling if you will – with the comic taking a narrative approach you might be more likely to expect in Promethea, Cerebus or Sandman.
But this is Grayson so there are other concerns upon meeting a duplicated version of himself. And it's not just that no one likes the look of their own butt. And whatever fanfic narcissistic desire might lead to this moment… …reprised later on… …it is one that is instantly negated. Oh look, Grayson's "butt" again.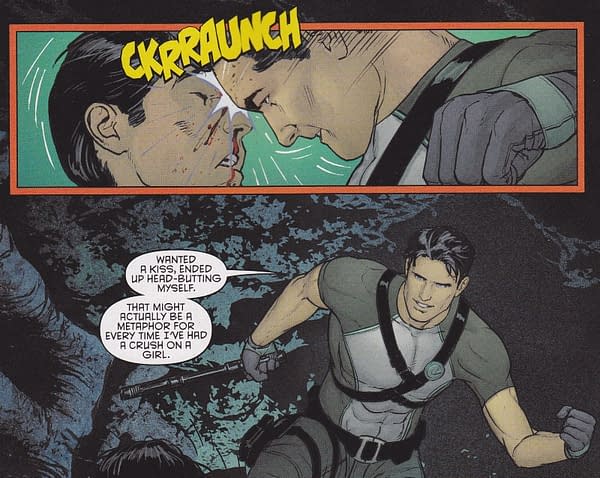 It's a dangerous business, going for a kiss in comics these days. Spawn also pulls up sharp… …what's wrong Al? She took her lollipop out first!
Spawn and Grayson are published today from Image and DC Comics. Comics courtesy of Orbital Comics, London. With a signing for Doctor Who and Planet of The Apes artist Rachel Scott today, and launching an exhibition for Jessica Martin on Saturday.
Enjoyed this article? Share it!