A Mystery New Project From Jeff Smith As Tuki Is Delayed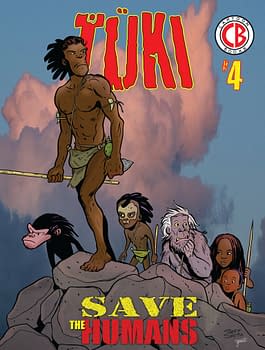 The next issue of Jeff Smith's ongoing comic book, Tuki Save The Humans #4 will be cancelled, and re-solicited in the October Previews for December shipping.
Originally planned for a May release for the tale of the first human to leave Africa, Smith needs more time to rest a resurfacing arm injury.
"I noticed my arm was getting numb. I've had trouble with carpel tunnel syndrome before, and while I haven't crossed the line, it's not something I want to mess with" he says before teasing "I also have a secret project I'm working on that is adding to the workload so I've decided the best thing to do was to slow down, move the book to where it will be best for Tuki. Sincere apologies to all of my readers, and I thank you for your patience. We plan to add a few surprises to the issue and hopefully the wait will be worthwhile."