If you're a fan of classic Disney movies or the parks, there's one name you probably know well; Mary Blair. The iconic artist brought many of Disney's visions to life with the use of breathtaking colors and dynamic shapes. Blair drew concept art for several classic Disney films, including Peter Pan, Dumbo, Fantasia, Lady and the Tramp, Cinderella, and more. She was also pivotal in bringing the classic Disneyland boat ride, It's A Small World, ride to life.
The Disney legend also has a mural, "Mosaic," inside of the Contemporary Resort inside the Walt Disney World Resort. The hotel is mere steps from the Magic Kingdom, and is popular with guests due to its rich history, location, and that the monorail runs through the resort. Blair's artwork has influenced countless generations, and reproductions of her work can be found on traditional canvases and even clothing. But wouldn't it be something to own an original piece that Blair herself worked on?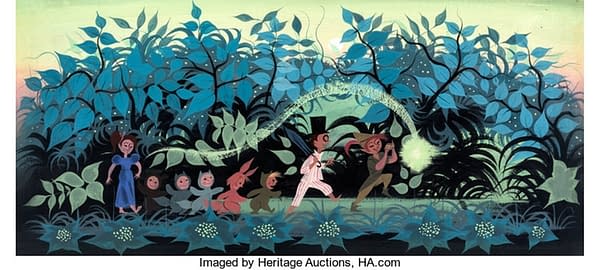 Fans of Peter Pan, a story about the boy who never grew up, take note! This beautiful original Mary Blair concept art/color key painting will be going up for auction via Heritage, with proxy bidding ending on June 20. This painting depicts Peter Pan and Tinkerbell leading the Lost Boys, Michael, John, and Wendy through Neverland. This gouache painting is on a 19" x 9" board and is in Very Good condition. There are pinholes in the corners, as well as minor handling. This is perfect for all Mary Blair fans and general Disney or animation enthusiasts. This would look exceptional, hanging up for all to admire, as it is a real conversation starter.
Are you interested in bidding on this rare piece of Disney history? You'll need a Heritage account, but don't worry, they're absolutely free. Plus, you never know what other fun treasures you'll find there! Good luck and happy bidding.
Enjoyed this article? Share it!