A Very Big Change for Bruce Wayne in Today's Batman #73 (Spoilers)
Batman has been defeated by Bane. His back broken – and his life broken too. One the reflection of the other. In today's Batman #73, we see Bruce being dragged across a desert by his parallel dimension father Thomas Wayne – who in his own world became the Batman when his son was shot and killed in that alleyway all those years ago. While Martha Wayne became that world's Joker. Flashpoint, it was a thing.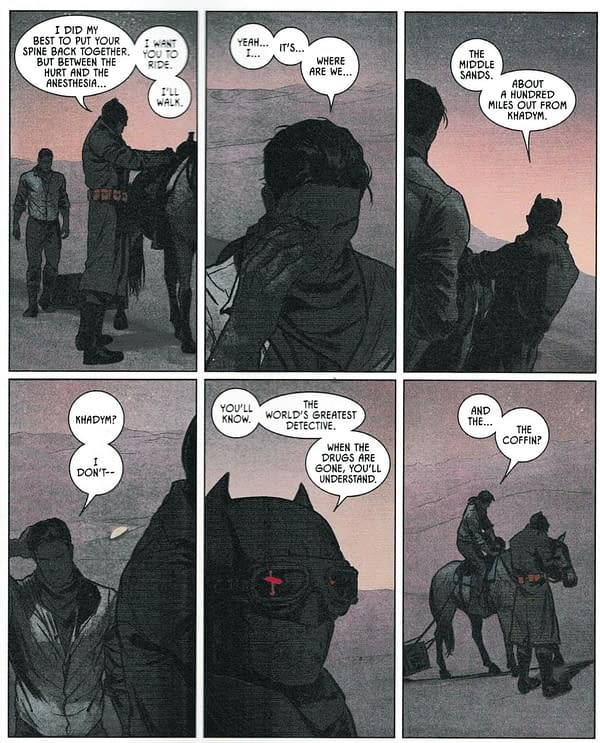 And so this Thomas Wayne has been working with Bane to stop Bruce Wayne from being Batman, in the knowledge that only then can his son achieve actual happiness. He can't be happy until is no longer Batman. And he can't be Batman is he is happy.
We know that Bruce Wayne became Batman after the death of his parents. Well, transdimensionally, he had one of them back. And the other?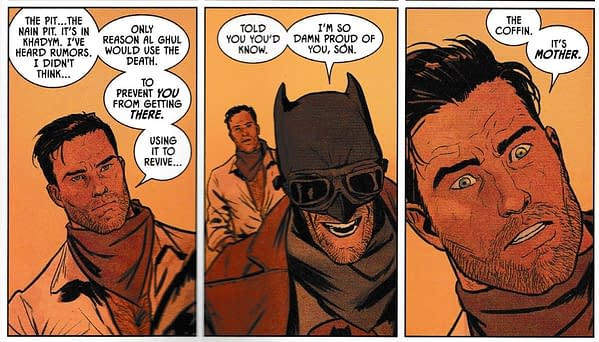 A trip to the Lazarus Pits of Ra's Al Ghul. With the body of this world's Martha Wayne. Would Bruce be the Batman if both his parents were alive?
Where will this go? Well, one of the reasons this has never happened before is that the Lazarus Pits are only meant to be able to cope with the currently injured or very recently deceased. And also, when you come back, you will come back with madness. And Thomas Wayne has seen a Martha Wayne driven insane…
However, if he has found a way around that, it may also be worth pointing out that, if Martha Wayne of this world can be brought back – so could the Thomas Wayne of this world too. Just saying.
Could Batman have two daddies and a mommy? Superman only has to deal with one father coming back… and I wonder how the new Apex Lex Luthor will cope over in today's Justice League?
Batman #73 is published today.
BATMAN #73
(W) Tom King (A/CA) Mikel Janin, Jodie Bellaire
"The Fall and the Fallen" part four! Batman has been defeated by Bane's minions and chased out of Gotham. As a last-ditch effort to save his son from the lonely fate of being Batman, his father from another universe, Thomas Wayne, a.k.a. the Flashpoint Batman, is taking Bruce to the far ends of the Earth to try to give him the one thing that will cause him to give up crime-fighting for good. RATED T In Shops: Jun 19, 2019 SRP: $3.99