A Wave Blue World Premieres New Series in Limited Edition Flipbooks at San Diego Comic-Con 2019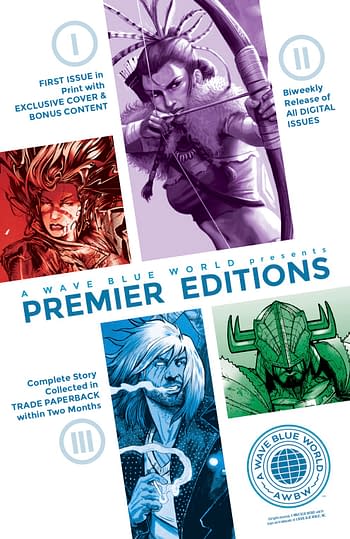 Publisher A Wave Blue World, who we recently covered after hiring Joseph Illidge as their Editorial Director and Lisa Y. Wu as their VP, Sales & Marketing and their new publishing plan, Premier #1 Editions.
At San Diego Comic-Con, A Wave Blue World will be giving away a Free Limited Edition Flip Book of their October publishing plans to those who visit booth N-10.
The Limited Edition Flipbook will feature an exclusive preview of completed pages from Mezo, a Mesoamerican-inspired fantasy tale, by Tyler Chin-Tanner, Justin Zingerman, Val Rodrigues, Doug Garbark, and Thomas Mauer and Dead Legends, a martial arts revenge story, by James Maddox, Gavin Smith, and Ryan Ferrier. As well as a glimpse into the makings of Beyond Her Years by Ivy Noelle Weir and Steenz from Dead Beats, a music-themed horror anthology. And an opportunity to meet Ivy and Steenz and have them sign the flipbook.
A Wave Blue World will also have a meet and greet session and several handfuls of the flipbook at local San Diego comic shop Comickaze from 3-4pm at the comic shops Liberty Station-Barracks 15 location on Wednesday.
Signing Schedule:
Thursday, July 18th: Jarett Melendez (ALL WE EVER WANTED)
Friday, July 19th: Steenz (DEAD BEATS)
Saturday, July 20th: Ivy Noelle Weir and Steenz (DEAD BEATS)