A Workshop On Cartoons And Censorship In The Heart Of Westminster
Yesterday, on a trip into London to see the Christmas lights of Regent Street and Carnaby Street, and a subsequent walk across the Thames saw me stop by the Westminster Reference Library with my two kids for a cartoon workshop as part of their Gagged exhibition on censorship, with the Professional Cartoonists' Organisation raising awareness of – and money for – cartoonists who have been fired, imprisoned or even killed for their work. It's a subject I'd been discussing with my kids of late anyway, and it seemed a way to bring some of the realities of creativity into sharp relief.
The workshop was run by two cartoonists, The Surreal McCoy and Banx, who talked us through their processes as cartoonists, the reality of the marketplace – and printing methods – and the possibilities of the future. What it did for me, was learn some of Banx's writing processes, and seeing some things that I didn't do, which challenged me to find a new way of cartooning.
A news team from Al Jazeera also popped by, so be warned, you may see our ugly mugs on a screen near you sometime. Here's how the whole thing looked, including from my kids, Eve and Alice, who decided that their rebellion against authority – would be against me, in their collaborative alter ego, The Savage Kid.
As for my girls…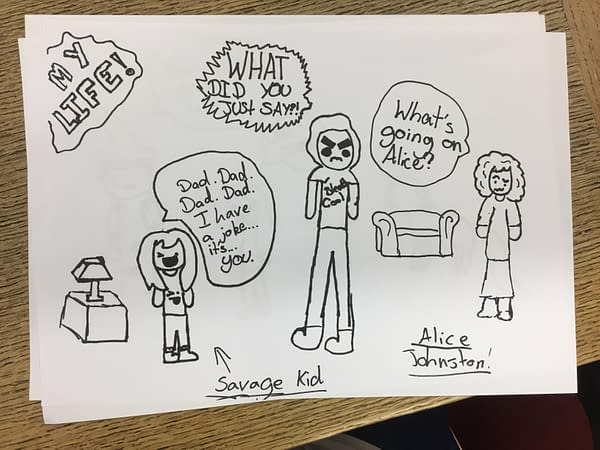 I can see a bright future ahead… for them, if not for me.
The Gagged Exhibition continues into December at the Westminster Reference Library, on Leicester Square, oppose the half-price tickets booth. And definitely benefits a pop-by if you're in town.
This Tuesday from 6pm to 8pm will also see a talk hosted by political cartoonist Andy Davey with Jodie Ginsberg from Index on Censorship and Guardian cartoonist Martin Rowson. They will also be joined via video link with Malaysian cartoonist Zunar and Robert Russell, founder of cartoonists Rights Network International. All are experts in disparate fields whose common aim is to throw light on dark places.