This is the Mike Del Mundo 'Classified' cover to today's Absolute Carnage #4. I will say this, that this Anti0Symbiote costume does not appear in this comic.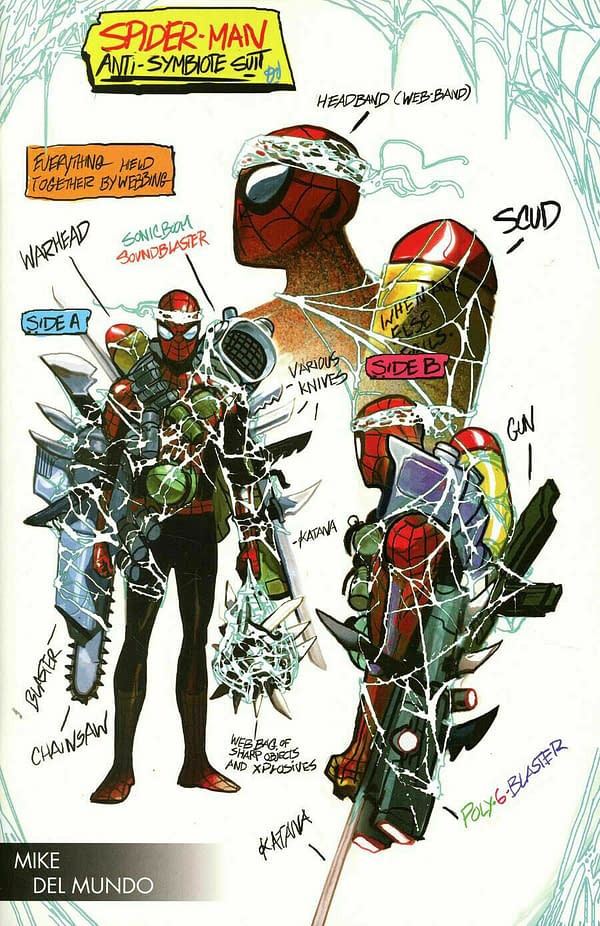 It does not even appear in Absolute Carnage Vs Deadpool #3 also out today where a) it would have fit the tone and b) could have come in damn useful. In that book, Carnage is still obsessed with Deadpool being a one-of-a-kind unicorn who could wear four symbiotes at once.
Even though Ultimate Reed Richards, The Maker, has already done that once this crossover. Maybe that's the result of Norman Osborn thinking he's Carnage and not having access to all the facts?

Normus is the right name. As is Vulk.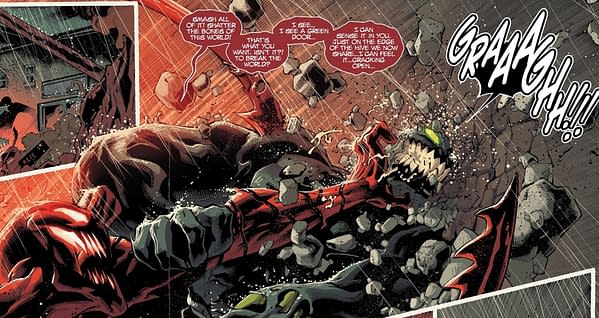 With this new Venom/Hulk concoction in Absolute Carnage #4 tying into Immortal Hulk in a very direct way… and giving us a Carnage who can also combine symbiotes together to create… what… Carvenom? Varnage? Varnomage? That Spider-Suit is looking more and more useful.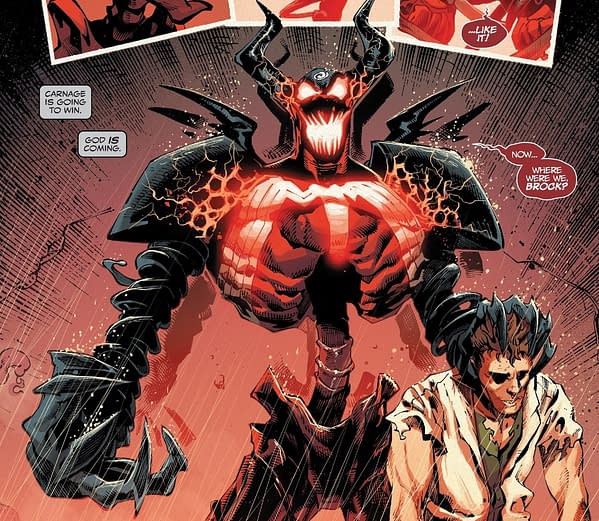 While Absolute Carnage: Avengers sees these codex-owning heroes on a mission to get rid of theirs with the Makers' machine…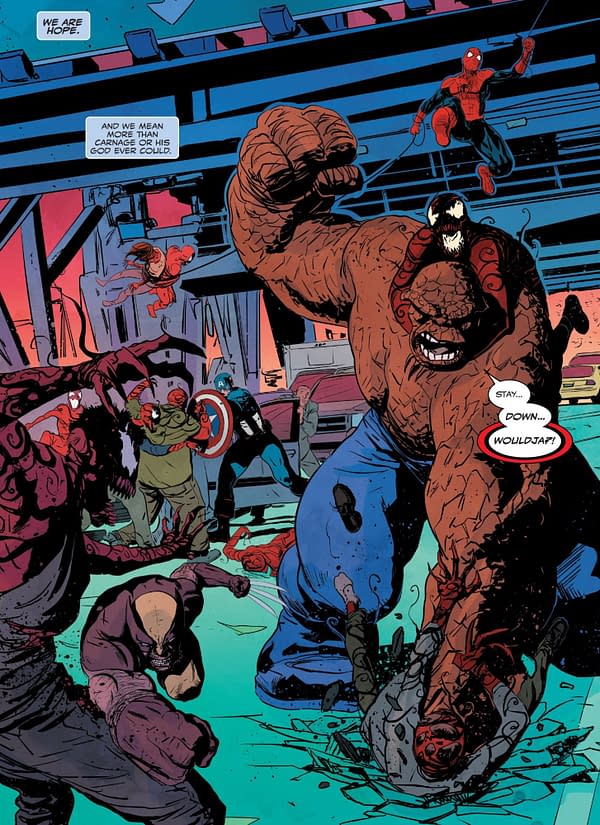 Hawkeye gives us a quick impression of his David Aja days.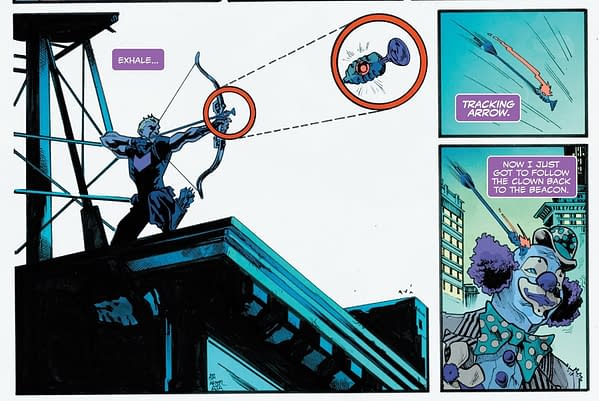 Before getting closer to the action.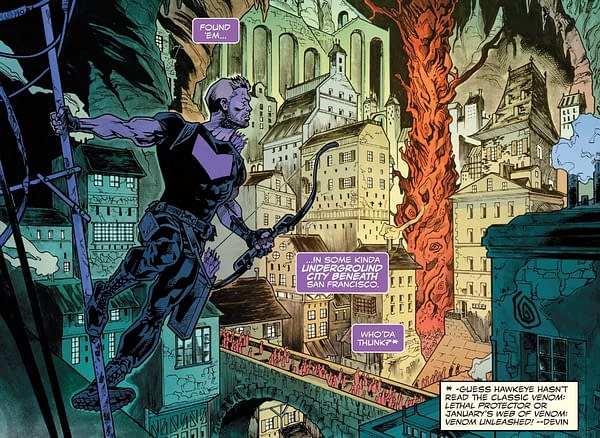 We know that it all works out and the heroes get their codices removed. Still it gives Eddie Brock a chance to do similar, combining codices from all those heroes into one, and gaining their abilities in the process.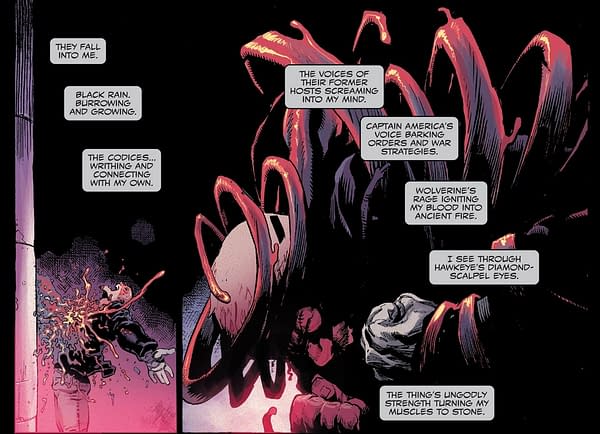 Another unicorn? That's three right? But it's not just Eddie Brock who is turning codices into full blown merging symbiotes. After Scream turns on Carnage over in Absolute Carnage: Scream…
Her eventual death leads to Carnage to collect her – and other – codices….

Which combine again in Hellmark… creating a new concoction.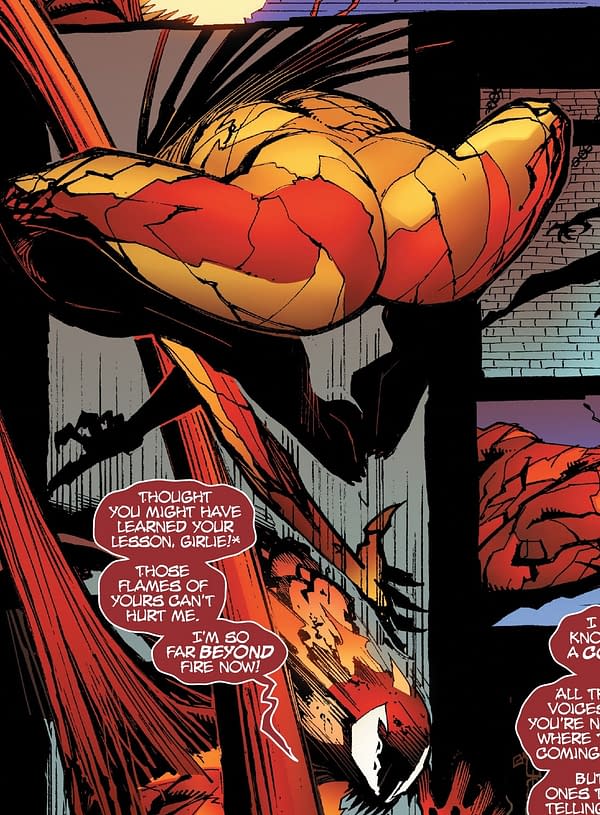 Man, did Erik Larsen draw that panel? My mistake, he was just the arresting officer…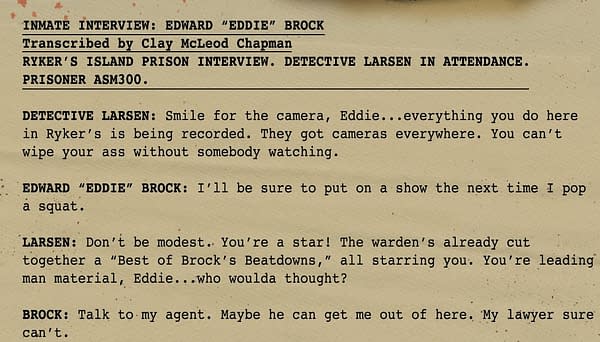 ABSOLUTE CARNAGE #4 (OF 5) AC
(W) Donny Cates (A/CA) Ryan Stegman
THE PENULTIMATE CHAPTER OF THE SYMBIOTIC EVENT OF THE YEAR!
• Eddie Brock has taken a beating, lost the allies closest to him, and, after the shocking events of ABSOLUTE CARNAGE: #3, sees no way to take Cletus Kasady down once and for all without making the ultimate sacrifice.
• But what IS the ultimate sacrifice? Of the two beings that are bonded as VENOM, which will make it out alive?
Rated T+In Shops: Oct 16, 2019
SRP: $4.99
ABSOLUTE CARNAGE AVENGERS #1 AC
(W) Leah Williams, Zac Thompson (A) Alberto Alburquerque, Guiu Villanova (CA) Clayton Crain
CAPTAIN AMERICA! HAWKEYE! THE THING! WOLVERINE!
Years ago, Cletus Kasady used the Carnage symbiote to take over a small town called Doverton, Colorado, as well as the team of Avengers who arrived to stop him! Barely able to free themselves from his control during their first meeting, this small band of heroes will have no choice but to assemble once more after they discover that Doverton's entire population has recently fallen victim to Carnage's more lethal designs…
Rated T+In Shops: Oct 16, 2019
SRP: $4.99
ABSOLUTE CARNAGE SCREAM #3 (OF 3) AC
(W) Cullen Bunn (A/CA) Gerardo Sandoval
• Between Knull's growing psychic influence and Patricia Robertson serving as its host, the Scream symbiote is being psychologically torn apart!
• But there's no time for weakness as Cletus Kasady unleashes an onslaught of infected inmates on an unsuspecting New York.
• Scream and Carnage may be symbiotic siblings, but that won't stop 'em from SLAUGHTERING one another!
Rated T+In Shops: Oct 16, 2019
SRP: $3.99
ABSOLUTE CARNAGE VS DEADPOOL #3 (OF 3) AC
(W) Frank Tieri (A) Marcelo Ferreira (CA) Tyler Kirkham
ALL MY CODEXES LIVE IN TEXAS*
• *By "Texas" we mean "Deadpool's spine." Sorry, we just couldn't NOT do that pun.
• With his potent combination of codexes from different symbiotes, the fate of the fight between good and evil lies within Deadpool!
• He's…on the side of good, right? Honestly, sometimes it's hard to tell. I mean, Spider-Man likes him, right? Kind of? That's…something.
Parental AdvisoryIn Shops: Oct 16, 2019
SRP: $3.99
Enjoyed this article? Share it!