ACBC Offers Deal To RICC Survivors – Including Rocket Raccoon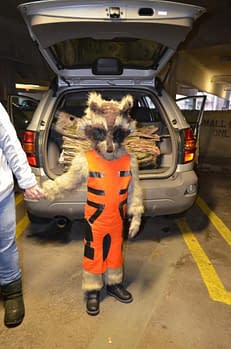 Michael McDermott writes for Bleeding Cool
Rich was right, Rocket broke my heart. And not just mine.
In an attempt to soothe the sting felt by all the RICC attendees left out in the cold at the show up there recently, I reached out to the fine folks at Atlantic City Boardwalk Con, running May 14-17, 2015 in Atlantic City, NJ with the BC story. Knowing the team over there quite well, I KNEW they'd step up as best they could to put a smile back on Rocket's face and make somebody else's day that much better… cause that's what they do at PMG.
I've worked for Promoguys Marketing Group as staff on several live Marvel events. They're the guys responsible for running Marvel's major convention booths, coordinating Northeast promotion for the traveling live-action arena stunt show, Marvel Universe Live, and now the owner of the company, Michael D'Alessio, is spearheading a partnership group launching their inaugural convention in AC. Working with this company has literally been a life changing experience for me. They excel at providing their clients with high end service and the quality of the character of the staff across the board, many of whom I've gone on to call friends, is unparallelled in their business. They operate a goal driven, high energy, tight creative ship with a whole heckuva lotta heart. And Michael, well, he kinda specializes in making comic-nerd dreams come true. He's personally done it for me and more people than I can count, on multiple occasions.
A response from Mr. D'Alessio and the ACBC staff:
"We challenge anyone to look at the face of Rocket Raccoon and not see the sadness eek it's way through the layers of lovingly applied makeup and facial hair. To couple this with a photo of Groot disassembled and laid to rest in the trunk of a car — well, we all know how we fell in love with a tree this past Summer. This isn't right. Rocket and Groot and the rest of the fans of Rhode Island Comic Con need to be able to come together and enjoy the fun that is a comic convention.

While we realize "hiccups" happen at cons, the overcrowding and refusal of entry seemed slightly more troublesome to those who couldn't gain entry at RICC than an involuntary diaphragmatic response. We do applaud the RICC team for making everything run smoothly on Day 2!

But back to Rocket, Groot, and the rest of the fans who couldn't get in to RICC. We know the feeling. We were left out on Year 1 of NYCC.

So, if you find yourself wanting to come to Atlantic City Boardwalk Con running May 14-17, 2015, we'd like to offer a friendly discount code to you. Enter "ROCKET" in the discount code area and you'll receive 25% off your ticket price.

And to Rocket and his family, your tears in Guardians of the Galaxy tore us up, so we can't stand you looking so forlorn. Please reach out to AskUs@DoACBC.com and we'll get you and your family in for some fun VIP treatment for FREE. Marvel's kinda special to our team."
So, there you have it. #DoACBC is going to be THE con for me of 2015. Reasons like this are just the tip of the iceberg why. Hope to see you gals and guys there, I'll probably be working the floor. Rocket, Groot and the rest of the Guardians… I want a pic with the crew, please.
[Rich adds – yeah, as to Marvel's association with ACBC… more here…]