Aftershock Adds Another Animosity One-Shot, World of Animosity, In September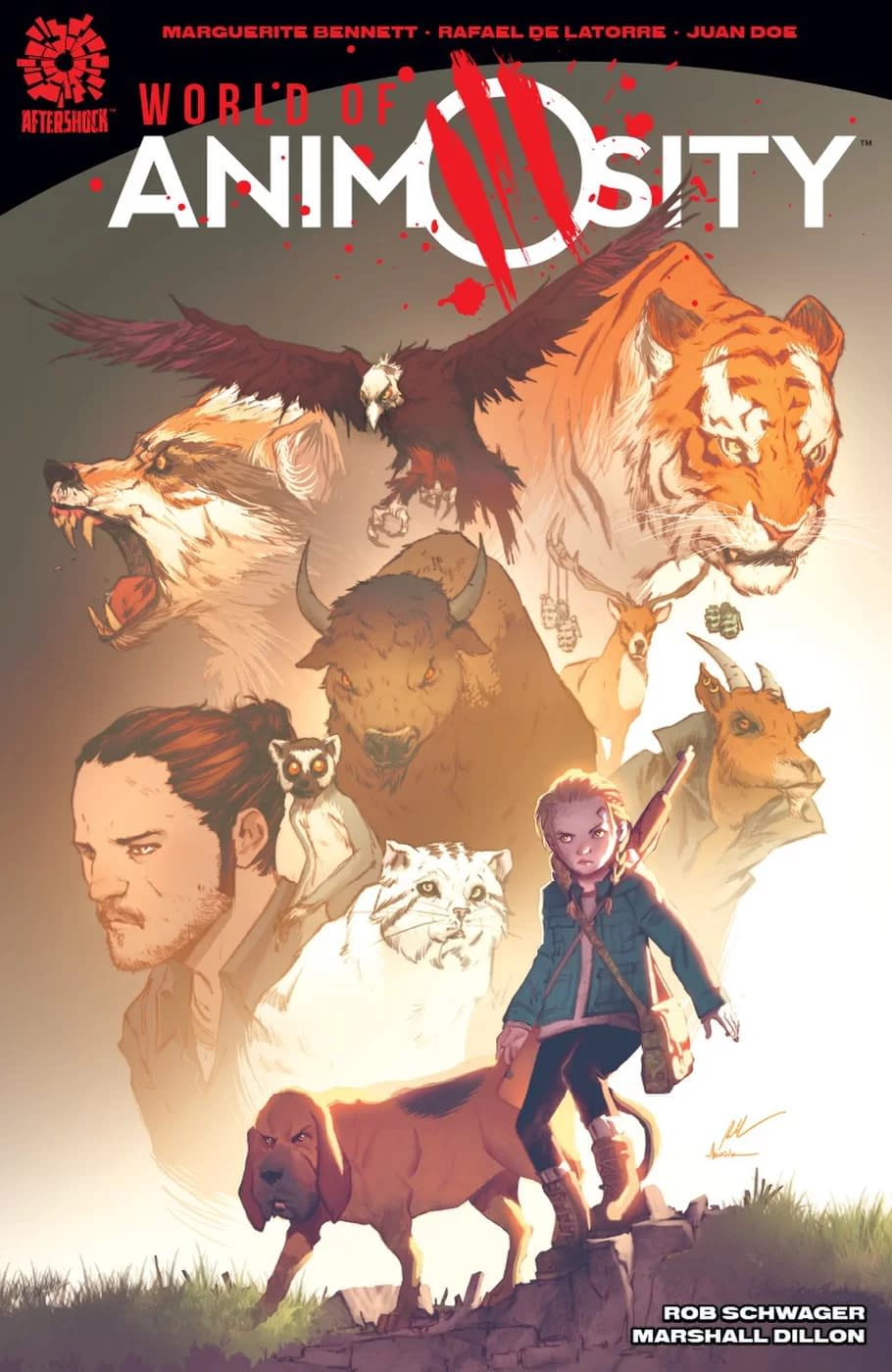 Continuing their transformation into an all Animosity, all the time comic book publisher, Aftershock has added a one-shot comic, World of Animosity, to their September lineup. Written by Marguerite Bennett, with art by Rafael De Latorre & Juan Doe, and colors by Rob Schwager, World of Animosity joins other Aftershock offerings such as Animosity, second printings of Animosity, third printings of Animosity, Animosity: The Rise, fourth printings of Animosity, The Uncanny Animosity, Animosity Vs. Animosity: Dawn of Animosity, and Animosity Digest.
In an EXCLUSIVE interview on THR, Bennett reveals that World of Animosity could be just the start of lots more Animosity stories that will slowly take over the rest of Aftershock's publishing line.
World will be an ideal place to jump on for new readers, but a huge portion of the issue is devoted to information and events we haven't yet explored in the series. Really, it was a moment of tremendous encouragement to realize how much story there was, how vast the world, how much we could explore without ever doubling back. I'm so phenomenally grateful to the readers for their kindness and generosity — I hope to always, always have stories to tell them.
And the solicitation was "found on comiXology:"
WORLD OF ANIMOSITY #1 / $3.99 / 32 pages / color / on sale 9.20.17
writer: Marguerite Bennett
artist: Rafael De Latorre & Juan Doe
color: Rob Schwager
letters: Marshall Dillon
cover: Rafael De Latorre w/ Marcelo Maiolo
A journey through an apocalypse like none ever imagined—this singular one-shot brings readers and fans alike an exclusive look at the characters, creatures, maps, mysteries, enemies, histories, and the road-so-far in a world where the Animals have risen up to take revenge. This standalone collection includes a variant cover gallery, character designs, never-before-seen artwork, and summaries that will not only bring new readers up to speed, but allow existing readers to dive deep with new information into stories they
World of Animosity hits stores in September.