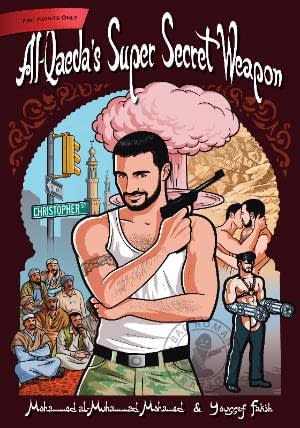 Al-Qaeda's Super Secret Weapon, an erotic political satire, actually – written by David Zelman, was recently released by Northwest Press in mid-November. The book has been absent from one particular venue since its release: Apple's iBooks store. Today the publisher revealed the reason for that; the book was rejected by Apple and will not be sold on iBooks.
The initial rejection happened in mid-October and the publisher appealed, citing the relatively small amount of graphic sexual content in the book and its satirical nature.
"When I got the initial rejection, I immediately wrote to let them know that this isn't just some stroke book," publisher Charles "Zan" Christensen said. "Not to put down porn—there are great publishers and artists putting our great gay porn comics—but this just isn't that type of book. It's a clever satire that sends up hypermasculinity, fear of gays in the military, religious and cultural stereotypes… while it's got some explicit content, there's relatively little considering the length of the book."
Christensen noted that Northwest Press' very first iBooks release was Jon Macy's Teleny and Camille, added to iBooks in 2011, which has far, far more explicit sexual content.
"I deliberately submitted that book first," Christensen says. "It was the most explicit book Northwest Press will probably ever release. I figured if Apple could see the literary value in a book that included orgies, unfortunate deaths during oral sex, cruising in public parks, and even anal sex with bottles and not reject it out of hand because of sexual content, then we would never have a problem in the future."
"I wrote about Apple's problem with censorship of comics on the iPad after a string of news reports back in 2010," Christensen continues. "I was hopeful about the iPad's potential as a new way for independent creators to get their work out there—particularly LGBT creators, who often have a much harder time trying to go through traditional publishers—but saw Apple's content rules blocking relatively tame content again and again. I thought they had gotten a lot better, but more instances keep popping up of comics being rejected. I don't think the problem is that Apple is homophobic, as a company, but that they have a content review process that is inconsistent, opaque, and often errs on the side of blocking gay content that is no more objectionable than straight content. I noticed when I submitted this latest book that there is a new checkbox in iTunes Producer for 'explicit content'. I was actually hopeful at seeing that, thinking that they might be starting to simply label explicit material rather than reject it, but that turned out not to be the case."
Al-Qaeda's Super Secret Weapon recently topped a list of "7 Great LGBT Graphic Novels" put together for The Advocate magazine by Jacob Anderson-Minshall. It is available at comic shops and direct from the publisher in print and digital formats, including an iPad-native edition.
Enjoyed this article? Share it!