Alan Scott, Green Lantern, as a Gay Man in the 1940s
In May 2012, Bleeding Cool broke the story that DC Comics was to announce that one of their classically established characters was to be recreated as a gay character in their New 52 reboot universe. That it would be an iconic male character. Then heard that it would be Alan Scott, the original Green Lantern – before getting it further confirmed. Created by Martin Nodell, and first written with Bill Finger in 1940, for All-American Comics #16, Green Lantern was originally a mystically-based superhero, whose powers were derived from the flame of a magic lamp and he became an original member of the Justice Society Of America. It all began with a train crash, Alan Scott was an engineer and so wat his co-worker, Jimmy.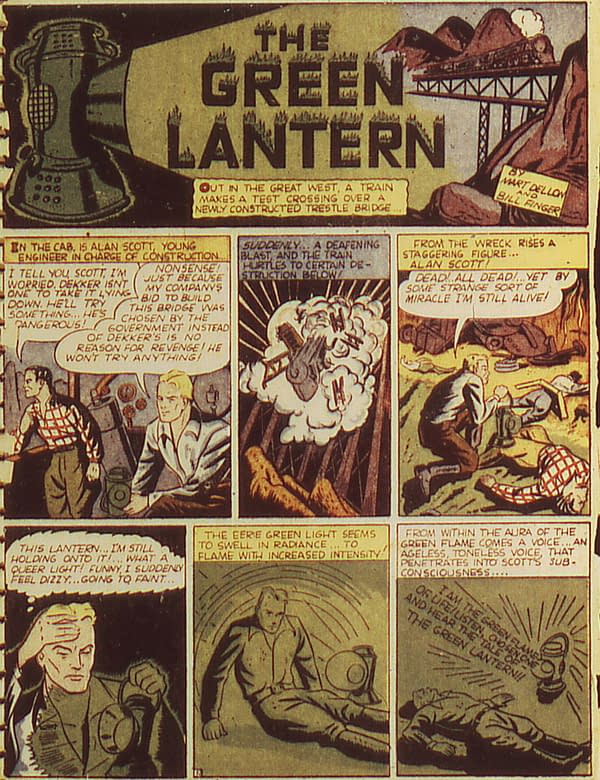 When seen in the modern DC Universe, it would be as an elderly man. The history of the Justice Society and 1940s-set superheroes were erased by the New 52 reboot, but reintroduced in the modern-day-set series Earth 2, with Alan Scott as a young man, and head of GBC Productions. And before you knew it, it was official.
Since then we have seen Doomsday Clock from Geoff Johns and Gary Frank, see Dr Manhattan as the individual responsible for wiping out such timelines and killing Alan Scott in the process.
With the conclusion seeing Dr Manhattan moving things back again.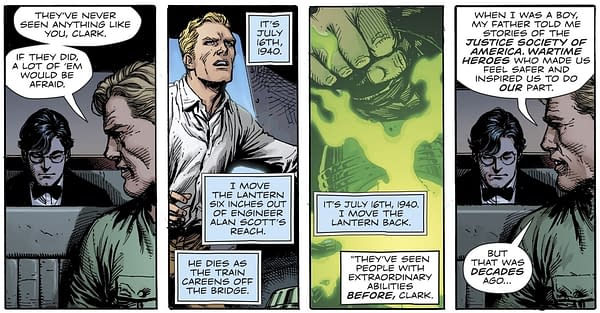 Justice League #32 written by James Tynion IV and Scott Snyder showed the modern-day Justice League time-traveling to meet the Justice Society again, in 1940. A time when homosexuality is a crime in the USA. Prior to 1962, homosexual acts were a felony in every state, punished by a lengthy term of imprisonment and/or hard labour. But Alan Scott's language, while working alongside John Stewart, Green Lantern of the modern-day DC Universe, may be telling.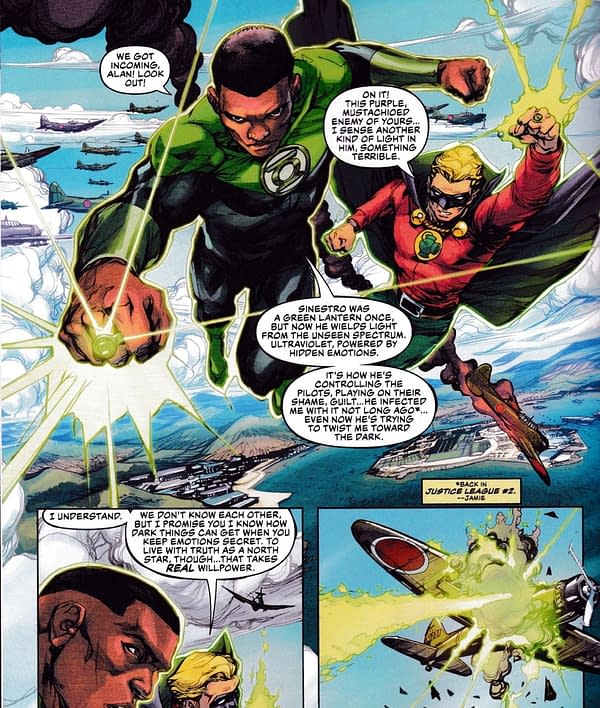 'I know how dark things can get when you keep emotions secret' and praising the ability to 'live with truth as a north star'. Is that as close as Alan Scott can get in 1940's America? Scott Snyder also wrote a scene in Wonder Woman #750, showing Alan Scott being inspired by Wonder Woman in 1940.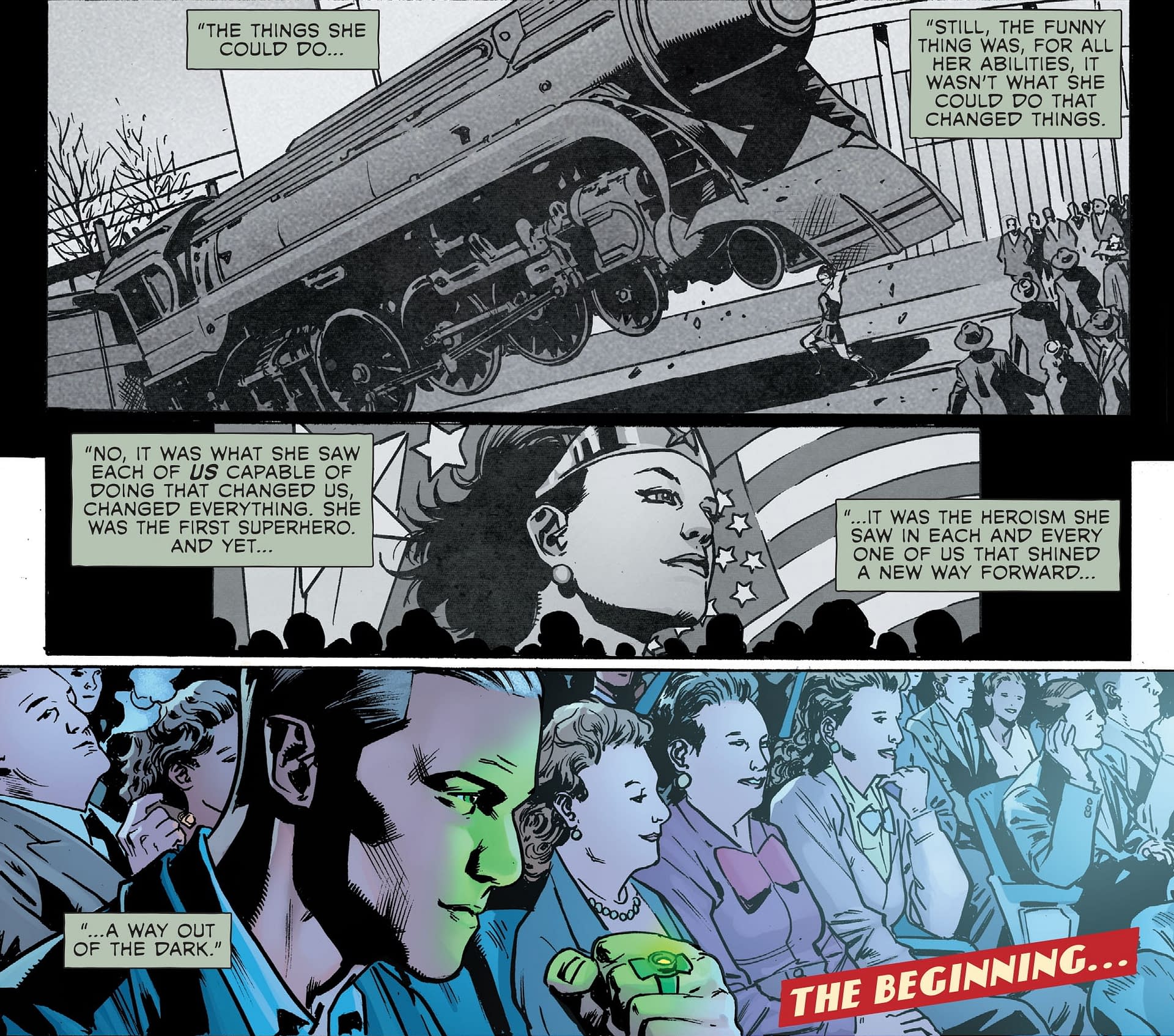 In this week's Green Lantern 80th Anniversary, Jameds Tynion IV and Gary Frank return to the origins of Alan Scott, taking the scene from All-Star American Comics and remaking it.
Again with Alan and Jimmy in the train crash…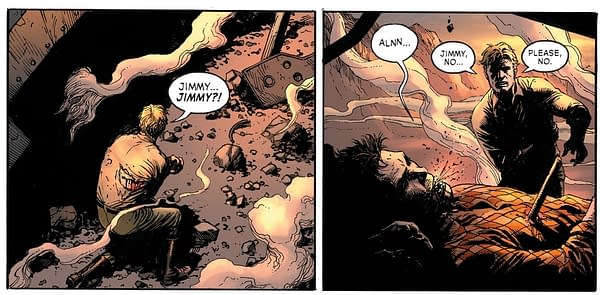 Now given a very different read, as Alan visits Jimmy's mother to tell her what happened, only for her to question him.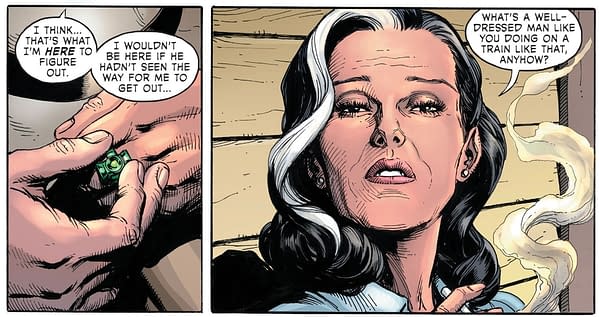 The language, of 1940, is coded but clear.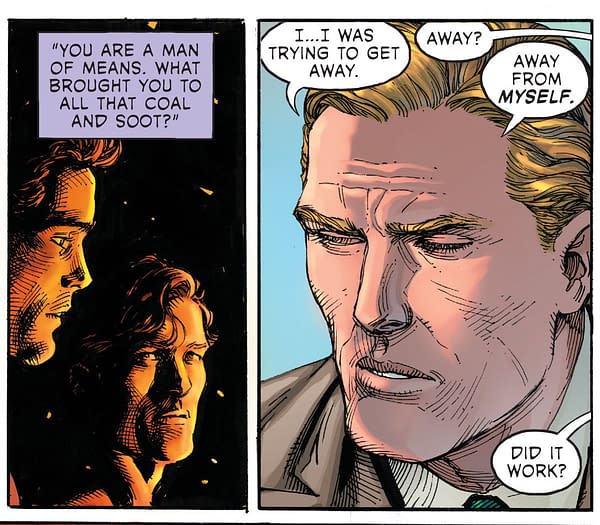 As well as hearing from his mother about Jimmy. With just as coded language.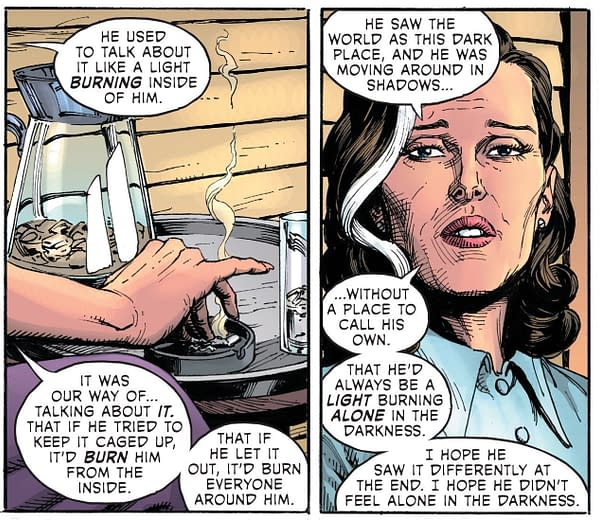 And a message for Alan to take with him.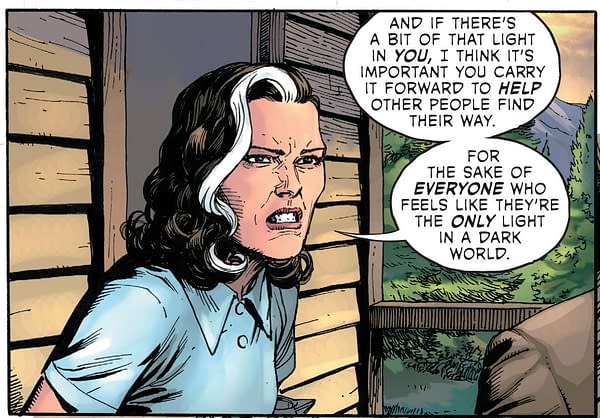 As for what Alan did to the men responsible for the train crash, again it is retold.
The language between he two versions is the same, in the original, Alan Scott makes those responsible give a full confession to the authorities.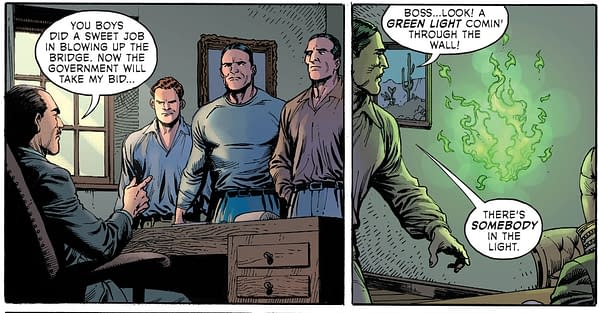 In the retold version, we don't get to see what happened, only the green of his eyes.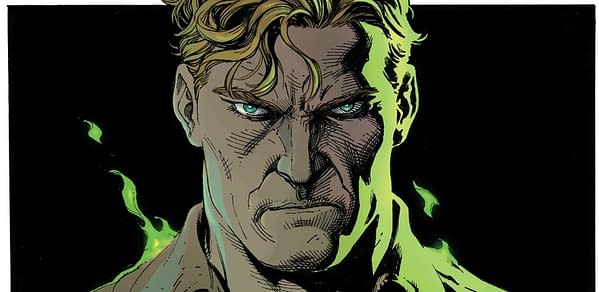 At this point yet to be inspired by Wonder Woman. What did he do next, now that the people in front of him murdered his lover?
GREEN LANTERN 80TH ANNIV 100 PAGE SUPER SPECT #1
DC COMICS
MAR200488
(W) Geoff Johns, Mariko Tamaki, Peter J. Tomasi, Jeff Lemire, Robert Venditti, Dennis O'Neil, Sina Grace, Charlotte Fullerton, Ron Marz, James TynionIV, Others (A) Ivan Reis, Fernando Pasarin, Darryl Banks, Mike Grell, Rafa Sandoval, Others (CA) Liam Sharp
In brightest day, in blackest night, no evil could ever escape their sight! The Green Lanterns are celebrating 80 years of keeping the DC Universe safe. Join us to see tales of all of the universe's most legendary Green Lanterns: Alan Scott, Hal Jordan, John Stewart, Guy Gardner, Kyle Rayner, Jessica Cruz, Simon Baz, and appearances from other cosmic favorites! A legendary lineup of creators including Geoff Johns, Peter J. Tomasi, Jeff Lemire, Ivan Reis, and others will be keeping the galaxy glowing bright! PRESTIGE FORMAT.In Shops: Jun 24, 2020 SRP: $9.99