In May 2012, Bleeding Cool broke the story that DC Comics was to announce that one of their classically established characters was to be recreated as a gay character in their New 52 reboot universe. And that it would be an iconic male character.
We then heard that it would be Alan Scott, the original Green Lantern – before getting it further confirmed. Created by Martin Nodell, and first written with Bill Finger in 1940, Green Lantern was originally a mystically-based superhero, whose powers were derived from the flame of a magic lamp and he became an original member of the Justice Society Of America. When seen in the modern DC Universe, it would be as an elderly man.
The history of the Justice Society and 1940s-set superheroes were erased by the New 52 reboot, but reintroduced in the modern-day-set series Earth 2, with Alan Scott as a young man, and head of GBC Productions. And before you knew it, it was official.
Since then we have seen Doomsday Clock see Dr Manhattan as the individual responsible for wiping out such timelines and killing Alan Scott in the process.
But the new Justice League has seen the team cross such reality-warping barriers and discover the Justice Society in the 1940s, as a battle is fought in the past, present and future against Luthor, Perpetua and inevitable Doom. But does the Alan Scott of the DC universe reflect in any way the sexuality of his Earth 2 modern-day set counterpart?
Well, it is the nineteen forties. Homosexuality is a crime in the USA. Indeed, it's only been legal state-wide since 2003 and prior to 1962, homosexual acts were a felony in every state, punished by a lengthy term of imprisonment and/or hard labour.
But Alan Scott's language, while working alongside John Stewart, Green Lantern of the modern day DC Universe, may be telling.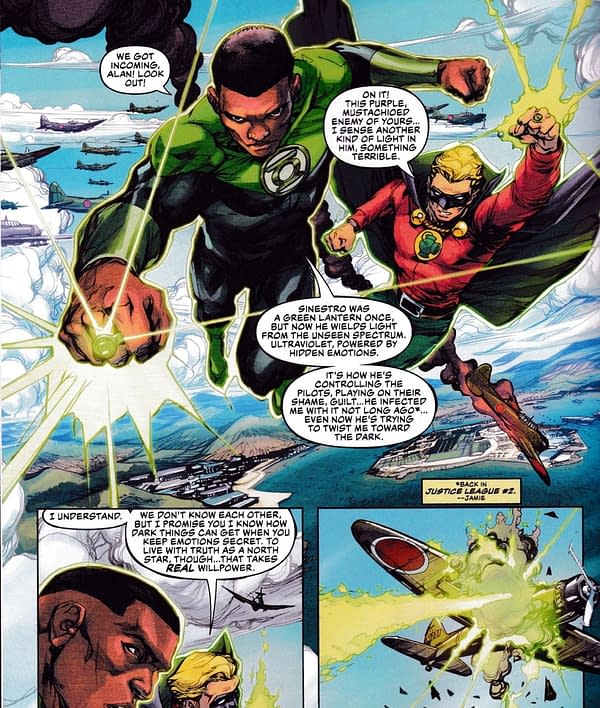 'I know how dark things can get when you keep emotions secret' and praising the ability to 'live with truth as a north star'. Is that as close as Alan Scott can get in 1940's America?
JUSTICE LEAGUE #32
(W) James TynionIV, Scott Snyder (A) Howard Porter (CA) Francis Manapul
"The Justice Doom War" part three! Things are getting dangerous across the time stream. On one side of time, the Justice League team finds heroic purpose; on the other, it's a future full of chaos and trial. It's the Totality in action. If they can't stop Lex's Legion across all fronts, there may be only one other option: embrace Doom!In Shops: Sep 18, 2019
SRP: $3.99
Enjoyed this article? Share it!